Brian Tetreault, a navigation systems specialist at the Corps of Engineers Research and Development Center in Vicksburg, Miss., has been working on developing new capabilities for AIS (automatic identification system) technology for the last 10 years. "We've really been ramping it up in the last few years," he told The Waterways Journal.
In the past, the governments of prominent maritime nations—with Britain and United States in the lead—developed maritime charts and decided how to display the information on them. The development of paper charts took a long time and was painstaking, but the information on them could remain for decades or even centuries. Some information on paper charts from the early 1800s was still being displayed on U.S. maritime charts for some parts of the world during World War II.
Today, information moves much faster. Many kinds of information can be transmitted and displayed on electronic chart systems using AIS signals. The AIS system is not quite (yet) at the instantaneous speed of social media posts: AIS information can be updated several times a day, said Tetreault.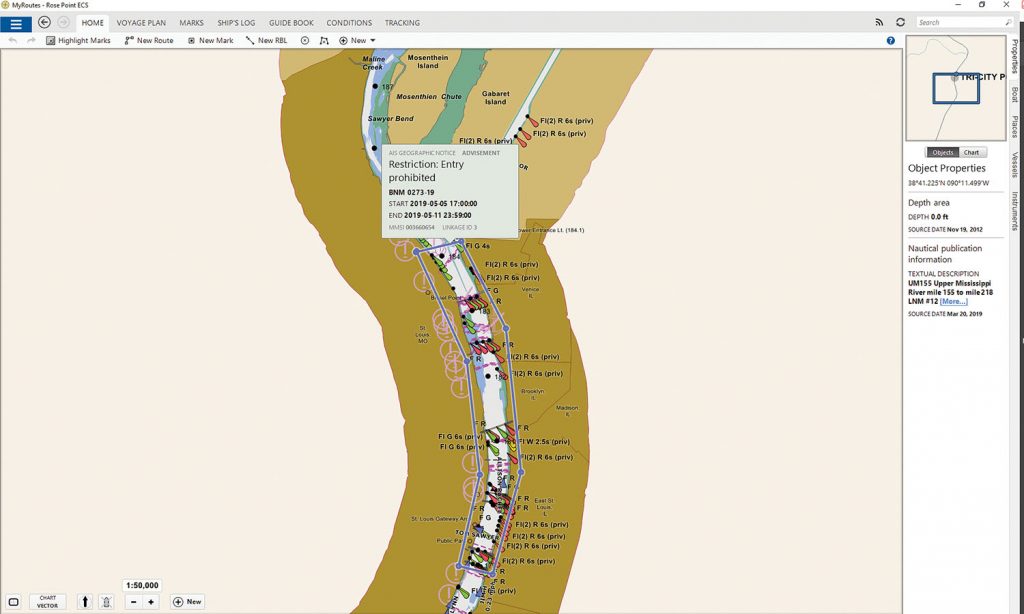 Improving AIS information must be a much more collaborative process, however, than was updating paper charts in previous eras.
Sign up for Waterway Journal's weekly newsletter.
Our weekly newsletter delivers the latest inland marine news straight to your inbox including breaking news, our exclusive columns and much more.
Tetreault says his team coordinates closely with the Coast Guard, industry partners, pilots' associations and the makers of e-chart equipment and software developers. "There are middlemen now between the information we—the government agencies—have, and the users who receive that information. We have to work with the equipment manufacturers to make sure that the information we are sending out can be received and displayed on their systems."
An important member of his team is James "Jay" Kilroy, an engineering technician in navigation systems who also works out of Vicksburg, with whom Tetreault has worked for more than 10 years.  Standards-setting organizations, said Tetreault, are yet another middleman / partner.
It's a never-ending discussion centering around the questions: What kinds of information can and should be displayed? Information on lock queues, geographic notices and water levels is currently being transmitted: other information is being considered for use in the system.  Tetreault said his team is looking at a way to connect the system to water gauges and automatically send out signals based on water levels, such as bridge clearances and new aids to navigation locations.
Tetrault is careful to describe his work as "augmenting" both regular chart information and physical aids to navigation (ATON). "Most modern radars, as well as e-charts, can now display AIS information," he said. He knows, he said, that the use of virtual ATON on charts has been controversial at times and needs to be integrated slowly. "Both we [the Corps] and the Coast Guard are moving prudently with our industry partners," he said. "There is no intent to completely move away from physical buoys."
There is little opposition anymore to the use of e-charts among pilots and captains. But at inland conferences and gatherings, older captains and pilots still insist that upcoming steersmen, pilots and captains-in-training do need to look out the window and not rely on any one source of information.
Tetreault agrees. "Our systems are built not only to have redundancy within themselves but should also be used in conjunction with other sources. As a former mariner myself, I absolutely agree that you do need to look out the window!"
During the recent floods and high water, for example, displaying electronic aids to navigation—virtual buoys, or virtual ATON—on e-charts has been more important than ever.
"My team was just talking to the Kansas City Corps office to place virtual ATON on areas of the Missouri where flooding and high water have prevented the Coast Guard from replacing buoys that have been submerged or washed away," said Tetreault.
Tetreault said that his team's testing currently covers about 50 percent of the inland waterway system, including the Ohio River and Upper Mississippi basins. The Coast Guard also transmits virtual ATON on parts of the Lower Mississippi and Intracoastal Waterway.
Making information as intuitive and user-friendly as possible is always a goal. Another goal is security. "Most systems are within the Corps' and Coast Guard's firewalls and are pretty secure," he said.
Caption for top photo: Virtual ATON transmitted at Lock and Dam 52 to indicate the passage around the locks during high water; as seen on the Corps' LOMA display.