A high point of the Inland Rivers, Ports & Terminals Inc. (IRPT) conference held in Baton Rouge, La., April 23–25 was the four longtime port and terminal leaders recognized for their impact on the industry. IRPT Executive Director Aimee Andres presented a most influential person award, a lifetime achievement award and two IRPT impact awards—all first-time awards for the organization.
Steve Taylor, who retired as chief operating officer of Oakley's Port 33 in Catoosa, Okla., at the end of April, received the most influential person award. Taylor, whose influence extends well beyond the Verdigris River to the Arkansas River and others, is well known as an outspoken—and funny—member of IRPT and advocate for the inland waterways. But Deidre Smith, director of the Arkansas Waterways Commission and director of IRPT, said Taylor's impact is much more than that.
"A lot of you may know him as being boisterous, impulsive and the life of the party, but what you may not know is that Steve has a really big heart and a gentle spirit," Smith said. "I've known Steve for almost eight years, and I can truly say he has richly blessed my life with his friendship."
Smith also praised Taylor for being a great teacher, who understands both the river industry and how to explain it to outsiders.
Sign up for Waterway Journal's weekly newsletter.
Our weekly newsletter delivers the latest inland marine news straight to your inbox including breaking news, our exclusive columns and much more.
"And even if he doesn't know the answer, he'll either lie to you or he knows people all over the country he can get the answer from," Smith said to widespread laughter.
Addressing the crowd, Taylor said he was completely surprised when Andres told him about the award. Taylor found out when Andres called him to say that none of the people he nominated for the award had been picked. Taylor was driving at the time.
"She said, 'We had a better nomination,'" Taylor recalled. "I said, 'Well, I'm sure you did.' So she says, 'Yeah, it was you.' Well, I could've run right off the road into the ditch."
Taylor said, though he's retiring, the river industry remains a vibrant part of his family. He recognized his family—including brothers, nephew and sons—and the years each has worked in the river industry. He then tallied up the years.
"That's one year short in my family of 200 years of river service," Taylor said. "It's amazing, and I love it."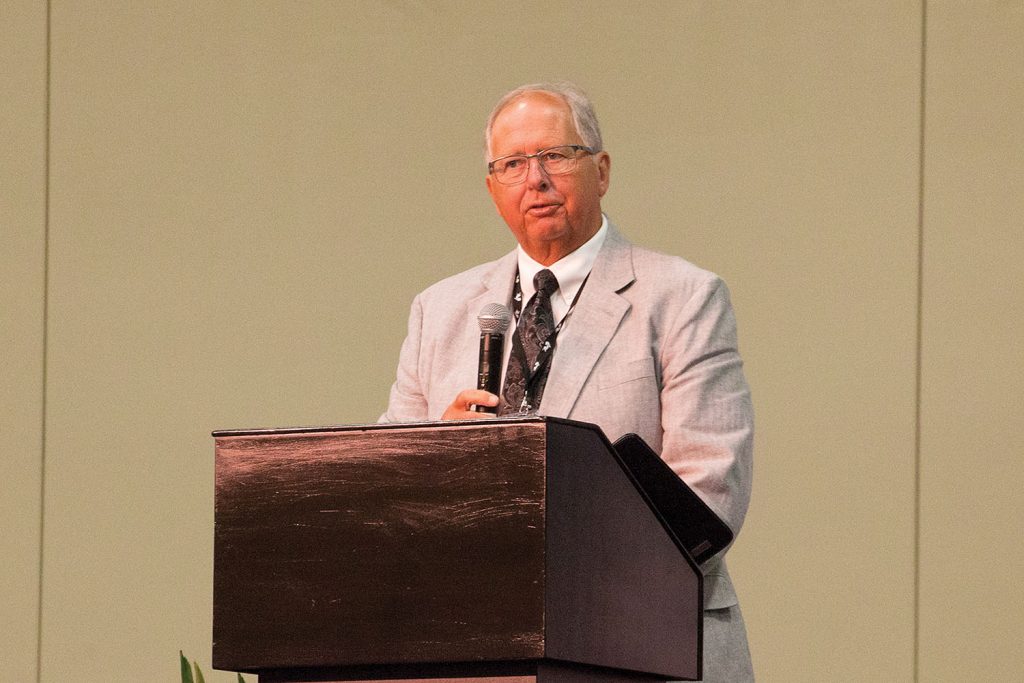 Rich Cooper
Rich Cooper, who retired last year as CEO of the Ports of Indiana, received IRPT's lifetime achievement award. Prior to joining the Ports of Indiana in 2001 as chief operating officer, Cooper was global director of manufacturing for Purina's international agribusiness, Andres said.
"Even before that, he was with Continental Grain Company, an international agribusiness, where he oversaw that company's first mill in China," Andres said.
Cooper also has been a longtime member of IRPT, serving as the organization's vice president in 2013 when Andres became executive director. Andres recalled the first time she met Cooper shortly after she joined IRPT. Cooper, a recreational pilot, flew himself up to America's Central Port in Granite City, Ill., where Andres' office was at the time.
"He came strolling into the office with his flip flops, shorts and his Hawaiian shirt," Andres recalled. "He said, 'I was on my way to vacation, but I wanted to stop and say hi.' That was one of my very first impressions of Rich."
"As I scan the room, I see so many peers who have made a difference to their organizations and this industry, and it makes the significance of this honor even more special to me," Cooper said to the crowd.
Cooper then reflected on his career, focusing in on the last few years at the Ports of Indiana, during which time the system of ports reorganized as a self-funded enterprise.
"As you look back over your career, you look at the accomplishments the organization's had since you've been there or that you hope it's had," Cooper said. "I've been there for the past 17 years, and the last five or six have been the best in the organization's 50-year history."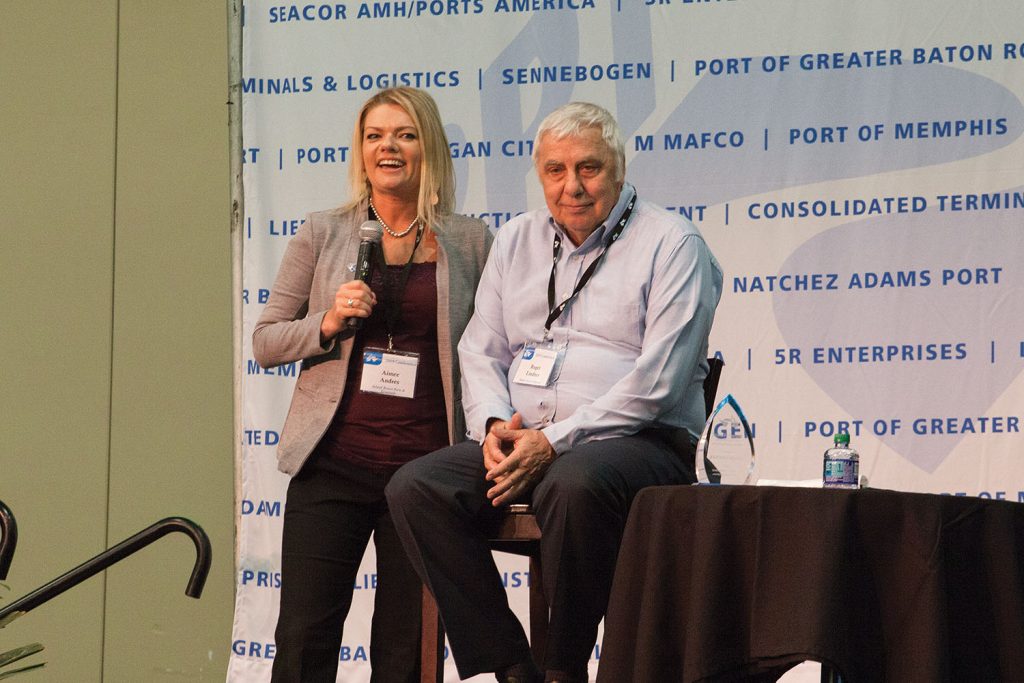 Cooper then issued a challenge to the port leaders present.
"I would challenge all the terminals and port authorities here today, as you create a vision for your future, try to do it in a way you can demonstrate the value of your organization, your value proposition, where you become less and less dependent on others providing capital infusions for operating revenue or capital projects," he said.
Impact Awards
IRPT impact awards went to a pair of upper river industry stalwarts—Roger Lindner and Rich Goldstein.
Lindner retired as general manager of Burlington River Terminal in Burlington, Iowa, last year after a lengthy career in the river, agriculture and oil and gas industries. Andres recalled a trip to Panama in 2016 during which Lindner spoke to the administrator of the Panama Canal Authority about soybeans from the Midwest.
"Roger got up and said, 'I run a terminal in Burlington, Iowa, and the main commodity I handle is soybeans,'" Andres said. "This really got the attention of the administrator."
The administrator went on to ask Lindner the difference between U.S. soybeans and soybeans from Brazil.
"Roger says, 'Oh our soybeans are so much higher quality than Brazilian soybeans, and you know, Brazilian soybeans don't usually use the Panama Canal,'" Andres recalled. "Ever since that moment, the administrator is a huge supporter of the inland waterways, because he knows the commodities moving downriver are being shipped through the Panama Canal."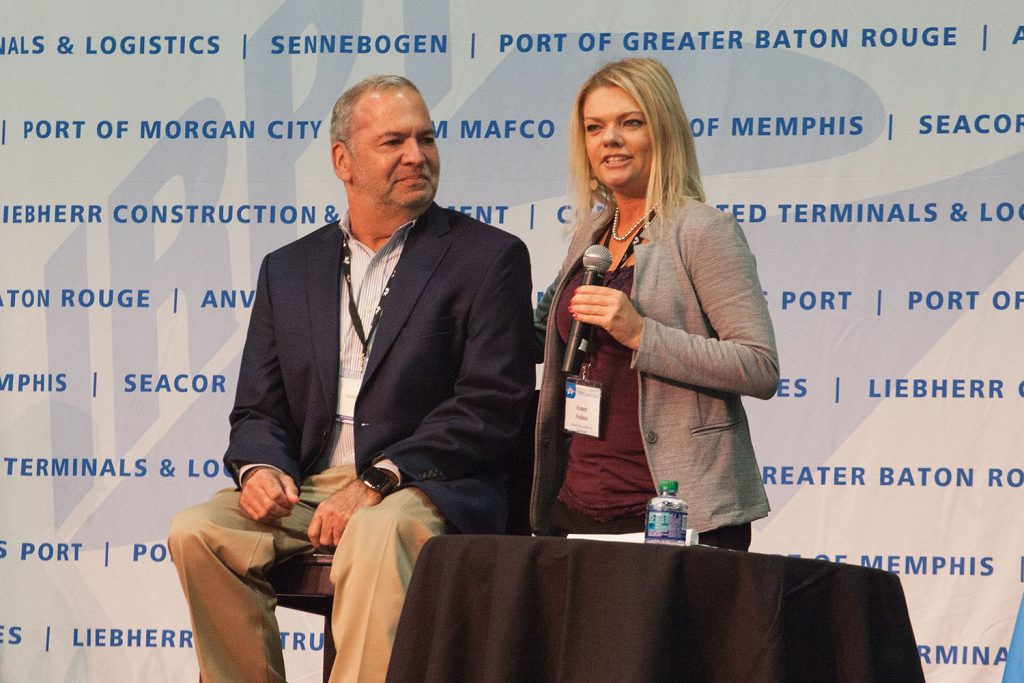 Goldstein was also recognized for his more than 45 years with the Alter family of businesses. Last year, he retired as director of Alter Trading and Alter Logistics, having previously served as executive vice president of the company. He continues to serve on the Alter Company's board of directors.
Andres thanked Goldstein for his advocacy for both public ports and the private ports and terminals on the nation's inland waterways.
Andres said the strength of IRPT is due in large part to the contributions over the years of Taylor, Cooper, Lindner and Goldstein.
"Each of our award recipients have had a major impact on the direction of our association, helping shape our initiatives and impacting our industry as a whole," she said. "We have only come this far thanks to the dedication and leaders before us. We would like nothing more than to honor those who have served before us."
Caption for top photo: Steve Taylor, with Oakley's Port 33 and an IRPT board member, receives the organization's most influential person award from Aimee Andres. (Photo by Frank McCormack)