The Seamen's Church Institute (SCI) honored Joe Pyne, chairman of Kirby Corporation, with a Lifetime Achievement Award during SCI's annual Maritime Training Benefit Luncheon in Houston April 25. Christian O'Neil of Kirby Marine Transportation Group presented Pyne with the award acknowledging his tremendous contributions to the maritime industry. Attendees at the sold-out luncheon responded with a rousing standing ovation.
"Joe's commitment to the safety and professionalism of this industry is also evidenced by the key role he played bringing SCI's Center for Maritime Education to Houston," said O'Neil. "I'm confident Joe's vision was to provide a quality resource for Kirby's employees, but he also wanted to make safety a priority and improve training for all of us. Joe has always recognized how linked and connected we all are in this industry. He didn't strive only to have a safe Kirby fleet, but to create a safer waterway."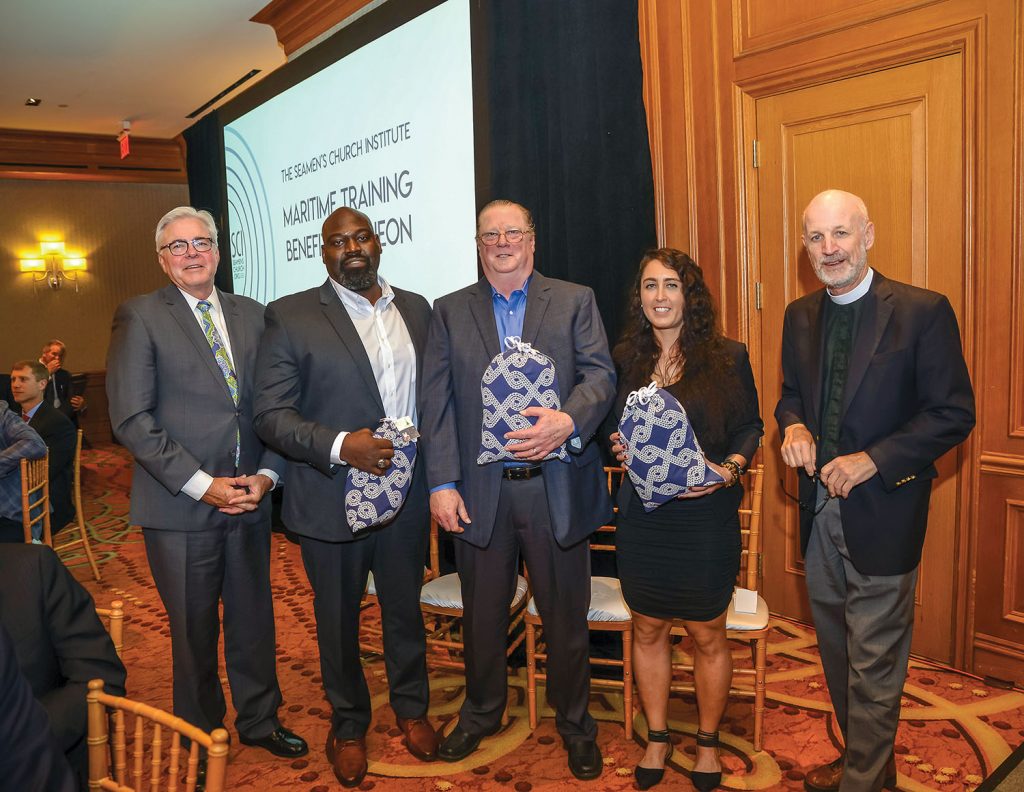 Proceeds from the event surpassed the target goal of $150,000 by $35,000. The money funds initiatives like SCI's Applied Suicide Intervention Skills Training (ASIST) workshops unveiled last year. ASIST, developed to introduce shoreside personnel to the unique risks facing towboat crews before, during and after their deployments, represents just the latest in SCI's innovative responses to the ever-evolving challenges of the modern mariner.
"SCI strives to meet the current and real needs of those we have sworn to serve," said the Rev. David Rider, SCI president and executive director. "Mariners will benefit directly from today's success."
New this year, SCI celebrated the mariner with an invitation to three vessel captains to deliver speeches during the luncheon. Capt. Steve Harris of Golding Barge Line, Capt. Troy Green of Blessey Marine Services and Capt. Stephanie Cavaliere of Kirby Inland Marine each recounted moving personal narratives that also addressed the role of SCI in their career journeys.
"Any mariner can you tell you that navigating a vessel is a challenging experience," said Cavaliere. "There are so many factors that affect our every decision. Luckily we have trained and prepared ourselves to help make those decisions smarter, easier and safer. At Kirby, we attend an advanced pilothouse management class at the Seaman's Church. Even though it is only a three-day class, the interactive exercises and lessons learned are extremely valuable."
Caption for top photo: The Rev. David Rider of Seamen's Church and Christian O'Neil of Kirby Marine Transportation Group present Kirby's Chairman Joe Pyne with the 2019 Lifetime Achievement Award. (Photo courtesy of Seamen's Church Institute)