Commerce is moving again on the entire length of the Tennessee-Tombigbee Waterway thanks to the Mike Hooks dredge E. Stroud clearing a pilot channel below Aberdeen Lock and Dam at Mile 357.5 on the system on May 21.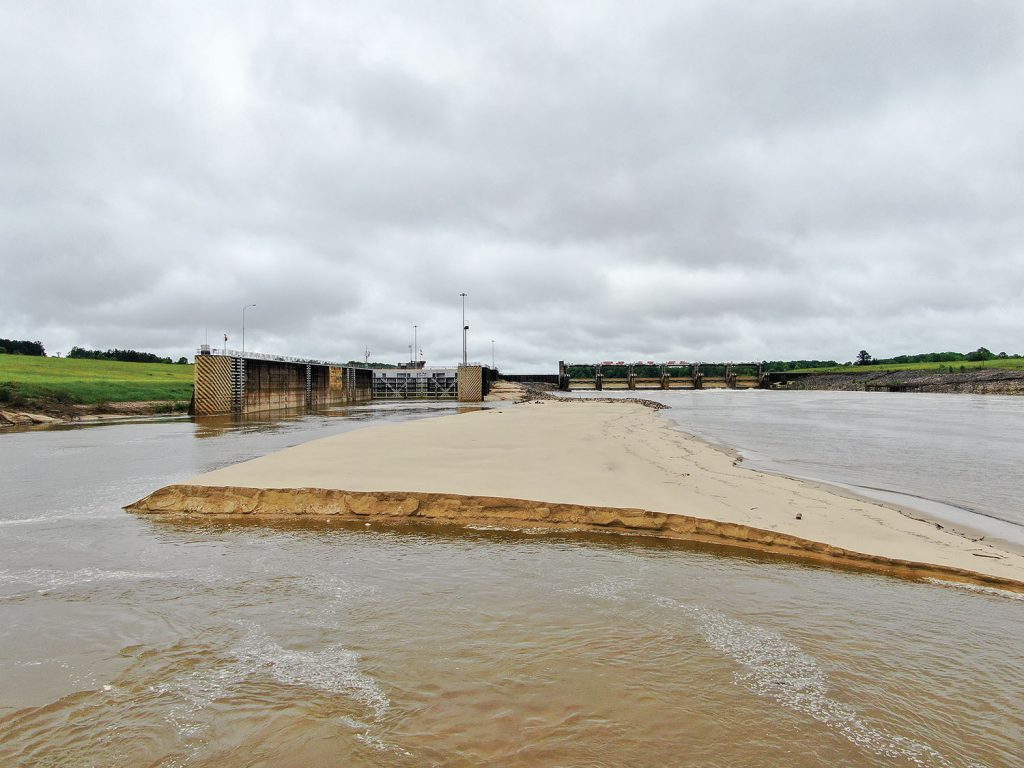 February flooding sent a mountain of sediment down the Tenn-Tom, with about 400,000 cubic yards of sediment—or almost a year's worth for the entire system—settling below Aberdeen alone. Other problem spots developed up and down the waterway as well.
Because of persistent high water levels near where the Warrior River joins the Tombigbee, it took several weeks for the E. Stroud to mobilize to Aberdeen. Then, the dredge crew battled several weather disruptions.
Aerial photos from Aberdeen revealed the enormity of the shoal there, with a sandbar just below the lock chamber extending several feet out of the water.
Get the latest infrastructure and dredging news in your inbox.
Powered by the Waterways Journal and International Dredging Review, our monthly Infrastructure Report newsletter covers dredging, construction and civil engineering.
Mitch Mays, administrator of the Tennessee-Tombigbee Waterway Development Authority, called it a once-in-a-generation event.
"This generational type event, while hindering movement on the Tennessee-Tombigbee Waterway, did not stop all commercial traffic," he said. "The authority is still working with [the Corps] and elected officials to ensure the Mobile District receives all the funding needed to put the [waterway] back to normal."
Several channel width restrictions remain on the waterway, and Justin Murphree, operations project manager for the Tennessee-Tombigbee Waterway, has said it could be November before the channel is returned to normal.
Murphree added the Corps is developing its longterm dredging schedule.
"We are working with Contracting Division in Mobile District to get the complete plan in place," Murphree said.