On June 12, Houma, La.-based towboat operator Dupre Marine Transportation christened the mv. Everard Dupre, the 18-year-old company's ninth vessel. The Everard Dupre is named after company owner Rory Dupre's father.
A crowd of family and friends gathered at Melvin's Restaurant on the Houma Navigation Canal to celebrate the new vessel, which is now on charter with Kirby. Remarkably, all eight namesakes for Dupre Marine's other towboats were also in the audience for the christening of the mv. Everard Dupre.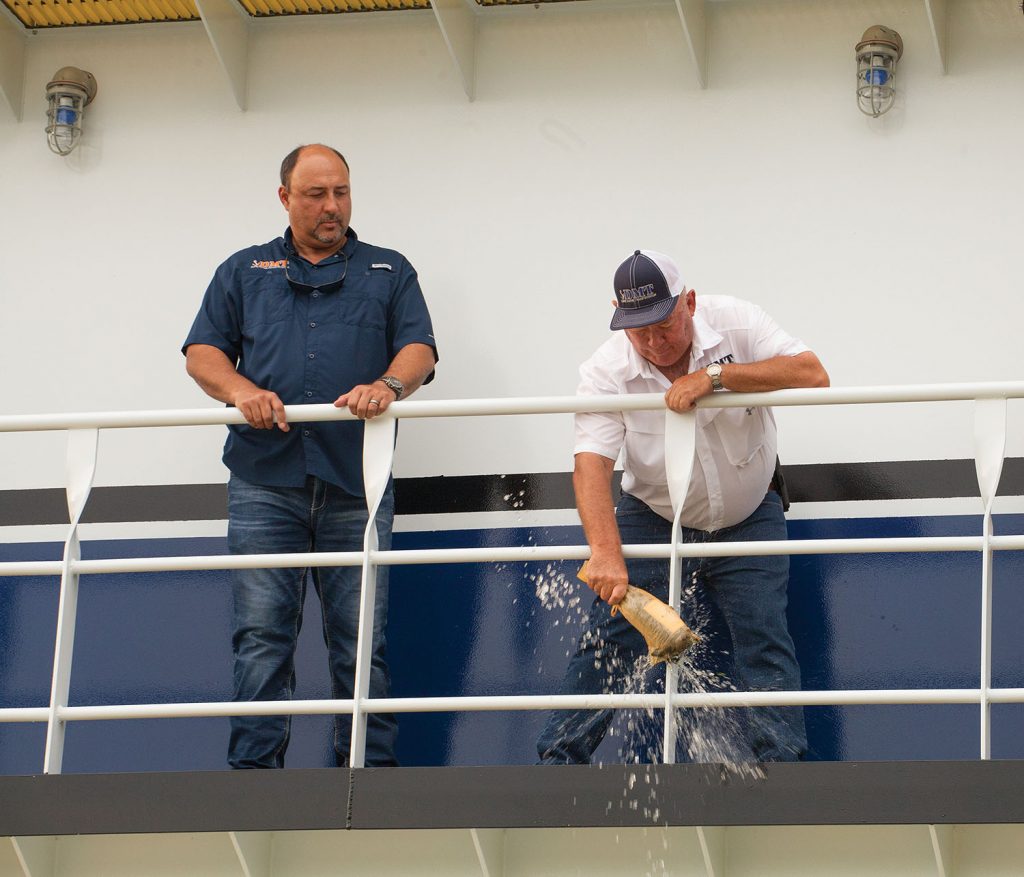 The mv. Everard Dupre is the second of four new Entech-designed towboats Dupre Marine is building with Intracoastal Iron Works in Bourg, La. The vessel measures 72 feet by 30 feet and features 2,000 hp. from twin Cummins QSK-38M1 main engines. Those main engines drive a pair of Sound Denominator 74- by 60-inch propellers through Twin Disc MG 5321 reduction gears at a ratio of 6.39 to 1.
"When you walk the boat, you can see that these guys know what they're doing," Dupre said of the Intracoastal Iron Works team. "It's a beautiful vessel, almost to the point of being yacht-like. For the guys that are going to be operating this vessel, it's their home away from home, and it's something to be proud of."
An EMI Steering System turns the Everard Dupre's rudders. The vessel also features Intracoastal Iron Works' signature stainless steel grid coolers. The Everard Dupre has tankage for 18,000 gallons of fuel and just over 10,400 gallons of potable water.
The four-deck towboat has ample staterooms for a crew of four or five. Crew members include Capt. James "Tub" Davis, relief Capt. Phillip Thompson, and tankermen Paul Jackson, Paul Arabie and Jalare Marks.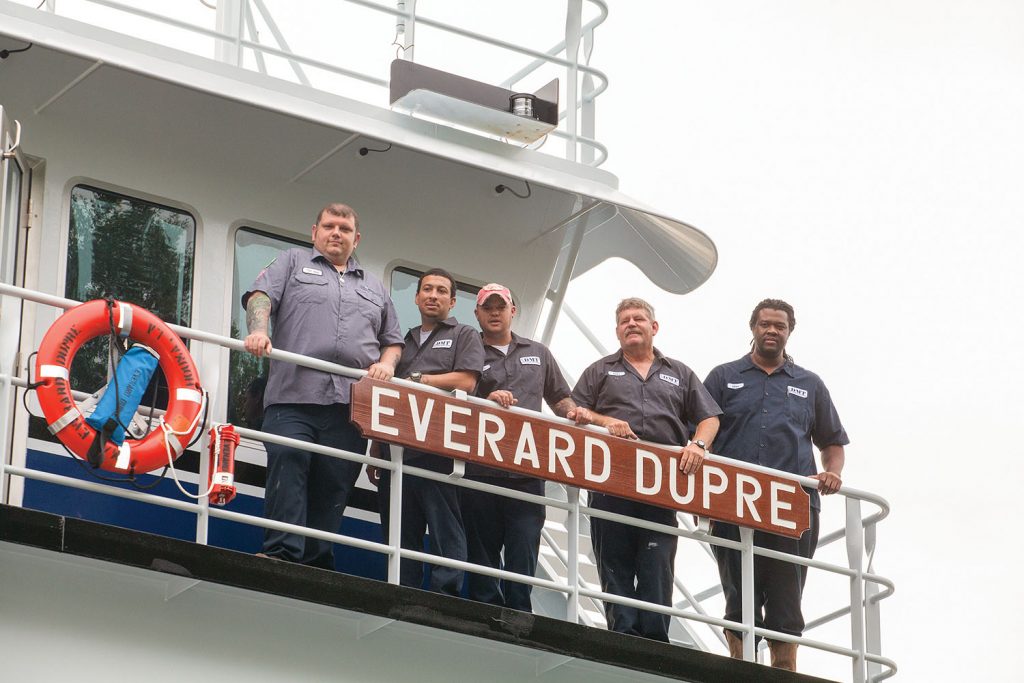 Dupre praised crew members for their professionalism and track record for safety.
"These guys were previously on the mv. Megan E. Dupre and earned the 'No Horn Award,' zero incidents last year," Dupre said. "A whole year without an incident is a great achievement."
Ship service power aboard the mv. Everard Dupre comes from two Cummins QSB-7 70 kw. generators. Electronics on board include HALO-3 Pulse Compression Radars, an eight-channel DVR, both interior and exterior cameras, and a Simrad V5035 Class A AIS transponder system. On deck, the Everard Dupre is outfitted with two 40-ton Nabrico electric winches.
Christening Ceremony
The Rev. Patrick Riviere, associate pastor of St. Thomas Aquinas Church in Thibodaux, La., offered a prayer of blessing over the mv. Everard Dupre and sprinkled holy water on the bow of the vessel. Afterward, Everard Dupre, a veteran of the Louisiana oilfield, climbed aboard and shattered a bottle of champagne on the vessel's forward railing.
Everard Dupre said, when he learned this towboat would bear his name, he had one request for his son, Rory.
"I told him the other day, 'When you bring it here from the shipyard, I want to get on it and I want to drive it,'" Everard Dupre said.
Company History
With a fleet of nine vessels—soon to be 11—Dupre Marine Transportation has experienced impressive growth since its launch in March of 2001. Dupre, who trained early on as a mechanic, first learned the management side of the maritime industry with G&B Marine in the 1990s. He moved over to the inland market in 1998, when he went to work for Caillou Island Towing Company Inc. While still working for Caillou, Dupre bought his first vessel, a small 600 hp. towboat that he chartered back to Caillou Island Towing. He added a second vessel in 2002.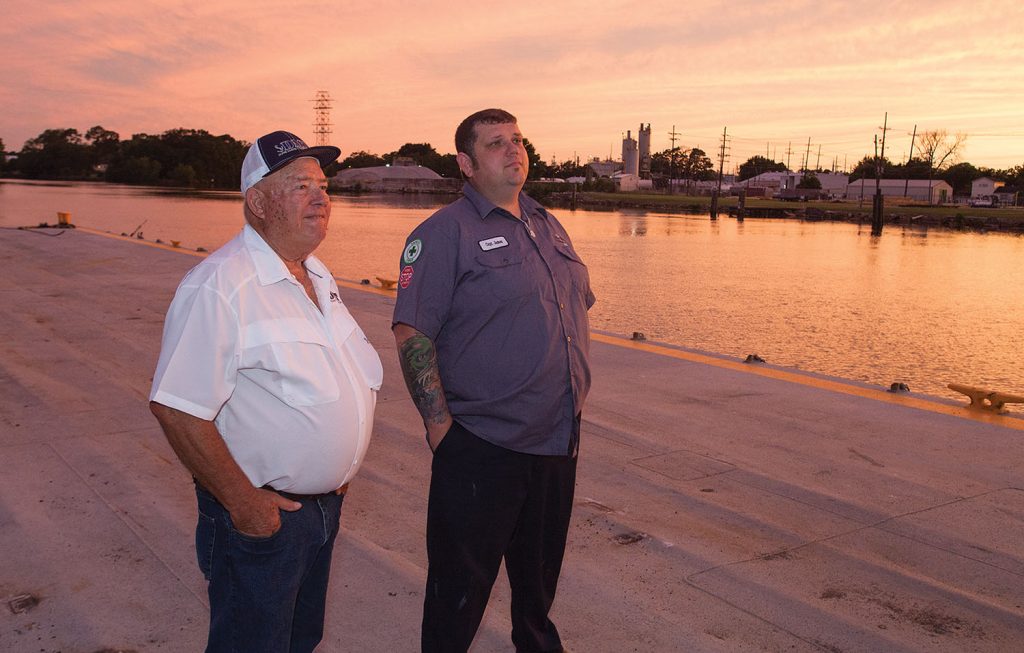 "In 2005, we decided it was time to take another step and work for ourselves," Dupre said.
After some lean years during the economic downturn beginning in 2008, Dupre made an important new contact in 2011 that would change the trajectory of the company. Dupre's daughter was a maid in the Houma Mardi Gras Krewe of Terreanians that year. At a Mardi Gras party, he met the owner of another local towing company whose daughters were pages in Terreanians. The two were fast friends, thanks to both being in the towboat business.
"He said, 'My boats push tank barges, and I work for Kirby,'" Dupre recalled. "And he said, 'Have you ever thought about pushing red flag barges?'"
In time, that new friend introduced Dupre to a team from Kirby, and by the next year, a repowered mv. Kylie Dupre went to work for Kirby. Now, every Dupre Marine towboat is on charter with Kirby.
"From a 600 to where we are today, we're pretty proud of the accomplishment," Dupre said. "This makes the ninth boat in our fleet, so many thanks to Kirby. Those guys hold us to a high standard. It's not easy. They challenge us every day, and we take that challenge on. The staff we have does a great job of meeting their expectations."
Dupre said he believes a key to ongoing success in the inland market will be new equipment, with regulations and company requirements favoring more modern vessels.
"That's really the reason we went ahead with a new build program," Dupre said. "I'm 50 years old, and I don't have plan B, so plan A has to work."
Caption for top photo: The mv. Everard Dupre was built by Intracoastal Iron Works in Bourg, La. (Photo by Frank McCormack)