In 2018, the mv. Bootsie B was renamed Marquette Legends. The idea was for this well-known towboat on the upper rivers to carry recognition of some esteemed captains from Marquette Transportation's River Division. On July 10, at Walker Hall in Paducah, Ky., the first class of honorees was celebrated. They are also the first to be considered part of Marquette's very own "Hall of Fame."
John Eckstein, CEO; Darin Adrian, executive vice president-river division; Chris Myskowski, senior vice president-operations; and Damon Judd, president, presided over the event. Myskowski began by reminiscing about life on the river in the 1800s, saying "in those good steamboat times, a man stood upon his merits."
"While operations on the Western Rivers have evolved and transformed from the quiet and simple canoes and rafts that transported missionaries and explorers like Father Jacques Marquette for whom Marquette Transportation is named, the independent spirit and grit possessed by our nation's earliest founders endures today at Marquette Transportation and is part of the very fabric of our company," he said.
Those honored were described as exhibiting the same traits of "spirit and grit" and to "stand upon their merits." "Their significant contributions have helped establish Marquette Transportation as the industry leader we are today," said Eckstein.
Sign up for Waterway Journal's weekly newsletter.
Our weekly newsletter delivers the latest inland marine news straight to your inbox including breaking news, our exclusive columns and much more.
Beginning with the 2019 class, on a periodic basis, Marquette's River Division will induct captains who demonstrate leadership in safety, productivity, vessel navigation skill and possess undeniable passion for their teams. Adrian dubbed them "Marquette Legends," and said each of their names would be engraved on a brass plate and fastened to the towboat mv. Marquette Legends, just beneath its bell.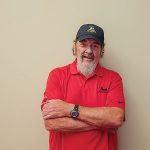 Capt. Gary Thornberry, 29 Years
Gary Thornberry started on the rivers in 1970, dropping out of high school to do so. "I didn't have river people in my family, but I grew up on the river in Grand Tower, Ill.," he told The Waterways Journal. Today he lives across the river in Marble Hill, Mo., east of Cape Girardeau—not too far away.
Thornberry started with Alter Barge Line, running the Upper Mississippi pushing mostly grain. He got his pilot's license in 1976. Seeking more opportunities to move into the wheelhouse, Thornberry piloted and mated for Western Rivers, Wisconsin Barge Line and Brent Towing.
It was while passing Memphis on a Brent Towing boat that his captain, Roger Turner, mentioned that Wepfer Marine needed harbor pilots. Thornberry applied.
"I spent four months getting harbor pilot experience at Wepfer, then moved to CGB Marine in Cairo, Ill., where I spent a few years," he said. In 1990, he joined Marquette for the opportunity to move to line-haul boats, and he's never looked back. "I've been happy at Marquette; it's a good place to work. They just had a few boats when I started with them."
Later, Eckstein, who recently celebrated 30 years at his family's company, cited the early 1990s and the flood of 1993 as the rebirth of the business and the beginning of growth. Thornberry was there to witness it all.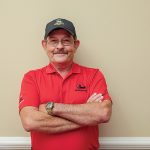 Capt. Larry Sibley, 27 Years
Capt. Larry Sibley was employed in the steel mills in Alton, Ill., near where he was raised, until word of their demise prompted him to follow the advice of an uncle, who worked on a towboat, and seek a job on the river. Accordingly, in 1983, when he was in his twenties, he hired on with Mid-America Transportation Company. Five years later, while working for Norman Brothers, he made pilot.
With his license in hand, he piloted for several different barge and towing companies, one of which was Canton Towing, he said. He recalled the challenges of taking the towboat Sir Randy J, which was then an 850 hp. boat, north to the Twin Cities with 12 empties and returning south with nine loads. He started with Marquette Transportation in 1992, and today is in charge of one of the company's most powerful boats, the 10,000 hp. mv. Rick Calhoun.
"I like the people and the style of business at Marquette," Sibley said, when asked what kept him there so long. At the event, he specifically gave a nod to the dispatchers, who he said are the "best group of dispatchers around." Sibley added that "it's a family-owned business made up of hometown people." When not on the boat, he likes to ride his Harley and target shoot.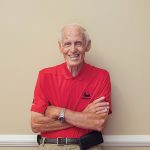 Capt. Jim Troup, 26 Years (Retired)
Capt. Jim Troup, at 82 the oldest of the 2019 inductees, can remember hanging around the foot of Broadway in Paducah as a kid watching boats take on supplies. When he turned 16 and wanted to work on the river, he needed someone to sponsor him. "For 50 cents, Mrs. Thompson with Arrow Transportation made me a port security card that I took to Cairo to get signed by the Coast Guard," he said.
Troup's first job was on the mv. Francis Hougland, which had stopped in Paducah for groceries, he told The Waterways Journal. The captain told him to come aboard when he asked if they needed any help. He stayed for three years, and then went to work for Walker Towing, where he earned his pilot's license. He's on his 12th issuance, he said, after some 61 years in the industry.
Recently retired from Marquette after 21 years, the last 13 of which were on the mv. Blake Denton, Troup said he "likes the people at Marquette and the way they operate." He still makes trips for Marquette from time to time. Looking back at his career, he can remember when the Ohio River had wicket dams and 600-foot locks and how they were replaced with today's concrete and steel structures. He said as a pilot he ran the Louisville Falls twice.
About the river industry today, he said there is every opportunity for a young man to advance his career if he is willing to work.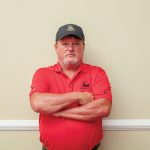 Capt. Bob Wilson, 25 Years
Capt. Bob Wilson came from a blue-water marine family. His grandfather was a steamship engineer on both foreign and domestic vessels. His cousin was a steamship captain and bar pilot in Lake Charles, La.
"I had my own sailboat by the time I was 8, and sailed it by myself," said Wilson. "But I went brown instead of blue."
Wilson began working on the rivers in 1974, the year after he graduated from high school. "I stayed with smaller outfits at first," he told The Waterways Journal—companies with names like B&M Towing and Port City Barge Lines. He worked on the Apalachicola and White rivers as well as the Lower Mississippi. "I was a hard worker and captains liked me," he said. By 1977, he had earned his pilot's license.
Wilson has sailed on the Mississippi from St. Paul to New Orleans, the White River, and the Ohio River up to Ashland, Ky. Wilson says he doesn't have a favorite river. Today, he runs between St. Paul and New Orleans for Marquette.
Like many river veterans, Wilson has welcomed the new electronic tools but cautions that new pilots still need to read the river. "The electronic chart is the best tool ever, but it's just a tool. You still need to look out the window!"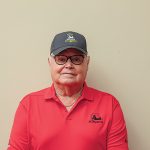 Capt. Henry Hornsby, 21 Years
By the time he was 17, Capt. Henry Hornsby was already an experienced boatman, working weekends, holidays, and every summer while he was in high school, helping his dad deliver supplies to Texaco oil rigs out of Bourg, La. He was one of 12 children—four girls and eight boys—"all but one of whom worked on boats at one time or another," he said.
"When I told my mama I wanted to quit school, she told me I had to go to work, so I got a job with LeBeouf Bros. and worked there until I was 23 and got drafted," Capt. Hornsby said. While in the Army, he taught fellow soldiers how to handle LCUs (landing craft utility vessels). He is on his 10th license renewal.
Now in his 21st year with Marquette Transportation, which "has always treated me well," and on boats for 59 years in total, Hornsby said he never missed a paycheck. Towboating is a "good and steady" career where you can "work your way up," he said.
His first boat with Marquette was the old Ray A. Eckstein, Hornsby said. When the new Ray A. Eckstein was delivered in 2000, he transferred to it and stayed for 13 years, before moving to his current boat.
The mv. Marquette Legends is a twin screw, 8,000 hp. towboat built by Bollinger Shipyards in 2001. Originally owned by Riverway Company, it was sold to Alter Barge Line and later Marquette in 2011. Hornsby and Eckstein said it had an unusual feature that they both appreciate: it has 122-inch propellers, larger than those of most higher-horsepower boats.
More than 100 people were in attendance to help honor the first class of Marquette Legends. Then it was back to business for the seasoned captains. In addition to future similar celebrations, several christenings of new vessels are on the horizon, said Adrian.
Note: H. Nelson Spencer and David Murray contributed to this article.
Slideshow with more photos from the ceremony: