Hannan Assumes Command Of Kansas City Engineer District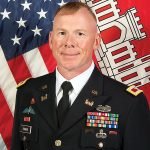 Command of the Kansas City Engineer District was transferred July 19 from Col. Douglas Guttormsen to Col. William Hannan Jr. in a formal ceremony at the Nelson-Atkins Museum of Art in Kansas City.
"I'm honored and deeply humbled by the opportunity to lead the Kansas City District," said Hannan. "The district has a great reputation and I'm looking forward to serving with the team. The Kansas City District has been doing important work in the region and has been recognized as a great place to work in the federal government for several years."
Brig. Gen. Peter Helmlinger, commander of the Northwestern Engineer Division, commended Guttormsen and Hannan, "I couldn't have asked for a better commander here than Col. Doug Guttormsen. The Army and the Corps of Engineers will miss him and his family. We are very excited to have Col. Bill Hannan joins us as the leader of the district and look forward to the continuance of excellence here in the Kansas City District."
Guttormsen assumed command of the Kansas City District July 19, 2016. Before the change of command ceremony, he received the Silver Order of the de Fleury Medal for his exemplary service to the Engineer Corps and the Legion of Merit Medal in recognition of his leadership to the district and distinguished Army career. Guttormsen now retires from the U.S. Army with 27 years of service to his country.
Sign up for Waterway Journal's weekly newsletter.
Our weekly newsletter delivers the latest inland marine news straight to your inbox including breaking news, our exclusive columns and much more.
"It's been a privilege to wear this uniform for 27 years—and a real honor to serve the last three of those with the Kansas City District. The district is a tremendous team of dedicated professionals performing really important work for the region and the nation," said Guttormsen.
Hannan comes to the district from his most recent assignment as the director of academic operations for the U.S. Army War College, Carlisle Barracks, Pa. Prior to this assignment he served as the chief of staff for the U.S. Army Engineer School and battalion commander of the 35th Engineer Battalion, both at Fort Leonard Wood, Mo. He also served as the chief of engineer engagements and exercises for the assistant chief of staff-engineer, headquarters, U.S. Army Pacific at Fort Shafter, Hawaii; detachment commander of the 565th Forward Engineer Support Team-Advance, Honolulu District, USACE in Afghanistan and at Fort Shafter, Hawaii; and as the battalion operations and executive officer for the 5th Engineer Battalion in Iraq and at Fort Leonard Wood; as well as other assignments.
Hannan's new responsibilities include executing civil works, military construction, cleanup of hazardous, toxic and radiation waste, and emergency response programs, and oversight of about 900 employees.
"I expect us to revolutionize project delivery on our commitments to our supported commands, to our customers and stakeholders, take care of our world class workforce, and be ready for future challenges," said Hannan. "Command is the greatest responsibility a soldier can hope for and it is something that I embrace with great care."