Neighbors watched from their folding chairs along LA-75 in Plaquemine, La. Motorists slowed to take pictures and blow their horns in support. Workers paused for selfies. Passing boats slowed to idle speed. A pair of derrick barges and towboats from McKinney Salvage & Heavy Lift were moored along the bank of the Gulf Intracoastal Waterway's Port Allen Route near Baton Rouge. And Ted Verret, second-generation owner of Verret Shipyard, was out working alongside his crew in the midday sun.
The day was August 16—vessel launch day at Verret Shipyard.
The Verret and McKinney crews were busy preparing to launch the mv. Lee W, a 138- by 38-foot towboat Verret is building for Enterprise Marine Services (EMS). After several hours of preparation, the crew from McKinney aboard the two derrick barges carefully cradled the mv. Lee W, lifted the vessel into the air, then pivoted out into the channel and plunged the 400-ton towboat's hull into the water for the first time.
It was the first retractable vessel built by the Verret Shipyard, and the largest vessel built at the yard to date, said Ted Verret.
Enterprise has big plans for the Sterling Marine-designed vessel, which features a retractable pilothouse and will carry a load line certificate from the American Bureau of Shipping.
"That will give her roughly a 17-foot air draft," said Jacob Brown, director of maintenance, construction and shipyard operations for Enterprise Marine. "She will also be ABS load line classed for the Great Lakes limited routes."
The Lee W will have 4,200 hp. from a pair of Caterpillar 3516 main engines, which will drive Reintjes gears from Karl Senner. Th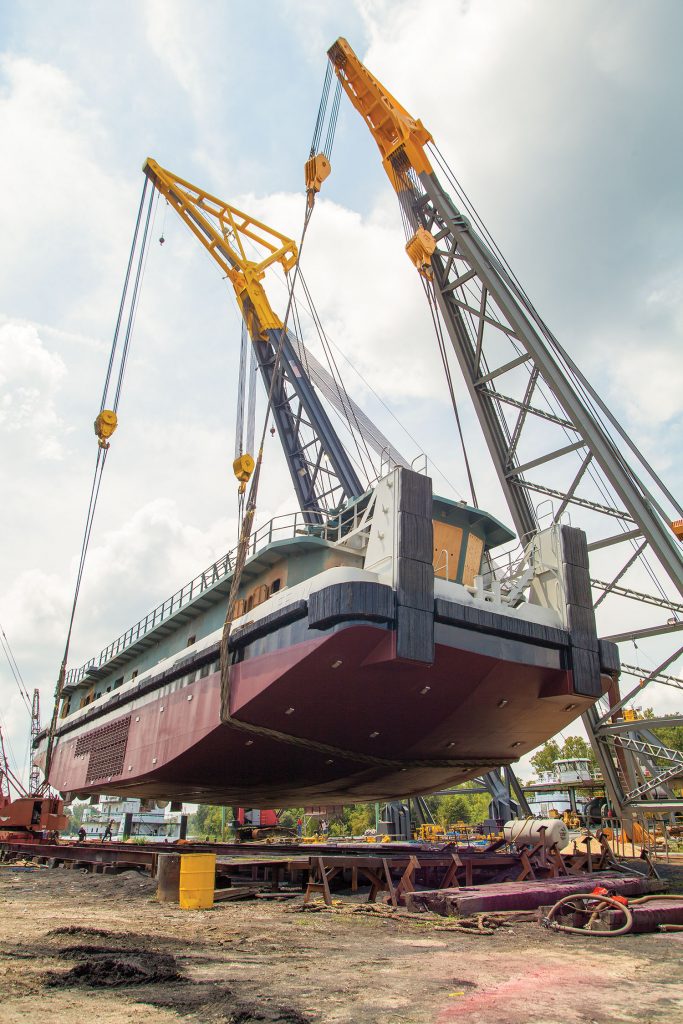 e Lee W's reduction gears will turn huge (102- by 86-inch) propellers at a ratio of 7.5 to 1.
"We're going to have a very large prop, a very slow-moving prop, which will equal high torque and pushing power," Brown said. "That torque will allow us to move high volumes of product with the horsepower we have, while also reducing vibrations with the slower propeller speed."
Brown said that combination of versatility as a retractable and the capability to push high volumes of product and multiple tank barges up and down the Mississippi River between New Orleans and Chicago will make the Lee W an attractive option for Enterprise's customer base. The load line certificate will extend the Lee W's reach even farther into the Great Lakes.
Brown expressed great appreciation for John Verret, EMS superintendent for tug maintenance, Verret Shipyard, Sterling Marine and, specifically, engineer David Carver for working collaboratively to bring the Lee W from concept to reality.
"This was a complete concept design when we came to the table," Brown said. "There aren't very many vessels like this on the inland waterways."
Brown said the team had to tackle numerous design challenges, from horsepower demands and air draft restrictions to manning and watertight requirements for the load line certificate. He said many of those design requirements worked against each other, which made collaboration and teamwork all the more crucial.
"David Carver has done a phenomenal job dealing with the changes and requests from ABS and working on the fly with us," Brown said. "And Ted Verret was just the builder we needed for this specific project."
The Lee W will have accommodations for up to eight crew members. Verret Shipyard incorporated extra insulation and padding in the living spaces aboard the Lee W to account for the proximity to the vessel's engineroom. For extra vibration and noise reduction, the vessel features a breezeway between the engineroom and living areas, Brown said, which will double as an open, multipurpose work space.
Enterprise expects to take delivery of the Lee W in just over a month. The company also has two Ferrell Engineering-designed towboats on the way from Steiner Construction in Bayou la Batre, Ala. Those will also have retractable pilothouses and carry an ABS load line certificate, like the Verret boat, although they will be about 20 feet shorter and have slightly less horsepower. Steiner is also building two conventional towboats for EMS. Those Sterling-designed vessels will both have 3,000 hp.
When all five come online, Enterprise will have a total of 69 towboats at work on the nation's inland waterways.
Slideshow with more photos from the launch: