Tied up on the Lower Mississippi River just below New Orleans, La., are two brand new, never-in-service passenger ferries planned to transport residents and tourists in the Big Easy between the east and west banks of the river.
Those ferries, named the RTA 1 and RTA 2, are both 105-foot, $5 million catamarans designed to carry up to 350 passengers at one time. Louisiana-based shipbuilder Metal Shark built the ferries at its Franklin, La., shipyard and delivered them in 2018. Metal Shark delivered RTA 1 in July 2018, with RTA 2 following that October.
The city of New Orleans and the New Orleans Regional Transit Authority (RTA) had planned to put the ferries into service in 2018 to coincide with the city's tricentennial celebration. That plan fizzled, though, as Transdev, RTA's management contractor, identified design and equipment issues aboard the ferries.
Those issues, though, were addressed, said Metal Shark Vice President of Marketing Josh Stickles, who noted that both vessels received their initial Certificates of Inspection (COIs) from the U.S. Coast Guard prior to delivery.
"Following receipt of COIs, delivery and acceptance, the customer—not the Coast Guard—requested that Metal Shark make changes to these already-certified vessels," Stickles said. "Metal Shark accommodated these requests, and both vessels then again passed inspection by an independent marine surveyor jointly retained by RTA and Metal Shark."
Stickles said the burden then passed to RTA for obtaining "in-zone" COIs from Coast Guard Sector New Orleans in order to put them into service.
"For whatever reason, from July 2018 when RTA 1 was delivered until now, RTA crews have been unable to successfully complete their safety drills in order to demonstrate their proficiency," he said. "They have therefore been unable to obtain their final operating COIs."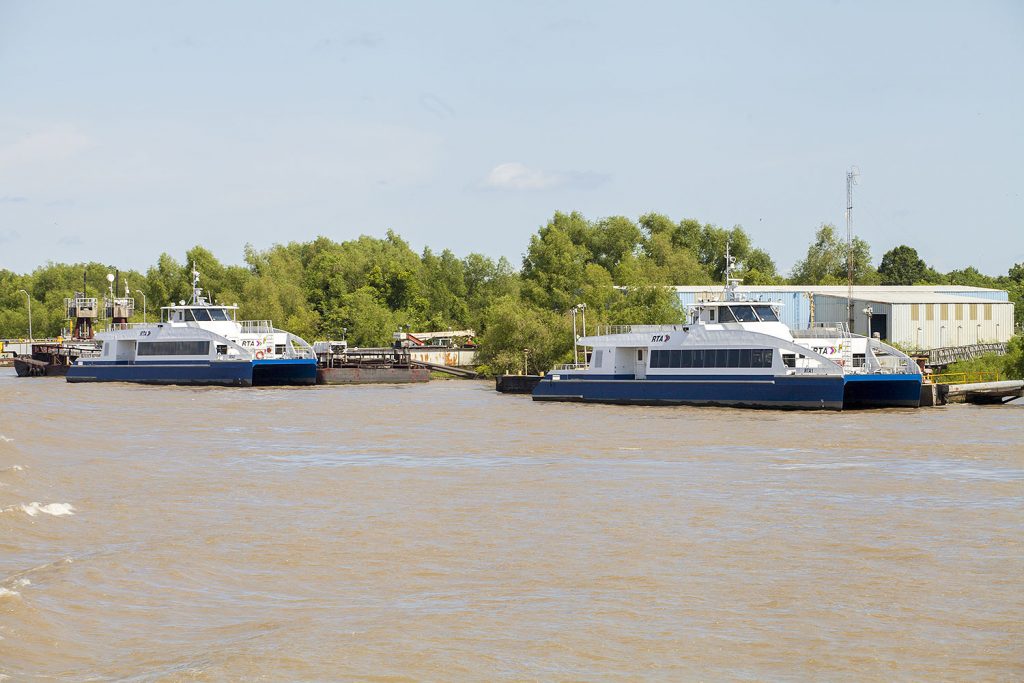 The two ferries most recently failed inspection for their in-service COIs in July.
"Sector New Orleans' marine inspectors encountered several unsatisfactory conditions related to RTA 1's structural and watertight integrity and firefighting and lifesaving capabilities during the initial moments of being onboard," said Capt. Kristi Luttrell, commander of Coast Guard Sector New Orleans. "Identifying these issues led to the decision to coordinate with the owner/operator and discuss the readiness of the RTA 1 and if it was prudent to continue and complete the inspection. It was mutually agreed upon by all parties to not continue the inspection, and subsequently cancel the inspection on the RTA 2 the following day, until both vessels were completely ready to complete their full inspections."
Luttrell explained that the issuance of a vessel's COI should not be seen as "check-valve or survey service for normal vessel maintenance." Rather, the Coast Guard inspection serves as a final check to verify that a vessel is safe to operate and transport passengers on the nation's waterways.
The Coast Guard held a meeting August 14 with representatives from both Transdev and RTA to discuss what was needed to bring both ferries into compliance. Luttrell, in a statement following that meeting, called the gathering "very productive." Speaking two weeks later, she said she still believes the ferries can be put into service quickly.
"We are confident that all of the work leading up to this moment will result in a quick turnaround of these highly desired ferries, and the Coast Guard will continue to do everything in its power to support this endeavor and have these wonderful RTA vessels in operation," Luttrell said.
According to local media reports, RTA has decided to pursue COIs for the ferries without Transdev at the helm of its passenger vessels. RTA is now seeking bids from outside firms to manage its ferry operation.
RTA did not respond to requests for comment.
Stickles noted that Metal Shark has close to 20 of its passenger vessels in service around the country, including in New York City and Washington, D.C.
"Currently, we produce a new passenger vessel at the rate of around one per month," he said. "On a routine and ongoing basis, Metal Shark passenger vessels are completed, delivered and put into service without incident, so it has been frustrating to see these brand new ferries sitting idle in New Orleans."
However, Stickles said he's confident RTA will be able to secure COIs for the vessels and put them into service.
"RTA is making many changes, ranging from new executive management to finding a replacement for Transdev, the company that handles RTA's outsourced ferry operations," Stickles said. "We are confident that in the hands of proficient operators there should be no issue demonstrating safe operation to the Coast Guard, obtaining certification and getting these vessels into service."
RTA just announced it is expanding ferry service between Algiers Point and Canal Street to begin at 6 a.m. seven days a week. Until RTA 1 and RTA 2 are in that number, ferry passengers will have to make do with the slow-moving Col. Frank X Armiger, built in 1978.