Hines Furlong Line Inc., the expansion-minded operator/charterer of boats and barges, recently acquired three towboats and has others under construction. The boats that it bought are the mvs. Mountain State, Robert D. Byrd and Scout. Hines renamed and repainted them to include its distinctive flying "H" logo.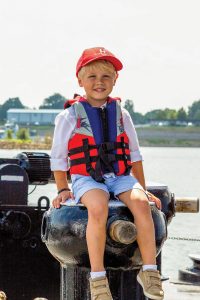 One of the boats Hines Furlong bought, the Mountain State, is a 166-foot, 6,000 hp. towboat, previously owned by AEP River Operations. It is a twin-screw vessel with kort nozzles that was built in 2009 by Quality Shipyards. Presently at work in the company's fully found charter trade on the Ohio and Mississippi rivers, the boat was renamed Porter J. Furlong, after "my four-year-old son," said owner Kent Furlong.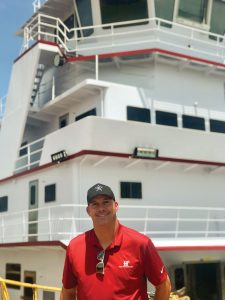 Additionally, Hines purchased the Robert D. Byrd from American Commercial Barge Line and renamed it the Tim P. Studdert. Also built by Quality Shipyards, but in 1998, the 180-foot, twin-screw towboat has 8,000 hp. and kort nozzles. Its namesake is president of Buffalo Marine Service and "one of my closest friends," said Furlong. "It is the tallest vessel in our fleet," he added, which is fitting "since Tim is 6 feet, 7 inches." Hines Furlong has the boat working in its fully found charter trade on the Lower Mississippi River.
Lastly, Hines Furlong added the Old Hickory, formerly the Scout, to work as a harbor boat in either Clarksville or Nashville, Tenn. Previously owned by Harley Marine Services, it is a 76-foot, 2,000 hp. towboat built by Raymond & Associates in 2011. It will be "ready to enter service in a few weeks, after shipyard work is complete," Furlong said.
In addition, the burgeoning enterprise is building 2,000, 4,000 and 6,000 hp. boats at four different shipyards, said Furlong. Slated for delivery in the fourth quarter of this year and throughout 2020, they are being built with Tier III engine packages, he said.
Hines Furlong Line, which has its corporate office in Nashville and an operations base in Paducah, presently operates 13 towboats ranging from 3,600 hp. to 8,000 hp. and several harbor boats, all engaged in either third party towing and fleeting on the Cumberland River or fully found charters on other rivers, Furlong said. "The leased fleet is presently comprised of 55 tank barges and four towboats," he said. The growing company currently employs 260 professional mariners and shoreside personnel.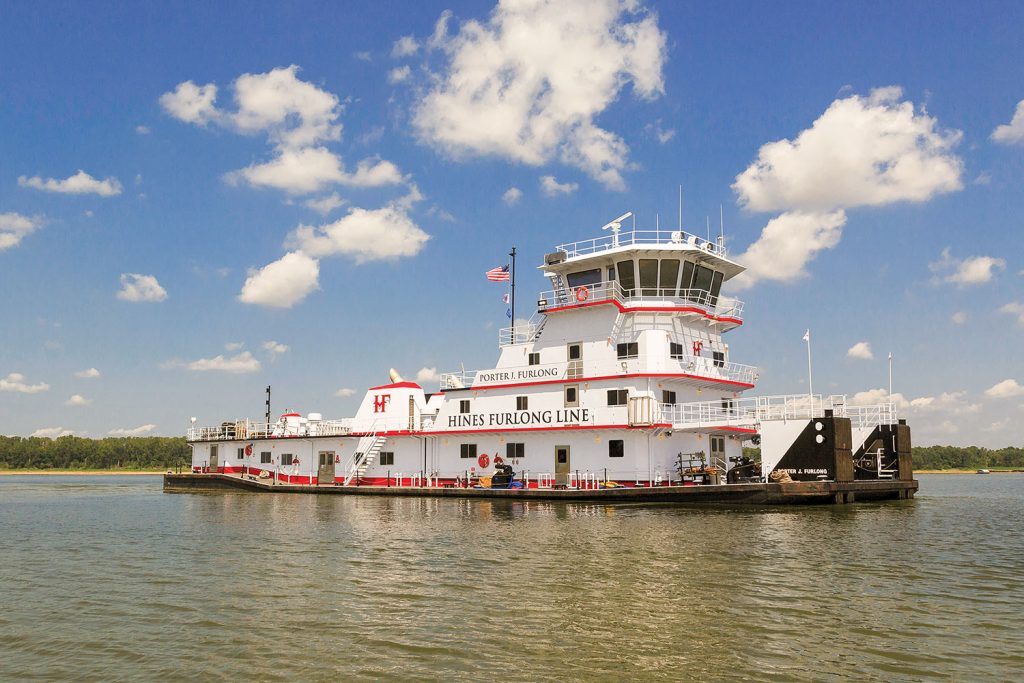 Caption for top photo: The mv. Tim P. Studdert was formerly the Robert D. Byrd of American Commercial Barge Line.