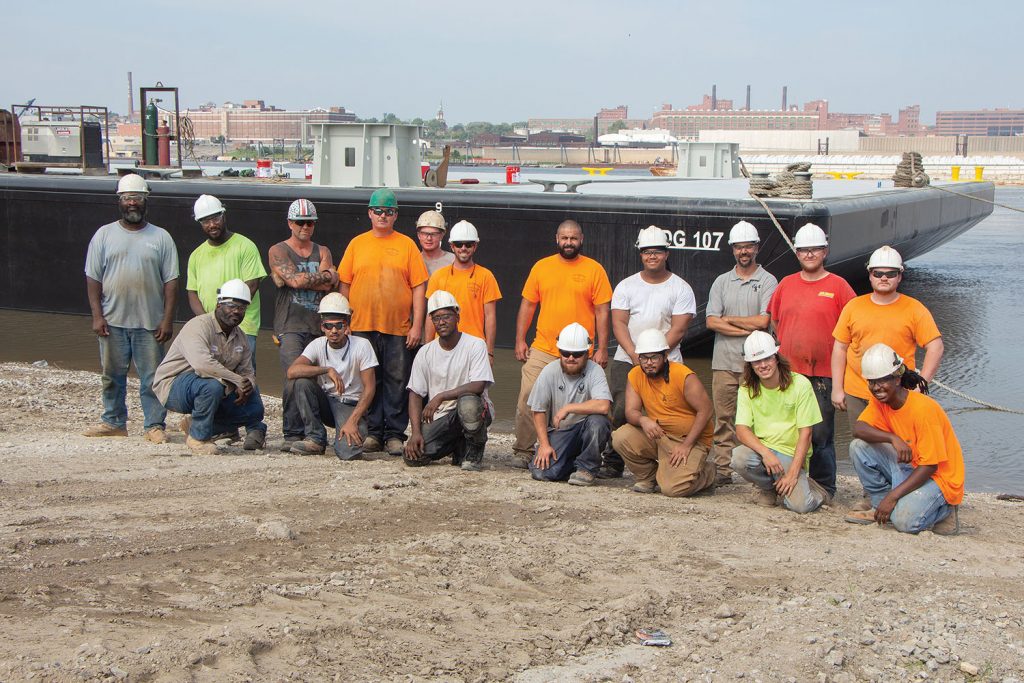 Eagle Fabrication LLC, a division of Eagle Marine Industries Inc., Sauget, Ill., recently launched into the Mississippi River at St. Louis its 100th barge, a 180-foot, flat deck barge for Barge & Boat Rental Service LLC, Burlington, Iowa. The barge hit the water September 19 and then was moved dockside for final outfitting.
The single-rake, heavy duty barge, which measures 180 by 72 by 10 feet and weighs 700 tons, is the widest and heaviest barge that Eagle Fabrication has built. There are three 36-inch by 36-inch by 10-foot spud wells for the spuds that go with it.
The first barge that Eagle Fabrication launched was 20 years ago, in November 1999. It was a single-rake, 150- by 40- by 8-foot deck barge built by a crew of five fitters and welders. Since then the shipyard has completed a wide variety of deck barges, including ABS-classed barges for the offshore and blue-water trade, spud barges, idler barges for the dredging industry and even the first barge ever built on the north slope in Deadhorse, Alaska.
The shipyard specializes in building various types of quality, competitively priced flat deck barges using thicker-than-usual plating, with trusses placed on five-foot centers instead of the standard 10-foot centers. The yard, co-founded and managed by the late Tim Thomas, is now under the supervision of his son, Matt, who leads a workforce of 20 fitters, welders and operators.
"At the time my dad started Eagle Fabrication, it was a job shop and I was there helping out, doing odd jobs, and hoping I wouldn't have to spend the rest of my life in the shipyard," said Matt Thomas. "It was a few years after we opened that we actually built the first barge, which took about a year, and, ha, here I am, 20 years later, still at the shipyard, only now producing six or seven barges a year."
Tim Thomas died November 27, 2018, at the age of 64.
Eagle Marine Industries, an outgrowth of Eagle Packet Company founded in 1858, has served the St. Louis harbor continuously with barge fleeting, barge transportation, and intermodal bulk terminal facilities, in addition to this comparatively more recent venture.
Caption for top photo: Eagle Fabrication's one-hundredth barge slides into the Mississippi River at Sauget, Ill. (Photo by Jason Koenig)