Obituary: Michael O'Daniels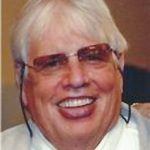 Michael O'Daniels, 74, died September 27 in his home in New Orleans. Born on a naval base in New Hampshire, he was raised in Council Bluffs, Iowa, and served as a deckhand on the inland waterways, working his way up to operations manager at American River Transportation Company, a division of ADM. With ARTCO, he moved to Louisiana, then worked for Metcalf Marine/St. John Fleeting and assisted with development of new business opportunities on the Lower Mississippi River with the Metcalf/Gaudet families. He retired in 2000.
He came from a river family, started by his late father, Ray, who was an executive with Riverway Company in Minneapolis, Minn. At one time or another, his siblings Patrick, Mary and Dennis O'Daniels were principals in O'Daniels Associates barge brokers; one of his sons, Brian, was director of sales and marketing at Florida Marine Transporters; his daughter Michelle was a maritime attorney; another son, Kevin, was a licensed pilot and co-owner of C&M Marine Ventures; and yet another son, Shawn, owned a company named CSN Group that developed software for the inland marine industry.