The New Orleans chapter of Women's International Shipping & Trading Association (WISTA) hosted the second annual Leaders In Maritime panel and luncheon September 23, featuring Parker Harrison, WISTA USA president and senior vice president of procurement and risk management for Crowley Maritime Corporation; Cliff Laborde, co-owner of Laborde Marine Management LLC; and Capt. Kristi Luttrell, commander of U.S. Coast Guard Sector New Orleans.
The luncheon drew close to 30 women from the New Orleans area's maritime community.
To start the panel discussion, each panelist shared how she or he got into the maritime industry. Reflecting the diversity of the industry itself, each panelist took a very different path.
For Luttrell, a native of East Tennessee, the Coast Guard was meant to be just a temporary spot en route to joining the Federal Bureau of Investigation (FBI).
Sign up for Waterway Journal's weekly newsletter.
Our weekly newsletter delivers the latest inland marine news straight to your inbox including breaking news, our exclusive columns and much more.
"They said go get three years' experience and come back later," Luttrell recalled. "I thought the military would be good experience. I liked the mission of the Coast Guard—love it still to this day. Three years went by, and I said, 'I love it here, and I'm staying.' Here I am."
Luttrell then compared the maritime industry to a type of calling.
"It's not necessarily that I chose maritime—it chose me," said Luttrell, who's in her 26th year with the Coast Guard. "I ended up staying and never regretted it."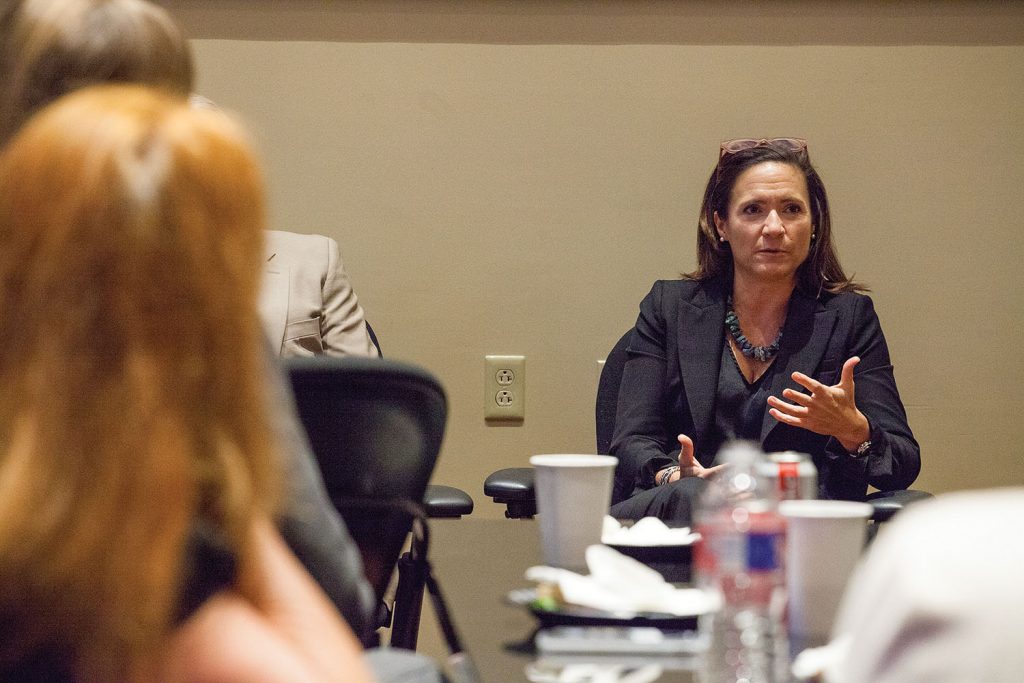 Likewise, Harrison didn't start out in the maritime industry. In fact, like many New Orleanians—and residents of river towns—she can recall driving back and forth across the Crescent City Connection bridge all the time, yet having little knowledge of the complexity or significance of the ships passing underneath.
Then, when Harrison returned to New Orleans to pursue a law degree at Tulane University, she decided to take a maritime law class, which opened a door for her to practice maritime law in the city.
"So I really just fell into it by dumb good luck," she said.
On the opposite end of that spectrum is Laborde, whose family name is synonymous with the maritime industry in South Louisiana.
"In terms of how I got into the maritime industry, I got a 5 hp. Johnson outboard motor when I was 6 years old, and I've liked boats ever since," Laborde said to much laughter. "My family has been involved in the offshore energy industry virtually since its inception."
His uncle, Doc Laborde, designed the first offshore moveable drilling rig. That uncle also designed the first offshore supply vessel with a forward house. That vessel design led to his father starting Tidewater in 1958.
After studying law at Louisiana State University, Laborde practiced maritime law for his own firm, then became general counsel for Tidewater. After "retiring," Laborde went to work with his brother at Laborde Marine Management.
The panelists then spoke about those who have been mentors to them and the importance of mentoring young professionals in the maritime industry.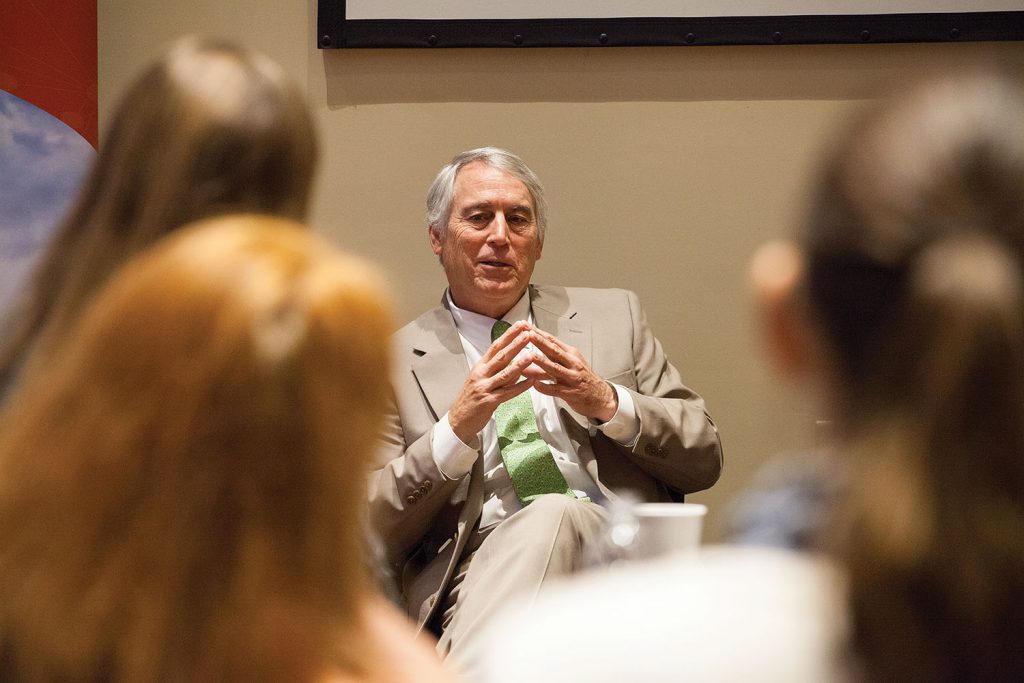 "It's easy for me," Laborde said. "My father was my mentor and continues to be at 96."
Harrison said she's actually never had a formal mentorship, though she's definitely learned from others in the industry.
"The people who have been mentors in my career probably don't know it," she said. "They're just people who I've watched and I've admired. I've probably learned just as much from people I don't want to emulate."
Luttrell added that the mentor and the mentee don't even need to be alike or look alike.
"The best mentor I ever had was someone I wanted to be like," she said. "He had a great sense of humor, and he wasn't a woman, obviously. It doesn't matter. It's who you identify with. It's who you want to model your leadership style after."
Expanding on that, Luttrell encouraged women to recognize and embrace their strengths and leadership style and to not feel pressured to lead in the same way men do.
Luttrell's leadership style has been on full display throughout 2019 as the Mississippi River within Sector New Orleans spent an unprecedented time above flood stage. Cherrie Felder, vice president of Channel Shipyard, said throughout the high water season she got to see Luttrell's leadership in the daily Port Coordination Team conference calls.
"I've traveled to other ports, and I just feel like what goes on in this port is truly amazing," Felder said. "Everybody understands what their job is. There's no arguing. There's no, 'My ship's got to go first.' … Our port coordination team is really good at its job," Felder said. "Thank you for your leadership."
Harrison and Laborde also were able to share lessons from recent hardships and disasters their companies have experienced. Crowley has been active in the response and recovery for hurricanes, including hurricanes Dorian and Maria. Laborde's industry has experienced a historic downturn in the offshore oil and gas market. Regardless of the emergency, each person emphasized the importance of organizations working as a team.
"It's got to be a team effort," Luttrell said.
Speaking after the panel, Hannah Chotin Macgowan, corporate communications manager for Canal Barge Company and co-president of the New Orleans chapter of WISTA, said it was exciting to see the Leaders in Maritime event continue to flourish.
"Our speakers this year brought new perspectives and shared insights into their careers, what drew them to the industry (or what made them stay), and how to seek out and pursue opportunities that may stretch your abilities but ultimately make you a better leader in the long run," she said.
Current and prospective WISTA members can mark two upcoming events on their calendar. On November 12, Chaffe McCall will host a "Lunch & Learn" focused on marine insurance. The event will be held at the firm's downtown New Orleans office. On December 5, WISTA will hold its annual holiday tea event at the Windsor Court Hotel in New Orleans during the International WorkBoat Show.
For more information on WISTA or the upcoming New Orleans chapter events, visit www.wistainternational.com or contact Hannah Chotin Macgowan at hmacgowan@canalbarge.com or chapter co-president Barrett Rice at brice@joneswalker.com.
Caption for top photo: Attendees at the recent WISTA luncheon and Leaders in Maritime Panel in New Orleans. (Photo by Frank McCormack)