WJ Opens New Office In Paducah, Ky.
The Waterways Journal has opened a new office in Paducah, Ky. The company is leasing space from the Seamen's Church Institute (SCI) at 129 Water St. The location is ideal as it borders SCI and the River Discovery Center, is steps away from the Ohio River, a few blocks from the U.S. Coast Guard's Towing Vessel National Center of Expertise, and a close drive to many of the largest barge companies in the country.
Paducah has established itself as major hub for the barge industry, especially for dry cargo and upper river operations, and The Waterways Journal has always had strong ties to the community. H. Nelson Spencer, chairman, learned about the barge industry firsthand as a deckhand for Paducah-based Crounse Corporation. Jeff Yates, former editor of the Inland River Record and longtime contributor, calls Paducah home. And countless trips have been made by WJ staff from St. Louis to visit customers in Paducah over the years.
"Now, we have brick and mortar and are excited to be part of its river-centric business community," said Nelson Spencer Jr., publisher.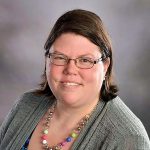 Shelley Byrne
WJ plans to begin with two or three employees in its Paducah office. Its first hire was Shelley Bryne. Byrne is a veteran reporter who has served the area while working for Paxton Media Group after graduating with honors from Murray State University. As the Ohio River Correspondent, Byrne has already had the opportunity to cover the grand opening of Economy Boat Store's new Wickliffe facility as well as the christening of American Commercial Barge Lines' mv. Mark Glaab in Cairo, Ill.
Byrne is joining an experienced team. John Shoulberg, editor, has worked for WJ for over 25 years. David Murray, senior staff writer and former merchant mariner, has been with WJ for 11 years, and Frank McCormack, Gulf Coast correspondent, nearly five. Meanwhile Jim Myers, an experienced writer on Capitol Hill, continues to write the weekly Washington Waves column, and respected steamboat historian Keith Norrington the Old Boat Column.
Plans call for eventually adding an account executive sales position and a customer service/data entry position in the Paducah office.
The Waterways Journal was founded in 1887 to serve the print media needs of steamboats and marine professionals along the rivers of the United States. The company has since expanded to serve additional markets, including the dredging industry, marina and waterfront facility owners and recreational boaters. WJ currently publishes The Waterways Journal Weekly, Inland River Record, Inland River Guide, International Dredging Review, Marina Dock Age and Quimby's Cruising Guide, an annual guide for recreational boating on the Mississippi and its tributaries. Find out more at www.wjinc.net.