Missouri Dry Dock & Repair Company Inc. of Cape Girardeau, Mo., has sold its floating assets to McNational Inc. of South Point, Ohio, as part of a private deal.
Missouri Dry Dock will retain its propeller and machine shops, president Rob Erlbacher II said. Its two drydocks and numerous support barges left Cape Girardeau November 13, and the equipment will be used in McNational's six shipyards, said Bruce McGinnis, McNational's CEO.
"We bundled up all of that floating equipment into one big flotilla," said Erlbacher. Excell Marine's mv. Randy Anderson towed it away.
The deal is more than just business for the two men, both of whom come from companies proud to have had generations of family serving the river industry. They have been friends close to 15 years and also share the appreciation of hands-on work, both continuing to renew their pilot's licenses for decades.
Erlbacher's father and uncle started building riverboats in the 1930s and operated as Erlbacher Brothers Barge Line. Following World War II, his uncle got out of the business, but his father kept several boats and barges and changed the company's name to Missouri Barge Line, Erlbacher said. In the early 1950s, he started Missouri Dry Dock & Repair Company.
"He did that because he could not find people to repair his boats the way he wanted them to be repaired," Erlbacher said.
In the early 1960s, he added a second drydock to the business.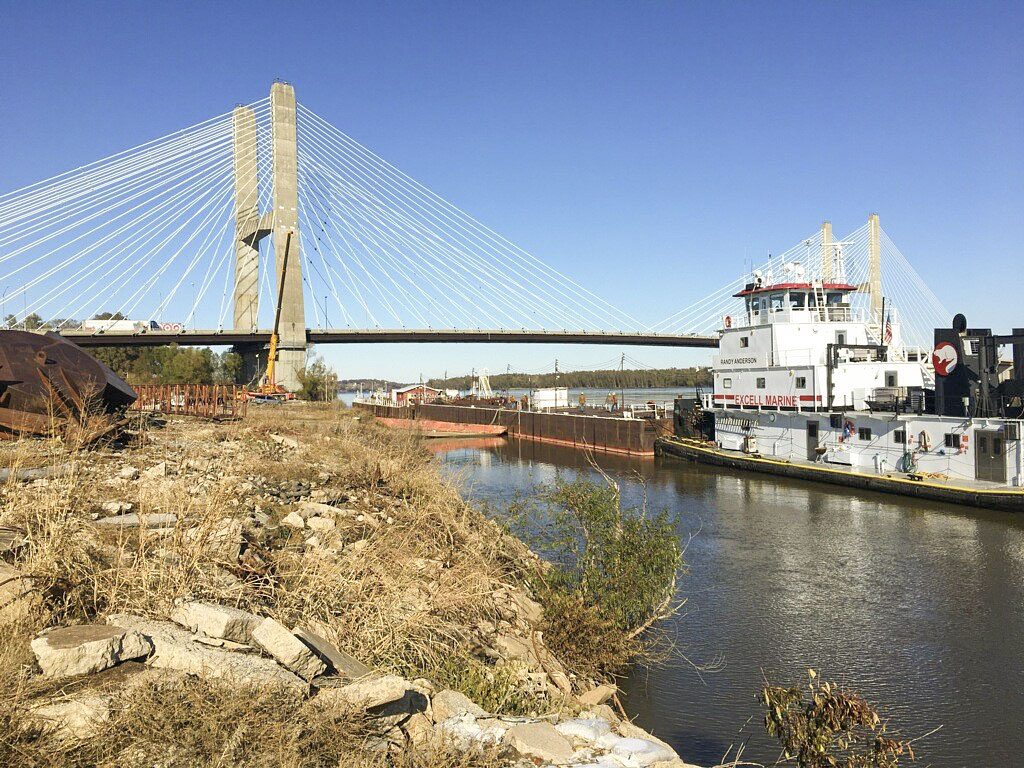 Erlbacher said he grew up around the business, going to the shipyard with his father in the summers when he was out of school. He laughs, saying that older employees once teased him about having to fix equipment he had messed around with before they could use it.
"The shipyard was literally a playground for me," he said.
Erlbacher's father died suddenly of a heart attack at age 57 in 1968, and Erlbacher took over his father's business after finishing his college degree. He had planned on coming home from college immediately, but his mother insisted on him continuing with classes, he said.
One of his best decisions was continuing to place veteran employees in charge of day-to-day operations, he said. Woody Rushing managed Missouri Barge Line, and Curtis Moore managed the shipyard, both going on to spend decades with the company before retiring. In 2008, Erlbacher sold Missouri Barge line, leaving only the repair business. As smaller barge lines were replaced by larger corporations, many of which kept their maintenance and repairs in-house, the business ceased to grow, although long-time customers, for whom he expressed thanks, remained loyal, Erlbacher said. He added that the business' location in Cape Girardeau also wasn't as convenient to many of the larger barge corporations, either.
But Erlbacher wasn't interested in selling to just anybody. He wanted someone who would respect the com-pany's history, understand the importance of a family-run business and have the same values of working hard and treating employees fairly. Erlbacher's son, Rob Erlbacher III, now oversees the machine shop and propeller shop as well, and Erlbacher decided not to sell those.
McGinnis, was the right fit all around, Erlbacher said.
"My family has been in business 115 years," McGinnis said, numbering at least four generations in the trade. Among those is his father, Doug McGinnis, and brother Chris McGinnis.
McNational owns shipyards in Huntington, W.Va.; Cincinnati, Ohio; Paducah, Ky.; Cairo, Ill.; Alton, Ill.; and New Orleans, La. It also operates towboats and provides midstream fueling services.
The two businesses also had a history together, with McGinnis owning and operating some of the towboats Erlbacher's father once built.
"It was a natural thing for me to say, 'yes, I'm interested,'" McGinnis recalled when Erlbacher approached him about selling to him.
The men spent part of a weekend with McGinnis looking over the equipment, making sure it would be a good fit for his operations and discussing McNational sending some of its business to Missouri Dry Dock's remaining machine and propeller shops.
"We're still there, and we're still doing business with the help of Mr. McGinnis," Erlbacher said.
McGinnis said with new federal regulations in place concerning towboat maintenance, he thinks the need for drydocks and related equipment is substantial.
"I'll use this to grow my existing business," he said.
Besides that, he said, the sale has provided the opportunity for the two men to work even more closely together, building their businesses as well as their friendship.
"We lean on each other," McGinnis said. "We help each other, and that's always a good thing."
Caption for top photo: Bruce McGinnis (left) and Rob Erlbacher shake hands following the sale of floating assets belonging to Erlbacher's Missouri Dry Dock & Repair Company Inc. to McGinnis's McNational Inc. The men have been friends about 15 years and began discussing the private sale about a year ago. Missouri Dry Dock is retaining its machine shop and propeller shop. (Photo by Shelley Byrne)