Ergon Marine & Industrial Supply Inc. (EMIS) and Magnolia Marine Transport (MMT), sister companies in the Ergon Inc. family, honored both the past and the future in a November 21 christening ceremony, held at Magnolia Marine's base of operations on the Yazoo River Diversion Canal in Vicksburg, Miss.
For EMIS, which provides mid-stream fueling, delivery and harbor service on the Lower Mississippi River near Vicksburg, the new boat christened was the mv. Patsy J, a 1,368 hp. towboat built at Nichols Boat Company in Greenville, Miss. Magnolia Marine, which operates an asphalt transportation fleet of 24 towboats and more than 75 barges on the inland waterways of the United States, christened the mv. Florence Davis, a 2,600 hp. towboat from Steiner Construction in Bayou La Batre, Ala.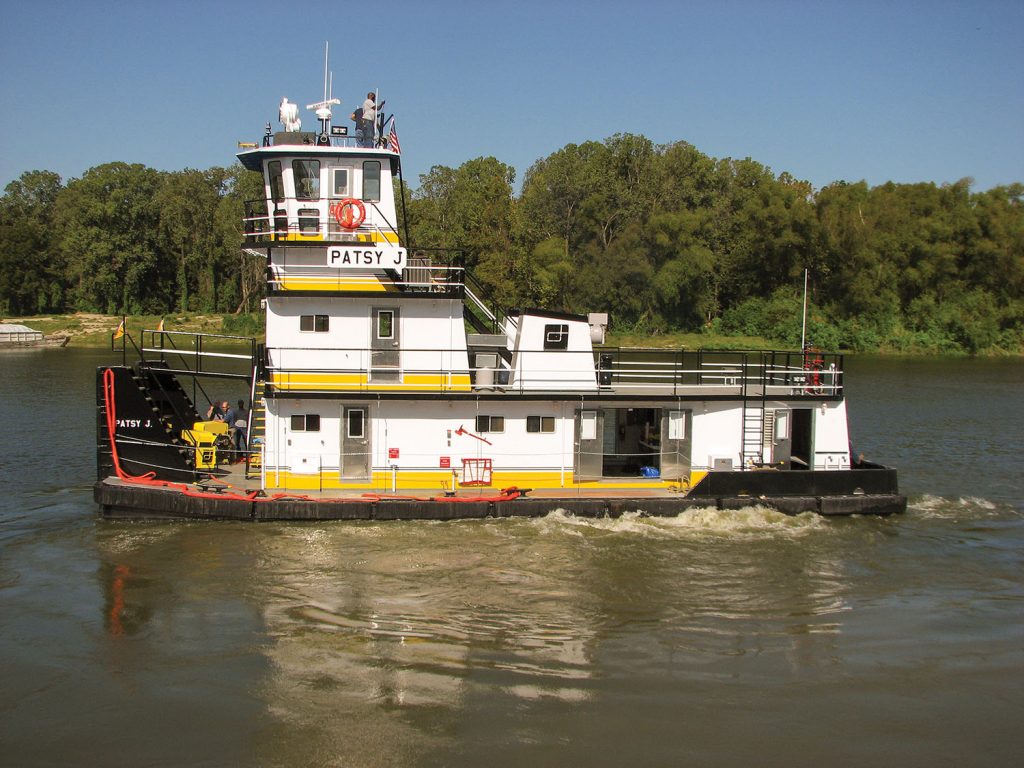 Patsy J
The new EMIS vessel honors Patricia Richardson Joseph, who started at EMIS as a fuel secretary on October 31, 1977. She went on to serve as administrative manager and grocery manager for EMIS. After 25 years at EMIS, Joseph moved in October 2002 to Ergon Inc.'s corporate office in Jackson, Miss., where she served as manager of procurement and logistic services. In December 2018, she retired as vice president of procurement and logistic services.
"Let me tell you about Patsy," said EMIS President Kirk Latson at the christening ceremony. "She's one of the key employees involved in the early years of the company."
Latson said Joseph's procurement and logistics expertise made her a valuable leader when Ergon switched to SAP software in 2002.
"You have touched a lot of hearts over the years and have been such a big influence on so many people," Latson said. "We appreciate you and wish you the best.
"When we started talking about names for this new vessel, the first name that came up was Patsy J," he added. "We are so proud to be able to do that."
Joseph, speaking after the christening, said she was surprised and overjoyed to learn EMIS was naming a boat after her.
"I was touched, surprised, very honored," she said.
With 41 years with the Ergon family, Joseph said that sense of joy and appreciation is nothing new.
"People who do not work for Ergon can't understand what a wonderful environment the Lamptons have created for employees," she said. "What's made me the most proud to say I was an 'Ergonaut' is the values of honesty and integrity and a true caring for all peoples."
Florence Davis
While the Patsy J pays tribute to Joseph's long impactful career with EMIS and Ergon Inc., Magnolia Marine's new vessel points to the future of the company. The mv. Florence Davis is named for Florence Davis "Florie" Lampton, the 8-month-old daughter of Sophie and Patrick Lampton, corporate safety supervisor for Ergon Trucking and grandson of Ergon founder Leslie Lampton. Stan Humphreys, president of Magnolia Marine, explained how Magnolia chooses vessel names.
"All our vessels are named for fourth-generation granddaughters of our late founder, Mr. Lampton," Humphreys said. "This tradition ensures two things. First, it ensures that MMT will continue to grow as the third generation is putting out fourth generation granddaughters at a pretty good clip.
"More importantly," he added, "it sends an extremely positive message to the 3,000-plus Ergon employees that, even though Mr. and Mrs. Lampton are looking down from heaven today, this company is dedicated to being family-owned yesterday, today and tomorrow. It ensures to all of us here today and all to come that the company he envisioned and he developed by focusing on the people, the team members, is not consumed with profits and revenue and expense control, and will continue."
Patrick Lampton, addressing the crowd gathered for the christening, made sure to thank the crews of both the mv. Patsy J and the Florence Davis. He also thanked Joseph for the impact she had on the company for so many years.
"People like you are the reason this company is so great," he said.
He thanked his father, Robert Lampton, and his uncles Leslie, Lee and Bill, who all carried on the Ergon legacy his grandfather started. Lampton also thanked his wife, Sophie, "for being such a great mother and a great wife to me."
"Thank you to my grandfather, Big Leslie, who had the vision for all this, for creating a place where I and most of us here can have a place to work and have the opportunity to support our families," Lampton said.
Lampton said he can remember taking rides with his grandfather from Jackson to Vicksburg, during which his grandfather instilled priorities in him that still guide him today.
"The first thing he taught me was the Lord is most important," Lampton said. "Second, he taught me it was family. Third, he taught me it was the employees, the Ergonauts, the Ergon family. He taught me the Ergon employees are the backbone of this company and what makes it so great.
"I look forward to bringing Florie over, as my grandfather often did often [with me], to maybe ride on the Florence Davis and teach her what really is important," he added.
To conclude the christening ceremony, Robert Green, senior pastor of Fondren Church in Jackson, prayed over the vessels, their crews and bottles of engine oil—another MMT tradition.
"By blessing this oil and placing it into the engines, we're symbolically asking God to please protect these crew members and these vessels, to keep them safe and out of danger as they travel the many miles of the navigable waterways of the United States," Humphreys said.
Vessel Specifications
Nichols Boat Company delivered the mv. Patsy J to EMIS in October, with the boat now in operation in the Vicksburg area. The vessel measures 65 feet by 24 feet, with a molded depth of 8 feet and a draft of 6.5 feet. The vessel's 1,368 hp. come from a pair of Mitsubishi S6R-YcMPTAW main engines from Laborde Products Inc. Those engines are paired to Twin Disc 5222 reduction gears, also from Laborde Products, with a 6.10:1 ratio. Engine Inc. supplied the Patsy J's two John Deere 66 kw. generators.
The vessel is equipped with 6-inch tail shafts and rudder shafts from Mosley Manufacturing & Machine Works. Rudder and shaft tubes are by Mississippi Marine. Dale's Welding supplied the Wartsila shaft seals. Marine Industrial Corporation supplied the vessel's Thordon plastic rudder bearings, while Paducah Rigging supplied the Johnson cutless tail shaft bearings. The vessel features 62-inch by 55-inch four-blade stainless steel, dominator-style propellers from Missouri Dry Dock & Repair.
The mv. Patsy J has tankage for 7,600 gallons of fuel, 1,490 gallons of potable water and 925 gallons of both lube oil and slop oil.
The vessel also features grid coolers from Fernstrum, alarms from M&I Electric, and a steering system from Custom Hydraulics. The vessel's wastewater treatment system is from H20 Inc. On deck, the Patsy J is equipped with two 40-ton Wintech winches and two 40-ton Wintech self-aligning roller chocks.
The mv. Florence Davis measures 88 feet by 34 feet, with a depth of 10.5 feet and a draft of 9 feet, 3 inches. The vessel boasts 2,600 hp. from a pair of QSK38 Cummins main engines. Those main engines, mated to Twin Disc 540 reduction gears (with a 6.18:1 ratio) drive 80-inch by 56-inch four-blade Sound propellers. Ship service power comes from a pair of 99 kw. QSB7-DM Cummins generators. Gulf Coast Air & Hydraulics supplied the vessel's steering system.
The vessel has tankage for 35,860 gallons of fuel, 15,230 gallons of potable water, 790 gallons of lube oil and gear oil, and 1,700 gallons of slop oil.
On deck, the Florence Davis features a pair of 40-ton Wintech winches.
Inside, the vessel has accommodations for eight crew members.
With its horsepower and accommodations, the mv. Florence Davis is capable of working throughout the inland waterways, including the Mississippi River and Gulf Intracoastal Waterway.
Caption for top photo: Steiner Construction built the 2,600 hp. Florence Davis.
For pictures from the christening ceremony, see the slideshow below:
Patricia Richardson "Patsy" Joseph (center, front row), namesake of the mv. Patsy J, along with her family. (Photo by Frank McCormack)