Obituary: John W. Sansing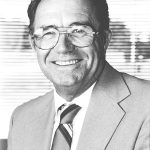 John W. Sansing, 88, died January 2, at The Pinnacle of Greenville (Miss.) following a battle with Parkinson's and Alzheimer's diseases.
After serving in the U.S. Navy during the Korean War, Sansing attended East Central Junior College and the University of Mississippi-Oxford, majoring in chemistry and biology. He had a long and distinguished career in the marine industry beginning at Ingalls Shipbuilding in Pascagoula, Miss. While there, he became a Certified Marine Chemist, a certification he retained until his retirement in 2015.
Throughout his career in the marine industry, Sansing worked at Gulfport Shipyard in Port Arthur, Texas; Mainstream Shipyard in Greenville, Miss., of which he later became co-owner; Newpark Shipyard in Houston, Texas; Channelview Shipyard, in Baytown, Texas; and various locations with National Marine.
He was the owner of John W. Sansing Inc. Marine Chemist until his retirement. He was recognized in San Diego, Calif., in 2012 as the longest serving active Marine Chemist in the United States.