Sabine Surveyors' Squire Program Helps Recruit Next Generation of Maritime Professionals
Recruiting the next generation of leaders into the maritime industry is a challenge facing every company, from operators and stevedores to suppliers and surveyors. For Sabine Surveyors Ltd., headquartered in New Orleans, with seven other regional offices, success has come in the form of the company's Squire Program, a post-graduate training and recruitment program Sabine launched in 2013.
Senior leaders at Sabine at the time recognized their employee stock ownership plan (ESOP) company was facing an age dilemma.
"We enjoy an excellent domestic and international reputation, a high profile client base and steady volume of challenging opportunities," Sabine Surveyors President David Pereira said. "The legacy of our company is very important to all of us, and we are conscious that many in the surveying field are aging, graying professionals, with retirement just over the horizon."
As such, Sabine leaders recognized focusing recruitment efforts on established professionals was not the only long-term solution to their staffing and growth needs.
Sign up for Waterway Journal's weekly newsletter.
Our weekly newsletter delivers the latest inland marine news straight to your inbox including breaking news, our exclusive columns and much more.
"We all committed to an aggressive recruiting effort to attract recent maritime college graduates, but more importantly an aggressive program to bring the best possible candidates of all levels into our system, and train, nurture, and develop them into the Sabine's staff of the future," Pereira said.
With the "Squire Program," Sabine recruits soon-to-be graduates of maritime colleges to spend a six-month period with the company. The company attends recruiting fairs and, after reviewing resumes gleaned from those, conducts phone and in-person interviews to identify the best matches.
"In the process, we outline our developmental program for two candidates to live and train together at our New Orleans office for a period of six months," Pereira explained. "We do not sugarcoat the challenges that surveyors face in our industry—working outside in hot and cold, wet and dry environments with fluid 24/7 schedules that include holidays and weekends."
Selected participants are afforded a company-provided apartment in New Orleans for that six-month period. While there, the Squires experience a full range of assignments, receive specialized training, and benefit from collaboration and peer review.
"These positions are not stopover points, and we anticipate that the surveyors we hire for this program would be in leadership roles within our organization during the next 10 years," Pereira said. "The Squire Program has paid off both for Sabine and the recruits."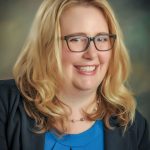 One of the Sabine Squires is Caroline Abbott, a graduate of Texas A&M University at Galveston (TAMUG), where Sabine has focused much of its recruiting efforts to date. Abbott graduated in May 2014 with a Bachelor of Science degree in marine engineering technology and a minor in maritime administration.
"A friend had been interning for Sabine and mentioned they were looking for someone with an engineering background," Abbott said. "I reached out to Sabine and one month out of TAMUG, I was subsequently offered a position in their new-hire training program, dubbed the Squire Program."
With Sabine, Abbott, like all Squires, was involved in all aspects of survey work, from new construction and conversion projects to damage surveys. She was hired to a staff position  after her initial six months. Abbott recently transferred to Houston to work in the local office. In addition to her responsibilities as a surveyor, Abbott has been involved in safety-related aspects of the company, compliance reporting, ISO auditing, expanded blue-water draft surveys, and is currently building a new website for Sabine.
WIMOs Chapter President
Recently, Abbott was elected president of the newly-formed Houston chapter of Women in Maritime Operations (WIMOs). Abbott said she became involved with WIMOs during her time in New Orleans. She credits the organization with cementing her passion and commitment to the maritime industry.
"I was really looking for kinship in the industry," Abbott said of when she connected with WIMOs. "I originally felt isolated moving to a new state and being on my own for the first time. I was thrilled to find an organization that could relate to the professional issues I experienced on a daily basis, and they happened to all be women."
WIMOs was just launching its Houston chapter when Abbott arrived on the scene there. She knew she wanted to get involved at the outset.
"The organization meant so much to me in New Orleans that I wanted to give back and share everything that I could with the women in Houston," she said.
Kasey Eckstein, founder and executive director of the organization, said she knew from when she first met Abbott in New Orleans that she would be a great leader with WIMOs.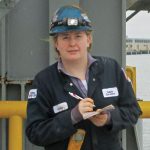 "I loved that she came straight from work, and I didn't even know that the official name for her work uniform was a 'boiler suit' until she told me," Eckstein said. "WIMOs has a main mission of providing industry education to our members, so when a woman with Caroline's knowledge and experience steps into a leadership position like this we get really excited. I have no doubt that the WIMOs Houston chapter will be very successful with Caroline as president."
Abbott said the Houston chapter's first official event of 2020 will be a networking social at the end of January, followed by a chapter meeting in February and a "lunch and learn" in March with a focus on marine surveying. Abbott invited women involved in the industry, whether in Houston or elsewhere, to join WIMOs and learn more about the organization by visiting wimos.org or by emailing wimosusa@wimos.org or wimosHOU@wimos.org.
"Caroline Abbott is an excellent example of how recent graduates, with proper training, personal motivation and employer commitment, can become productive professionals in our industry," Pereira said. "We look forward to continuing to supplement our staffing through our Squire Program."