Marine Chartering Associates LLC, a lessor of marine equipment, recently took delivery of its second new towboat, the mv. Miss Amanda M. The Houston-based firm was revived by John McMahan, former vice president and chief financial officer of Higman Barge Lines, after Higman was bought by Kirby.
"Marine Chartering has been around for 20 years," McMahan said, "and when Kirby didn't require a non-compete clause, we just continued on with it to market boats to companies wanting long-term charters." The boat was delivered December 30.
McMahan was part of an acquisition team that bought Higman in 1986 and built it into a 70-boat, 150-barge operation. Kirby purchased the company in 2018, which led to McMahan's restart of Marine Chartering.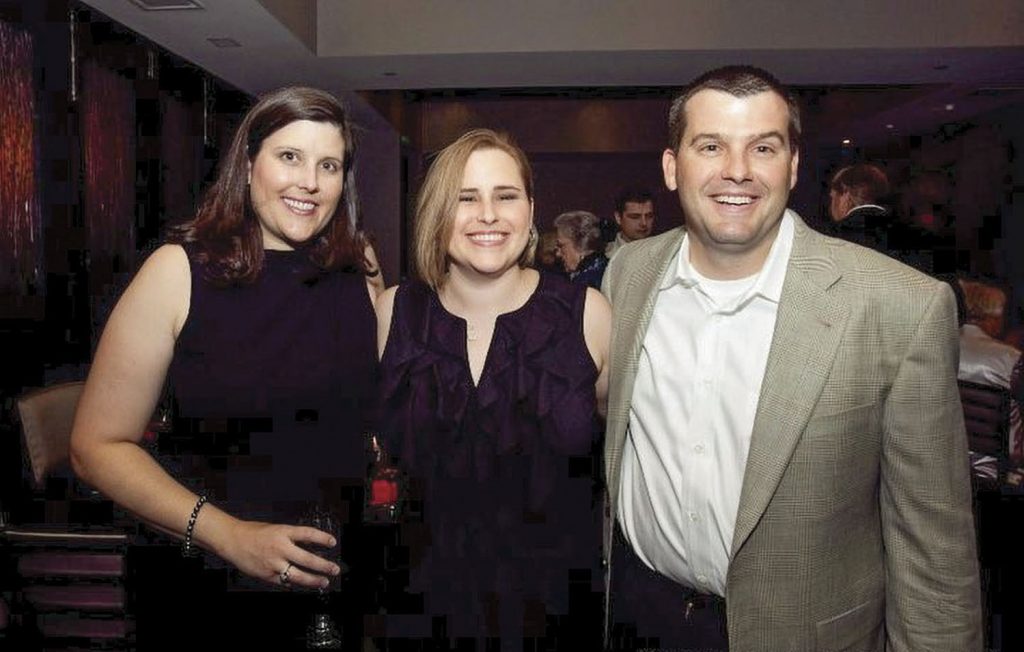 The boat Marine Chartering began with is the mv. Cynthia K, built by Hope Services in Dulac, La. Named for McMahan's wife, it is identical to the Miss Amanda M, which he named for his daughter. Both towboats are leased to Strategic Towing Services LLC, more familiarly known as Neches River Fleet, based in Orange, Texas.
Strategic Towing operates a 100-barge fleet located in an oxbow of the Neches River five miles from its intersection with the GIWW. It was founded in 2017 by James Robertson and Chris Bouquet, who worked together at CLM Towing before its purchase by Savage Marine. Robertson is an ex-Coast Guardsman who retired after 30 years.
Designed by Entech & Associates, the new twin-screw towboat measures 78 by 34 by 10 feet with a draft of 8 feet, 2 inches and a pilothouse eye level of 29 feet. It has 2,000 hp. from a pair of Tier 3 Cummins QSK 38M marine diesels from Cummins Mid-South. The engines turn 73- by 58-inch stainless steel propellers on 6-inch shafts with Simplex shaft seals. The Twin Disc MG5321 reduction gears from Sewart have a 5.96:1 ratio. Ship's service is provided by two 60 kw. John Deere generators from Diesel Source. The engines are cooled by Fernstrum keel coolers.
Within the hull is tankage for 28,000 gallons of fuel, 12,250 gallons of fresh water, 6,700 gallons of potable water, 5,400 gallons of dirty bilge, and 260 gallons each of dirty, hydraulic, lube and gear oil.
Steering for the two main and four flanking rudders is accomplished by a fully redundant, electric-over-hydraulic system made by Custom Hydraulic Components. There is a 48-point vessel alarm system from Eagle Controls. Maritime Safety Solutions furnished the fixed CO2 fire extinguishing system.
The three-deck Miss Amanda M has air-conditioned accommodations for a crew of seven in four staterooms with two baths and two showers. The crews' quarters, galleys and pilothouse all have fire-resistant paneling and ceilings with sound and vibration damping. There is an exercise room on the main deck.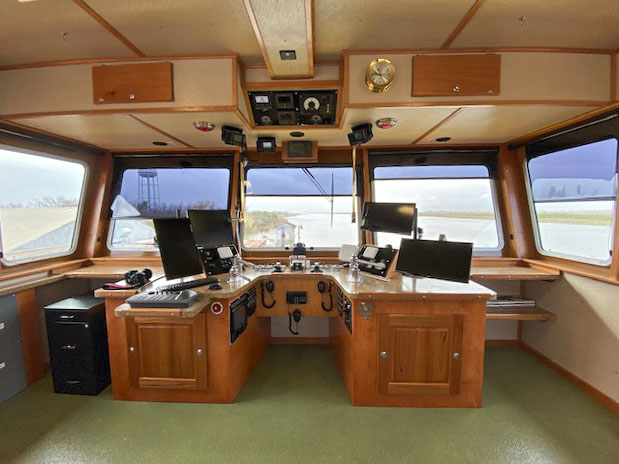 The pilothouse electronics package from Wheelhouse Electronics features a Furuno FAR-2127 BB radar with a 19-inch LCD monitor, three VHF radios, a swing meter, sounder and bridge watch. Atop the pilothouse are two Carlisle & Finch Xenon searchlights, one 500-watt model and one 1,000-watt model, and a Kahlenberg duplex airhorn.
On deck are two 40-ton Nabrico winches. There is a fleet deck. The tow knees and hull are protected by fenders from Schuyler Maritime.
Commenting on the new fleet boat's performance, Robertson said succinctly, "the Miss Amanda runs like a champ."
Marine Chartering has seven more boats in the pipeline, all Tier 3 powered and built to Subchapter M requirements, said McMahan. Next up is an 88-foot, 2,680 hp. towboat under construction at Vessel Repair in Groves, Texas. It is expected to be ready for delivery in the 4th quarter of this year.
Then comes another 78-foot, 2,000 hp. towboat like the Cynthia K and Miss Amanda M from Hope Services. The third will be a 1,600 hp. harbor boat from Master Marine in Bayou La Batre, Ala. After that, the next four will be 78-foot, 2,000 hp. vessels like the Miss Amanda M, McMahan said.
Caption for top photo: The 2,000 hp. Miss Amanda M was built by Hope Services. (Photo courtesy of Marine Chartering Associates)