Obituary: Edward Donald Fry
Edward Donald Fry, 85, former executive at Grafton Boat Works and other shipyards, died November 21, 2019, in North Fort Myers, Fla.
He grew up in his father, Everette's, East Grand Boatyard in St. Louis, where he learned every skill and trade in metal boatbuilding. When Everette Fry purchased the Grafton (Ill.) Boatworks, Edward and his wife, Patricia, moved into a former Coast Guard station house on the riverbank next to the boatyard, and Ed set to work building the business.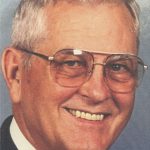 Seeing a market in building small boats for the government, Grafton Boat won contracts to build boats for the Corps of Engineers, U.S. Navy, U.S. Air Force, Department of the Interior, and many other municipal and state agencies. The yard built hundreds of boats: 26 foot "Steel King" houseboats and cruisers; a 47 foot motor yacht, largest in the 1962 Chicago Boat Show; fireboats for Boston; river towboats for commercial operators and the government; and, in a heroic effort that won the yard the Navy's "E" award, two series of fast aluminum river attack boats for the Navy's SEAL teams in Vietnam.
Fry left Grafton Boat in 1971 and moved to Pine Bluff, Ark., where he built a shipyard from nothing on the bank of the Arkansas River. Simultaneously, he started another yard in Louisiana to build aluminum boats. From there, he moved to Oak Brook, Ill., where he was involved in international marine equipment sales for a large import-export firm. That experience led him to move to Houston, where he continued in the international sales of diesel engines and boats, and began a long and fruitful career as a yacht designer, yacht construction project manager and consultant. That career kept him on the move dealing with clients—owners and builders—all over the world, including the Middle East, Europe, Japan and Turkey.
After being flooded out of Houston, the Frys moved to Franklin, Tenn., from where Fry was able to continue his yacht design and consulting business, culminating in a long-term project in Italy. After that project concluded, they returned to the U.S. and settled in North Fort Myers.