Florida Marine Transporters (FMT), which operates one of the largest privately-owned fleets of towboats and barges at work on the nation's inland waterways, is in the midst of a significant build program in response to strong market conditions and customer demand.
In all, FMT has about 14 vessels under contract, with still others recently delivered. The added horsepower will boost Florida Marine's fleet of towing vessels well over the century mark, with anticipated deliveries spanning from February 2020 to the second quarter of 2021.
"We have one more to build at our own shipyard in New Orleans," said Jeff Brumfield, senior manager of boat construction and engineering for FMT. "They've delivered four so far."
The to-be-named vessel from FMT Shipyard, which will feature 4,000 hp. from Caterpillar main engines and measure 120 feet by 35 feet, is due out in February 2021. Brumfield said in the meantime, FMT Shipyard is building its first new towboat for a third-party customer.
FMT Shipyard & Repair LLC opened in 2009 with a focus on maintaining and repairing Florida Marine's fleet of towboats. The shipyard later expanded to offer new construction, with the first Florida Marine towboat from FMT Shipyard launched in late October 2017. The shipyard offers new construction, maintenance and repair services for both Florida Marine and third-party customers.
Gulf Island Fabrication
Florida Marine has recently taken delivery of two new vessels from Gulf Island Fabrication Inc.'s Houma, La. shipyard. Those two vessels, also equipped with Caterpillar engines, carry limited load line certificates from the American Bureau of Shipping (ABS) and feature retractable pilothouses. The towboats from Gulf Island, named the mv. Tori Pasentine and the mv. Brandon T. Pasentine, each measure 105 feet by 34 feet and offer 3,300 hp.
Brumfield said those retractable-pilothouse towboats will have the horsepower to operate anywhere, plus the added capability of navigating the low bridges in the Chicago area and along the Atchafalaya River.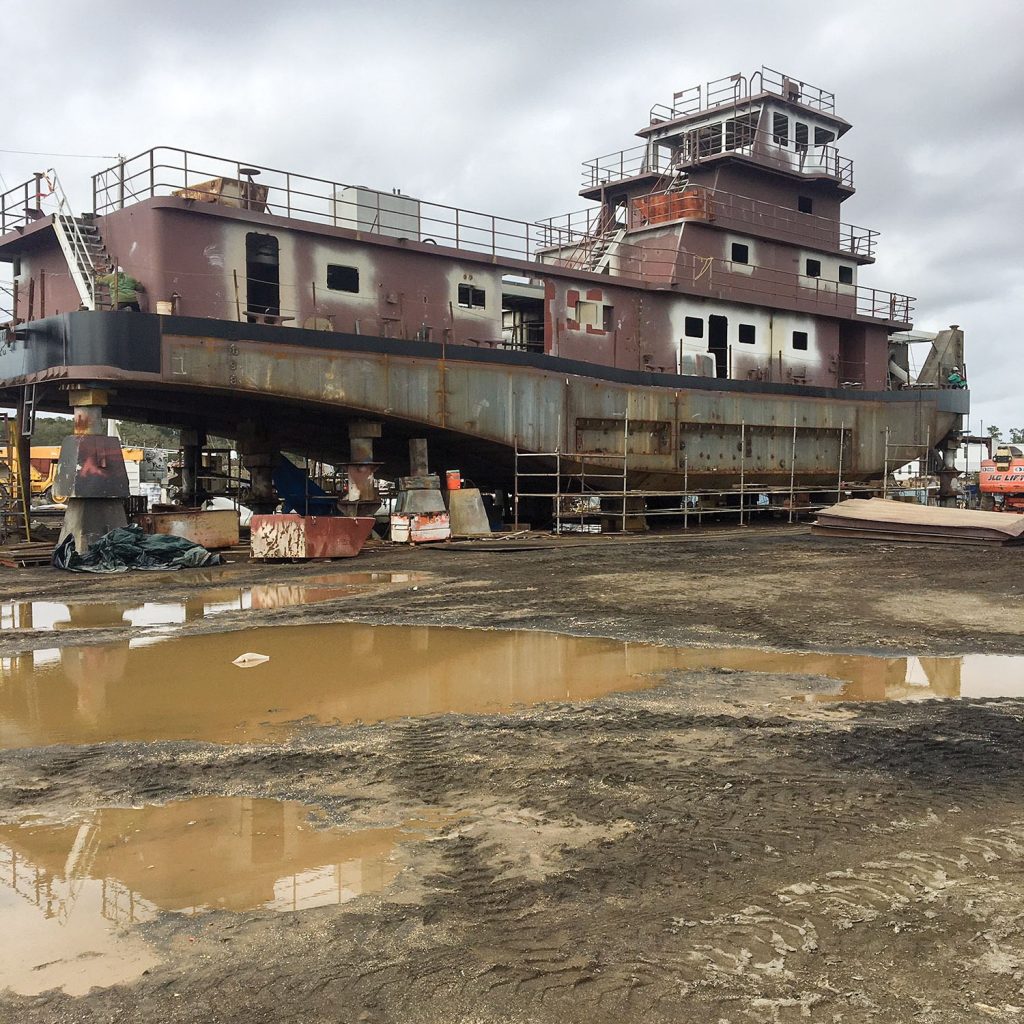 Metal Shark
To the east, at Metal Shark's shipyard in Bayou La Batre, Ala., Florida Marine is building three towboats. Those vessels will measure 120 feet by 35 feet. Two will offer 4,000 hp. from a pair of Caterpillar 3512C Tier 3 main engines, while the third will feature 3,500 hp. from a pair of Caterpillar 3516C Tier 2 mains. The forthcoming mv. Stephanie Pasentine is expected in April, with the mv. Amy Pasentine and mv. Gianna Hull following in July and November, respectively.
Florida Marine previously built seven sister boats at Horizon Shipbuilding, the former name of Metal Shark's Bayou La Batre shipyard.
Steiner Shipyard
Steiner Shipyard, also in Bayou La Batre, is building a total of 11 vessels for Florida Marine, with one already delivered and the next one due out in about a month. The remaining Steiner vessels will include six 2,000 hp. towboats, two 2,400 hp. vessels, and two offering 2,520 hp. The 2,000 hp. vessels will feature Caterpillar C32 Tier 3 main engines. The 2,400 hp. towboats will have MTU 8V4000 Tier 3 mains, while the two 2,520 hp. boats will feature Mitsubishi S12R Tier 3 engines. Forthcoming names for the Steiner-built Florida Marine towboats will include the mvs. Heath McWilliams, Keith Lofton, Chad Douglas, Mo Chiasson and Eric Brumfield (Jeff Brumfield's son).
All the forthcoming Florida Marine towboats will feature Twin Disc gearboxes.
"So we're really pretty busy this year and all the way into next year," Brumfield said. "And truly, by the middle of next year it'll be winding down."
The surge in building comes on the heels of Florida Marine and Eastern Shipbuilding Group completing their 70th and final new towboat together in November 2019. That series—believed to be the largest single-owner, single-builder construction program with the same class towboat design ever in U.S. history—had its nexus in December of 2004. Deliveries began in February of 2006.
Brumfield has been involved in nearly every one of those vessels. He came to FMT in January 2003 as a port engineer and moved over to handle the company's construction projects in June of 2006.
At present, Brumfield said, Florida Marine operates around 93 towboats and owns about 90 of those. The new vessels in the queue will lift that number close to 105.
Brumfield said much of the motivation for building the new boats is customer demand. In addition, customers, particularly companies in the petrochemical industry, require operators to maintain younger fleets.
"We have very few older boats now—just a handful," Brumfield said. "Most of what we have is 2006 or newer. Those customers want to see the newer boats."
Brumfield added that another advantage of newer boats is that they offer the latest in crew comfort, like insulation, vibration reduction and amenities. That's a plus for keeping crew members happy, he said.
"It's absolutely paramount that the boats are comfortable, quiet, smooth and pretty darn luxurious," Brumfield said.
Another point of emphasis as Florida Marine builds new vessels, Brumfield said, is the quality of hardware aboard the vessels. Brumfield said he places a high value on on-board equipment being strong, safe, durable and easy and fast to maintain.
"Don't go for the cheap stuff, because it'll cost you," he said.
Besides its fleet of towboats, Florida Marine operates some 250 tank barges and 350 dry cargo barges, while maintaining an employee team of close to 1,000 people. The company was founded in 1993 by owner and CEO Dennis Pasentine, who leads Florida Marine in its mission of the "relentless pursuit of excellence."
Caption for top photo: Towboat nearing completion at Steiner Shipyard in Bayou La Batre, Ala.