Maritime Partners LLC, the Metairie, La.-based owner of 400 towboats and barges on long-term charter, recently took delivery of the mv. Darrell Hiatt, its first of seven vessels from Steiner Construction in Bayou La Batre, Ala. Representatives from Steiner Construction, as well as members of the Maritime Partners family, gathered at St. Margaret Catholic Church in Bayou La Batre February 28 for the christening ceremony of the vessel.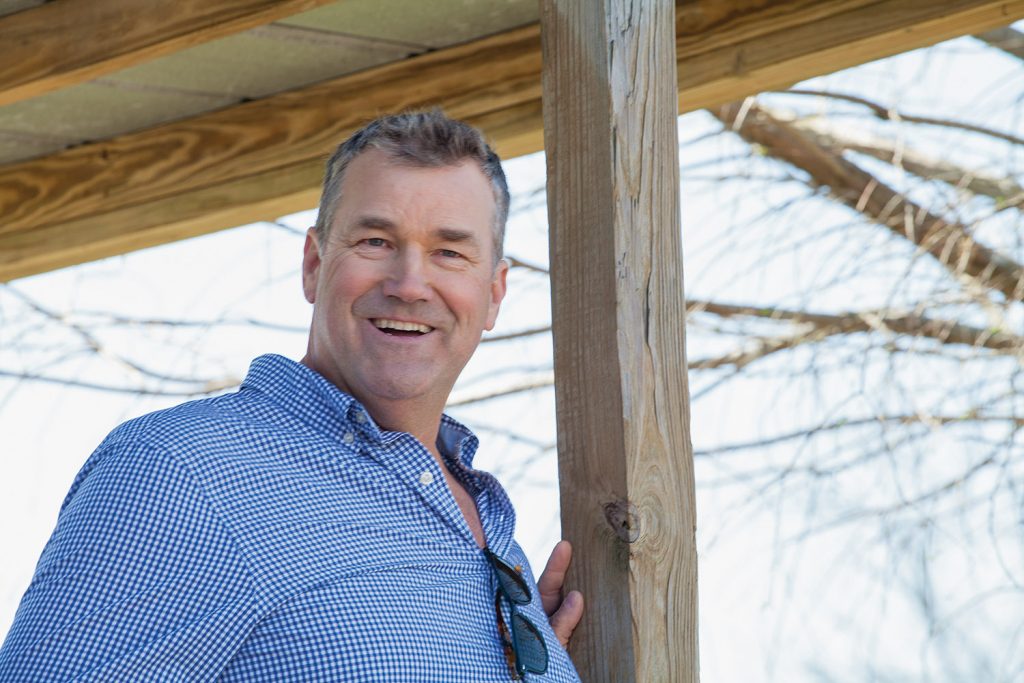 The towboat is named for Maritime Partners cofounder and Chief Operations Officer Austin Sperry's longtime friend, Darrell Hiatt.
"When it came to naming this towboat, it was an obvious choice," Sperry said. "Darrell has been my friend for over 20 years. He's the kind of guy that, if you ever need anything, Darrell's there for you. He's got your back. We've had more fun times than I could ever have imagined, and it's great to have him here."
Hiatt was the best man in Sperry's wedding in 2005, and the two met in Marina del Rey, Calif., in 1998 while sailing.
"I took him under my wing," Hiatt said of the younger Sperry, "and we became friends. We've just always been really tight buddies, and we're still tight."
From sailing together, to having fun with cars and riding dirt bikes, Sperry and Hiatt said they've shared plenty of adventures over the years.
Hiatt praised Sperry for his vision and for always dreaming big, no matter what.
"He always wants to swim with the big fish," Hiatt said. "He said, 'I want to go to the Olympics,' and he competed in the Olympics. So it was only a matter of time before he hit on something, and he's hitting now."
Hiatt recalled his first experience on a towboat four years ago in the early days of the company.
"In 2015, Austin took me to visit their first boat in Morgan City," Hiatt said. "We were on it, and I'd never seen anything like it. We were sailors, and we were five or six floors up. It's amazing there's such a world out there. It's an amazing journey he's been on."
In addressing the crowd gathered for the christening, Sperry first thanked the shipyard representatives present.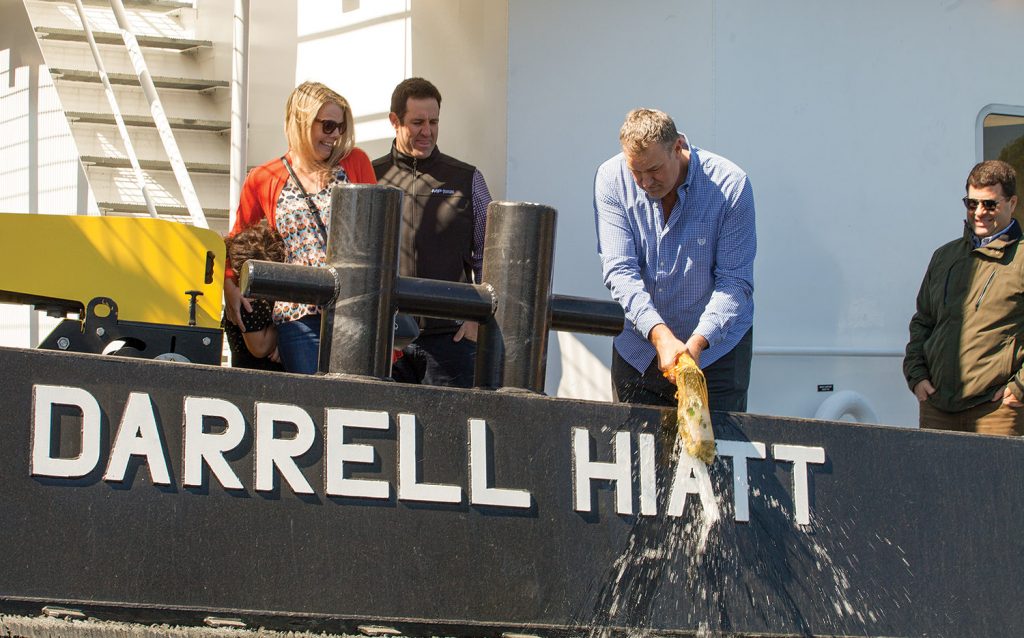 "To the men and women of Steiner Construction, thank you very much," Sperry said. "What you do here is very difficult. You probably don't hear it enough—we appreciate every one of you. What you do here helps move the world forward here in America, and we couldn't be more proud to share the journey with Steiner."
Sperry also recognized Centerline Logistics Corporation, formerly known as Harley Marine Services, which is the chartering company of the mv. Darrell Hiatt.
"We really appreciate the trust you've placed in Maritime Partners, and we're looking forward to a long partnership together," Sperry said.
Sperry also recognized the Maritime Partners team and everyone who believed in the company, especially in those early days.
"When Bick and I started this business, we didn't have any money," he said, referring to cofounder and CEO Bick Brooks. "We weren't born into it, but we had an idea and believed in one another.
"Today, I can proudly say we own a fleet of about 400 vessels, so it's been a pretty big ride, we've been very busy," he added.
Vessel Specs
The mv. Darrell Hiatt measures 88 feet by 34 feet, with a molded depth of 10 feet, 6 inches, and is a Ferrel & Norton Naval Architects design. Eye level from the wheelhouse is 34 feet, 6 inches.
The vessel's two Mitsubishi S12R main engines from Laborde Products Inc. produce a total of 2,520 hp. Those main engines drive Twin Disc 5600 reduction gears with a 6.04:1 ratio from Sewart Supply and propellers from Sound Propeller Services. Shafting is by J&S Machine. Ship service power comes from a pair of John Deere 4045 99 kw. generators from Kennedy Engines, with Gulf Coast Air & Hydraulics supplying the vessel's steering system. The Darrell Hiatt features Furuno navigation equipment.
On deck, the Darrell Hiatt features fendering by Schuyler and two 40-ton electric winches from Wintech. The vessel also offers a fleet deck forward for enhanced visibility from the wheelhouse. Dale's Welding & Fabricators supplied the vessel's doors.
Inside, the Darrell Hiatt offers spacious staterooms, including two double berths and an upper deck captain's stateroom.
The vessel has tankage for 38,560 gallons of fuel, 8,800 gallons of gray water, 1,700 gallons of waste oil, 790 gallons of both lube oil and gear oil, 7,860 gallons of potable water and 33,280 gallons of wash water.
The mv. Darrell Hiatt is both Subchapter M- and EPA Tier III-compliant.
Following a prayer of blessing by Rev. Alwin Legaspi, pastor of St. Margaret Catholic Church, Hiatt and his wife, Karen, climbed aboard the towing vessel, with Hiatt breaking a bottle of champagne over its port bulwark.
Caption for top photo: The 2,520 hp. mv. Darrell Hiatt was built by Steiner Construction. (Photo by Frank McCormack)
Slideshow with more photos from the Darrell Hiatt christening:
John Hecht (left), port engineer for Canal Barge Company, Trace Laborde, general manager of Laborde Products' Houston office, and Karl Senner's Martin Macias in the engine room of the mv. Darrell Hiatt. Laborde Products supplied the vessel's Mitsubishi S12R main engines. (Photo by Frank McCormack)