My hometown of New Albany, Ind., founded in 1813 along the Ohio River, is widely known by river historians as the birthplace of the famous steamboats Eclipse, Robt. E. Lee and other notable floating palaces. In the 19th century, the city boasted of numerous industries such as Capt. John B. Ford's glass works, several boiler and engine manufacturers, cutlery factories and many more. Quite a number of the steamboats built by the Howard Shipyard at Jeffersonville were brought over the falls for finishing and outfitting at New Albany.
In 1897, Stonewall Jackson Gardner purchased the Webster & Pitt Foundry and Machine Company on the New Albany waterfront. Born on April 20, 1863, at Paducah, Ky., Gardner was the son of Capt. William Gardner, a steamboat pilot, and Ellen Lawrence Gardner.
Growing up around riverboats sparked an interest in the inquisitive young man for perfecting a steering gear, originating with the invention developed by William T. Johnston (and built by Crawley & Johnston at Cincinnati in the 1890s) that would relieve pilots of the often arduous task of tramping the pilotwheel, sometimes requiring a second person to help hold the wheel steady when a stiff current caused added extreme pressure against the rudders.
First employed by the Illinois Central Railway at Paducah, Gardner later moved to Louisville, where he found employment in a foundry, preparing him for the eventual opening of his own business.
Sign up for Waterway Journal's weekly newsletter.
Our weekly newsletter delivers the latest inland marine news straight to your inbox including breaking news, our exclusive columns and much more.
Two of this writer's great uncles, now long deceased, were employed by the Gardner firm. Not long before his passing, Uncle Raymond told me of his work as an installer of the steam steering gear. He related an incident when he was sent to Memphis with an assistant to inspect a malfunctioning system on a towboat; his detailed description of how the pilotwheel was nearly uprooted from the pilothouse floor was quite humorous!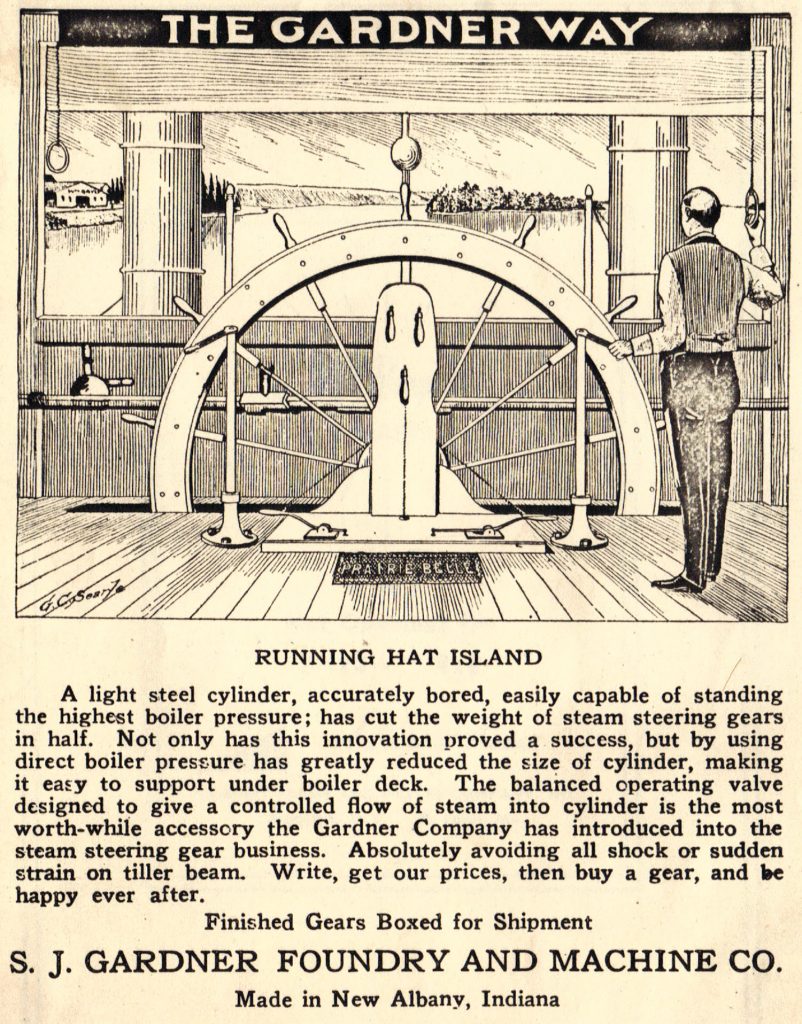 Many boats utilized the Gardner Steering Gear, and The Waterways Journal frequently carried advertisements for it as well as a rudder position indicator. Gardner gears were installed on numerous towboats, excursion boats and vessels of Greene Line Steamers, as well as the famous packet Queen City in 1918; soon becoming a standard throughout the river industry.
Quite a number of the steering levers manufactured by Gardner are extant in river museums and private collections. Through the courtesy of Capt. Robert Roehrig and Ruth Ferris, this writer owns the Gardner levers from the sidewheel excursion steamer City of St. Louis, formerly the Erastus Wells.
S.J. Gardner served as a director of the New Albany Chamber of Commerce, was a prominent member of Holy Trinity Church and was highly regarded by his business and river associates as a man of deep convictions and integrity, often described by friends as being of sterling character.
Gardner died at age 73 on August 11, 1936, as a result of injuries sustained when he was struck by an automobile as he was stepping off a streetcar. Rivermen, who were grateful for Gardner's work, mourned his passing and paid tribute by saying that his name on hundreds of steering gear levers and nameplates in pilothouses would serve as his monument far more than any marker his family could erect above his grave.
Ownership and management of the foundry passed to his son, Edward Merwin Gardner, who continued the operation until the early 1950s. During the disastrous Ohio River flood of 1937, water covered the roofs of the office and foundry buildings.
Patricia Gardner Strange, daughter of S.J. Gardner, was an occasional visitor to the Howard Steamboat Museum until her passing at age 93 in 2005. She often lamented the loss of the framed steamboat photographs and river memorabilia, which she vividly remembered as literally covering the walls of her father's office. The buildings were demolished in 1960 to make way for construction of the double-deck Sherman Minton Bridge.
Editor's note: For questions or suggestions regarding the Old Boat Column, Keith Norrington may be contacted by e-mail at curatorkeith@yahoo.com.
Caption for top photo (click on photo for full version): The pilothouse interior of the Str. Gordon C. Greene shows Capt. Billy Noland at the Gardner steering levers, as Capt. Tom Greene and Capt. Jesse Hughes look on in June of 1944. (Keith Norrington collection)