ACBL Hunkers Down, Keeps Cargoes Moving
As more and more states issue lockdown orders in response to the coronavirus, barge companies like American Commercial Barge Line are tightening sanitation protocols, adjusting shore-based employee procedures and making sure that vital cargoes keep moving on the inland waterways.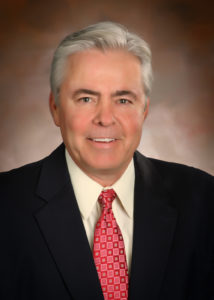 Mark Knoy, president and CEO of ACBL, spoke with The Waterways Journal about how the company is keeping its operations going while accommodating the changes brought by the virus. He has sent a series of emails to ACBL employees on the company's responses. The most recent one concerned the various state restrictions on large gatherings. Knoy attached a recent document issued by the federal Cybersecurity and Infrastructure Security Agency, which listed all barge workers and mariners as "essential workers." ACBL has sent a one-page letter to each teammate to be presented to local authorities in addition to a TWIC card if requested. He urged ACBL team members to "be patient with authorities as they learn the rules, too."
Crew Changes
Some of the challenges ACBL is facing are those faced by all companies. "How do we best support people working from home?" Knoy asked. Shore offices have had as many employees work from home as possible. Some families have young children at home because of school closings.
Other challenges are unique to barge companies. "We've been very fortunate so far; all 1,725 mariners have shown up for work," he said.
Sign up for Waterway Journal's weekly newsletter.
Our weekly newsletter delivers the latest inland marine news straight to your inbox including breaking news, our exclusive columns and much more.
The company has changed its crew-change procedures; entire crews are now changed at once. The company performed 22 crew changes the previous week and was scheduled to perform 33 this week. "Crews have to clear each other, too," Knoy said. Boarding and departing crews advise each other about social distancing requirements, such as refraining from socializing with harbor boat crews.
"A towboat crew is already in quarantine for 14 days at a time,"  Knoy said.  Aboard the boats, stepped-up sanitation and deep-cleaning procedures promulgated by The American Waterways Operators in consultation with experts keep surfaces safe.
"We do practice social distancing aboard a boat to the extent possible," Knoy said. "Towboat crews work in pretty tight quarters, so it's challenging at times."
Monitoring Risk
Crews are monitoring each other's condition. "Anxiety can work on crews," Knoy said. One crewmember was asked to leave a boat after he developed a hacking cough; he later tested negative for the coronavirus. "It's still flu and cold season, so some crewmembers will show symptoms, but we were fortunate in that case," Knoy said.
So far, there have been about a dozen cases of colds or flu that turned out not to be the coronavirus. One member of a third-party GIWW tower that ACBL uses (not an ACBL employee) felt unwell and tested positive five days after having contact with a vessel; the crew that had contact with him has been quarantined through April 1 out of an abundance of caution.
Crewmembers with health conditions that make them especially vulnerable have been asked not to come to work.
One positive change over the past years has been the decrease in the number of smokers aboard vessels. Smoking has been recognized as a risk factor for susceptibility to the virus. "I remember when it was hard to find a non-smoking boat; now, I believe, more than half our boats are non-smoking," Knoy said. "Often, it's the crews that enforce this."
"You have to rely on your team leaders," he said. Boat captains have been given authority to quarantine crews or crewmembers or take other actions necessary.
Knoy said that crewmembers seeking medical care have not experienced any significant delays, partly because most of ACBL's operations are located in rural areas without dense populations.
Katrina Lessons
Knoy said part of the company's responses incorporate lessons learned during Hurricane Katrina. The company has a 54-bed dormitory in Convent, La., that was set up as part of its Katrina response. Knoy said the company is exploring whether it could be used either for responders or possibly for boat crews self-quarantined for reported symptoms. A couple of ACBL line boats have also been positioned to serve as quarantine sites if needed.
So far, all ports and facilities served by ACBL have remained open, he said, except for one low-volume facility in New Orleans that had trouble opening because it couldn't get enough employees to work.
Reporting Burden
The Coast Guard has suspended all vessel boardings, at the request of industry and for the sake of crews and Coast Guard members alike. "We don't want to expose them, and we don't want to be exposed,"  Knoy said. Each time a crewmember reports symptoms or seeks medical attention, the incident must be reported to the Coast Guard. Knoy said that while he understands the need for accurate information, it's an added burden on already stressed teams.
"Medical personnel already have to report these incidents as well," he said. "I hope there's no double counting going on."
While Knoy is proud of the ACBL team's disciplined response, he said he doesn't believe ACBL is reacting any differently from other barge companies. "Because of our size and resources, some of these things aren't as much of a burden on us, but the entire barge industry is reacting the same way."
He added, "This is a different type of crisis than any we have faced before, but dealing with crises is nothing new for our industry. The marine industry has always stepped up. We are learning this on the fly  and taking it half a day at a time."