Driscoll Named CEO Of Alabama Port Authority
The Alabama State Port Authority board of directors has named John Driscoll, maritime director for the Port of Oakland, as the successor to Jimmy Lyons, longtime director and chief executive officer of the authority. Driscoll's official start date will be June 1, with Lyons continuing to serve as director emeritus until his retirement at the end of the year.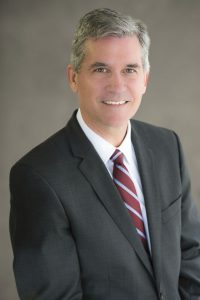 "Over the last several months, the board and Jimmy Lyons worked through a nationwide search to identify a slate of qualified candidates," said Bestor Ward, chairman of the Alabama State Port Authority's board of directors. "It was John's qualifications that made him the natural choice. Our board looks forward to John joining the port authority team in June."
In his current role, Driscoll is responsible for operations and marketing for the Port of Oakland, which ranks near the top 10 in the nation for container volumes, with more than 2.5 million TEU (twenty-foot equivalent units) handled in each of the past two years. Driscoll has been instrumental in the port improving its operating efficiency, financial performance and community relations, the Port of Mobile said in announcing the hire.
Before joining the Port of Oakland in January 2014, Driscoll was vice president of export sales for CMA CGM (America), where he led development of the company's operations in the Caribbean, Central America and South America. Driscoll has also worked for Sea-Land Service and Maersk Line.
Sign up for Waterway Journal's weekly newsletter.
Our weekly newsletter delivers the latest inland marine news straight to your inbox including breaking news, our exclusive columns and much more.
"This is a gratifying opportunity and a career highlight," Driscoll said. "I've seen the caliber of people who work here and the contributions the Port of Mobile makes to Alabama, the local community and global trade. There is so much to be proud of at Mobile. The responsibility in leading this port is fantastic, and we will work together to continue the progress made under Executive Director Lyons."
A native of Bethesda, Md., Driscoll attended college at the University of Maryland (College Park), where he graduated with a bachelor of science degree in business management with a focus on transportation and marketing.
The Alabama State Port Authority owns and operates the state-owned port facilities at the Port of Mobile, which ranks 11th in the United States by total trade. In 2019, the port handled more than 26 million tons of cargo, and the Port of Mobile ranks as one of the fastest-growing container ports in the nation.