Just four years ago, the site of the old Degussa Evonik carbon black plant in Rockport, Texas, was sitting idle, inactive for close to eight years. The 250-acre site, which first opened as a carbon black plant in 1941, ceased operations at the end of 2008.
In 2016, though, when business partners Ed Nelson and Clayton Reaser surveyed the site, they saw nothing but potential.
"We saw this property, and it was a large landholding with rail, great highway access and 64 acres right on the Intracoastal Waterway with a port facility, pipelines and tanks," Nelson said.
With a vision and plenty of determination, Nelson and Reaser purchased the property in 2016 and formed Rockport Terminals LLC. Their grit would soon be tested when Hurricane Harvey dealt the property a direct hit in 2017. Despite damage from the hurricane, the environmental remediation of the property marched on, taking nearly three years to complete. In all, more than 60,000 tons of affected soil was removed and remediated in the cleanup process.
Sign up for Waterway Journal's weekly newsletter.
Our weekly newsletter delivers the latest inland marine news straight to your inbox including breaking news, our exclusive columns and much more.
"We cleaned it to a very high standard," Nelson said. "We partnered with two environmental companies. The Texas Commission on Environmental Quality has given us the all-clear for all past and future environmental liability, and it's cleaned to the highest standard.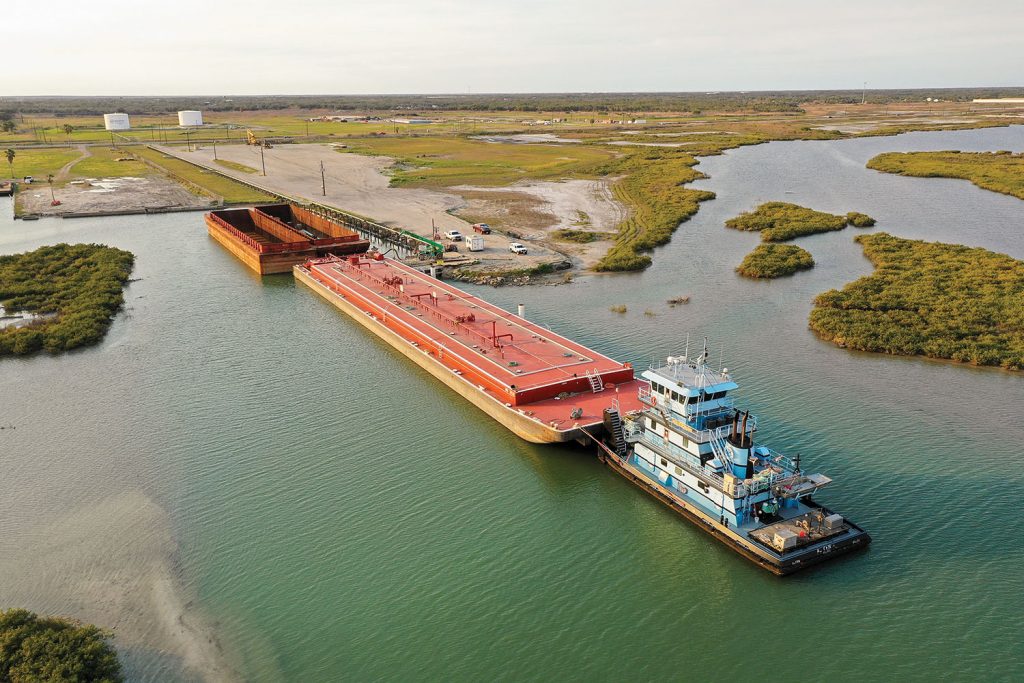 "We're very proud of that," he added. "It basically opens the door for us to do the highest and best use for the property."
About a year ago, Nelson said, repairs were made to the tanks, pipeline and dock that were damaged during Hurricane Harvey. Last year, they also received all the necessary permits from the U.S. Coast Guard and Texas authorities to reopen the site as a port and terminal facility.
"Then, in October of last year, we had two tenants move in," Nelson said. "One is using the terminal for bulk diesel, and the other is using it for breakbulk delivery and distribution of pipeline. All these products are brought in by barge, and there's enough room in our facility for 12 barges."
Nelson said the terminal's slip has been dredged to accommodate barges requiring a 10-foot draft. On site, Rockport Terminals has capacity to store 45,000 barrels of liquid cargoes (growable to 1 million barrels). The facility offers a transfer rate between the dock and tanks of 3,500 barrels per hour. There are also 50 acres available for cargo lay-down or bulk goods processing. And with both highway and rail access alongside connection to the Gulf Intracoastal Waterway, the terminal supports multimodal cargo transfers.
Thus far, about 110,000 tons of cargo have come into Rockport Terminals by barge.
"Now, our next and final spoke is upgrading and finishing our rail," Nelson said. "That will give us access to the Mexican market with petroleum, and we'll be able to deliver pipe to the rest of Texas by rail. We can also bring in aggregate by barge and distribute it throughout Texas by rail. The aggregate can come in from as far away as Pennsylvania."
Nelson specifically mentioned three large-scale projects nearby as hopefully feeding cargoes into Rockport Terminals: Steel Dynamics' new steel mill in nearby Sinton, Texas; the forthcoming ethane steam cracker ExxonMobil and SABIC are building near Corpus Christi; and the Port of Corpus Christi itself.
"There's so much infrastructure that's being built here," he said. "Massive tank farms. There are now five pipelines coming here from the Eagle Ford and Permian basins in Texas. As one operator said, there's a tsunami of crude oil coming to Texas."
Rockport Terminals' chief financial officer, Matthew White, said the space should be attractive for both new and existing companies in the area.
"Rockport Terminals created a much-needed base for companies that were already operating in the Corpus area but were having trouble finding dock and terminal space to conduct business and grow," White said. "The site will benefit both the operators and the local community of Aransas County."
Nelson said it's a rare thing to find a site with such wide-ranging development potential.
"We're the only new, private port in the area," he said. "And it's especially rare to find one that has rail, water and highway access with no residential development around it. We're basically a blank canvas, ready to go."
Caption for top photo: Pipe yard activity at Rockport Terminals. (Photo courtesy of Rockport Terminals)