Barnhart Crane & Rigging Company has always said no challenge is too large. But it discovered that some challenges are bigger than others when it came time to transport an 800,000-pound. depropanizer column vessel from a manufacturing site to a construction site.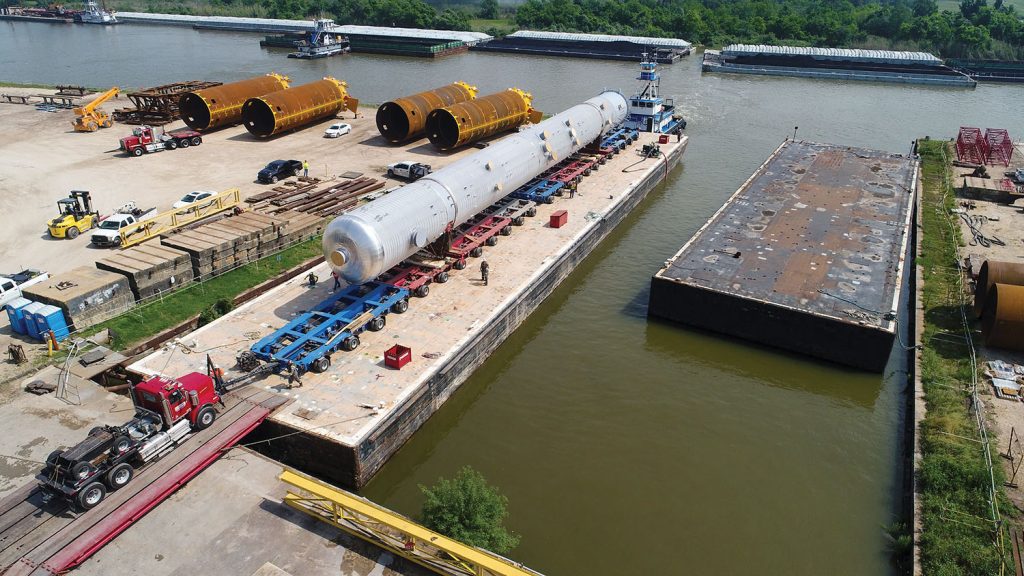 The 317-foot column vessel was one of nine components to be transported by Barnhart as part of the job. After the column was placed on Barnhart's Goldhofer transporters at the fabrication shop in Houston, Texas, the oversized cargo was driven onto a barge and transported by water to Freeport, Texas. From there, it was a 50-mile overland journey to the construction site in Old Ocean, Texas, where a fracking unit is being built.
According to J.C. Lake, operations manager at Barnhart's Houston branch, "Everything is always a challenge with pieces this big." Lake singled out Barnhart's project manager for the job, Erica Harris, for her outstanding efforts in planning the permitting and working with the various third parties to ensure a blemish-free move.
The biggest challenge presented was moving the out-of-gauge piece across a bridge spanning the San Bernard River. "The bridge engineers told us we were too heavy for the one bridge," Lake said. Due to the size and weight of the vessel, along with weight restrictions of the bridge, the Texas Department of Transportation indicated that both spans of the bridge—all four lanes—should be used. "After we measured and checked that it would fit on both bridges, the engineers were able to pass us on the permit," he said.
Sign up for Waterway Journal's weekly newsletter.
Our weekly newsletter delivers the latest inland marine news straight to your inbox including breaking news, our exclusive columns and much more.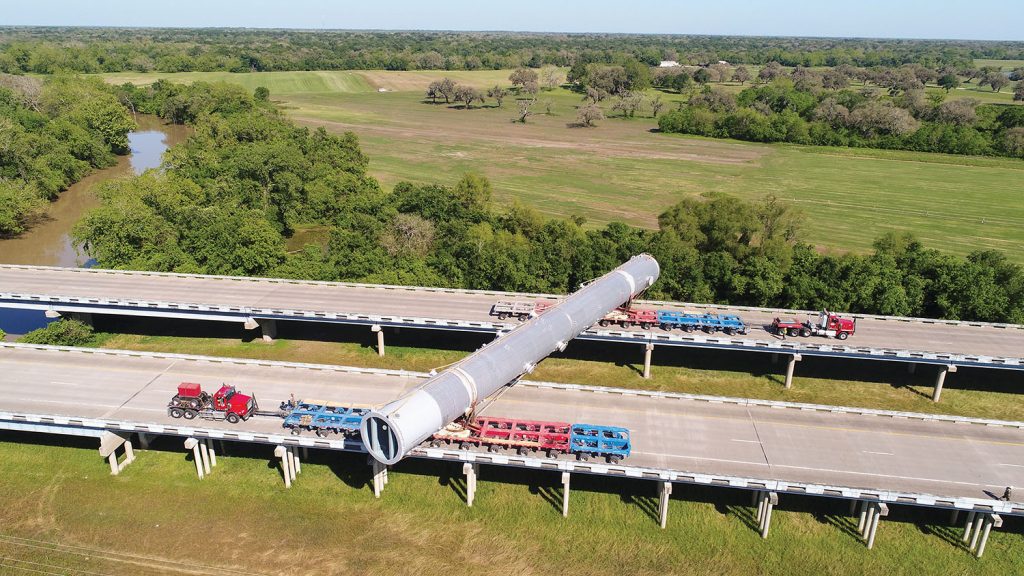 Barnhart used a paved crossover to get the load separated. Ten road signs had to be removed around the bridge to accommodate the crossing. Both ends of the column vessel were on 300-ton turntables to help maneuver the column. There was enough length between the bolsters to successfully get the two trailers on each bridge span.
While the bridge was closed to north and southbound traffic, the load made its way across the bridge at 5 mph. It cleared the guardrails by approximately 4 feet.
Once across the bridge, Barnhart used another paved crossover to get the load back together. At the construction site, the cargo was self-offloaded onto beams and jack stands.