Holland To Command Mississippi Valley Engineer Division
The Mississippi Valley Division of the Corps of Engineers is receiving its first female commander: Maj. Gen. Diana M. Holland, who was promoted to the post from her current position as commanding general of the South Atlantic Division.
A change of command ceremony will take place in Vicksburg, Miss., where the command is headquartered, on June 30. Holland will replace Maj. Gen. Richard "Mark" Toy, who is leaving to become chief of staff of the United Nations Command in South Korea.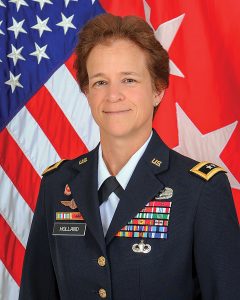 Holland will be responsible for Corps water programs in the Mississippi River basin, a 370,000-square-mile area encompassing parts of 12 states.
Holland will also automatically serve as president of the Mississippi River Commission. The MRC was established by Congress in 1879 to facilitate development of the river.
Sign up for Waterway Journal's weekly newsletter.
Our weekly newsletter delivers the latest inland marine news straight to your inbox including breaking news, our exclusive columns and much more.
Holland assumed command of the South Atlantic Division on July 18, 2017. As division commander, Maj. Gen. Holland oversaw an annual program of more than $4 to 7 billion. During her command, Maj. Gen. Holland led the South Atlantic Division's response to Hurricanes Irma and Maria in 2017 and Hurricanes Florence and Michael in 2018.
Prior to commanding the South Atlantic Division, Holland served as the the first female Commandant of Cadets at the United States Military Academy, West Point. Holland is a native of Santa Barbara, Calif. She graduated from the United States Military Academy and was commissioned a Second Lieutenant in the Corps in 1990. She earned a Master of Arts degree at Duke University and a Master of Military Arts and Sciences degree from the U.S. Army Command and General Staff College and the School of Advanced Military Studies.
In 2018, she was honored by Atlanta magazine in its Women Making A Mark issue.