Obituary: Jerry Courville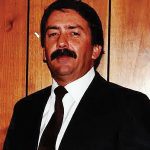 Jerry Courville, former barge line executive and founder of Sea Link Cargo Services,  died April 5 after a brief illness.
His career in the marine industry began in 1978 when he joined Union Mechling Corporation, of Pittsburgh, Pa., in its New Orleans office as a marketing representative. Union Mechling became Dravo Mechling and eventually National Marine Inc. Soon after joining the company, Courville was promoted to regional sales manager, overseeing all sales and marketing transactions and contract management for the entire southern and western regions of the country, as well as many international projects. Additionally, he negotiated and led several major project shipments for the barge industry and the company. The crowning achievement was the contracting and management of the shipment of key components for the greenfield startup of Toyota's automotive plant in Georgetown, Ky., which Dravo Mechling shipped from the Gulf of Mexico in the late 1980s. This was a comprehensive project of logistical coordination of ocean vessel, inland barge, truck and rail.
After a 13-year career with the barge line, Courville elected to pursue other interests on his terms and founded his own marine brokerage business, Sea Link Cargo Services Inc.  He retired in 2010 to enjoy hunting, fishing and cooking up big pots of gumbo, said by some to be the best on the planet.