Shared Governance, Communication Essential In 2019 Flood Fight
Looking back at the record flood of 2019, Coast Guard Capt. Scott Stoermer pinpointed some of the factors that made the fight against it so successful.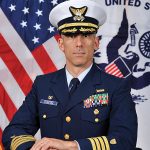 Stoermer, 46, has served as the Coast Guard's Sector Upper Mississippi commander since July 2017, a position in which he is responsible for Coast Guard operations in an area that includes all or parts of 11 states and more than 2,200 miles of commercially navigable waterways on the Upper Mississippi, Missouri and Illinois rivers and their tributaries. From that position, he leads 280 active duty, reserve and civilian personnel and more than 1,100 Coast Guard auxiliary members serving at the sector office, five river tenders and three marine safety detachments.
One of the most complex challenges he has faced in his post as sector commander was playing a  leading role in the fight against the unprecedented extended high-water period last year. He was to be featured as a speaker at The Waterways Journal's Inland Marine Expo (IMX), originally scheduled for this month at the Dome at America's Center in St. Louis. The expo has now been moved to September 29-October 1, but by then, Stoermer said he "will have hung up his uniform for the last time," retiring after 24 years of service in a career in which he served throughout the world, from the East Coast, Gulf Coast, Great Lakes and Mid-West to the Asia-Pacific region.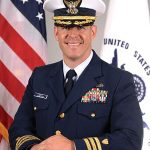 Although he will pass the sector command to current Deputy Commander Richard "Mick" Scott on May 27, The Waterways Journal asked Stoermer to highlight information he had planned to share at the expo.
Sign up for Waterway Journal's weekly newsletter.
Our weekly newsletter delivers the latest inland marine news straight to your inbox including breaking news, our exclusive columns and much more.
Stoermer said he wanted to stress the importance of the shared governance system between the Coast Guard and Corps of Engineers as key to the flood fight.
"The only way we make it through situations like that is through that continued collaborative, transparent and positive communication, and that's really facilitated by the Waterway Action Plan," he said.
The plan, commonly called the WAP, establishes a framework for all parties to use when taking proactive or reactive steps to manage and respond to high-water, high-velocity and low-water conditions, among others.
Stoermer also promoted the importance of developing relationships and continuing engagement with local, state and regional government and commercial maritime stakeholders as key for moving forward and as part of a comprehensive approach. Stoermer said he grew to appreciate the importance of stressing their adherence to common goals, which he described as keeping the waterway system safe, secure, environmentally sound and as efficient as possible.
Managing the flood fight within the Upper Mississippi sector was far from straightforward.
"We literally had all three main rivers and all three main watersheds at some level of flood at the same time as the flood progressed from west to east," Stoermer said.
In total, 2019 included 290 days where rivers or watersheds were above flood stages within the sector. Those managing the crisis dealt with hundreds of days of infrastructure closures, many of which were unprecedented. That included St. Louis Harbor closing twice in the same season for the first time, for a total of 51 days.
"There were literally weeks during the 2019 flood during which we were talking to our stakeholders on a daily basis to discuss the status of the waterway, areas of concern, areas in which operations were going to be needed to be modified in order to ensure the safety and integrity of the levee system," Stoermer said.
An example of how leaders worked together to meet their common goals was when, during a St. Louis Harbor closure, a tow of construction equipment needed to transit the harbor to make its way to the Missouri River for emergency levee repairs. Delaying the transit would have further exacerbated damage to a levee south of Omaha, Neb., worsening the effect on both residents and municipalities, Stoermer said. The agencies worked together to prioritize the equipment's movement and prevented delays that could have ultimately cost lives and property.
Stoermer referred to the Waterway Action Plan, with its playbook of operational responses and operational considerations, as instructive and valuable.
"It has stood the test of time in its ability to weather really dynamic circumstances," Stoermer said, adding that because the plan pre-establishes priorities and mechanisms for action that it served as a guide. Although some WAP operational criteria changes have been pre-agreed to as a direct result from lessons learned in the flood fight, he said amending the plan is nothing new. For years, he said, the WAP has been altered so that it continues to constitute best practices for many potential calamities, from low water to severe ice conditions.
"In some circumstances, maybe all the priorities are not pre-agreed, so we have to work through them and make sure we are balancing risk in all of those discussions," Stoermer said. "One of the reasons that the WAP and our approach to the system has been so successful is because of our adaptation and our ability to learn from the past."
Moving forward, Stoermer said Sector Upper Mississippi River will be in steady hands under Scott's upcoming command. Scott has been assigned to the sector for the past two years, and his leadership will provide consistent service and a known face.
Stoermer said being able to command a Coast Guard sector was both a personal and professional dream. He hopes to pass along a philosophy of servant leadership, he said, not only toward serving the men and women within the Coast Guard but also taking the same approach with others.
These days, he said, he's looking forward to retirement. He and his wife, Karin, plan to remain in the greater St. Louis area, where they have come to enjoy the people and the surroundings.
"I'm pretty excited about the adventure that awaits us," he said.