Capt. Bob Jornlin, 81, didn't let a little thing like a six-hour drive keep him from seeing the World War II amphibious ship he once captained dock for the first time at its new home.
As LST-325 pulled into the dock adjacent to its new $3.6 million visitors center in downtown Evansville, Ind., Jornlin watched from the air conditioning of the still-closed gift shop.
"I have a lot of love for this ship and what these ships did in World War II, and I wanted to see it move from Marina Point down here to the riverfront," he said.
LST-325 has spent the past 15 years calling Inland Marina home, but when the Tropicana Casino moved from a riverboat to a land-based operation in October 2017, room opened up for the 77-year-old ship to relocate to an area along a riverfront park with steady foot traffic. It's where the casino boat had been moored from 1995 to 2017, but the dock itself has been updated, complete with the installation of a passive mooring system that raises and lowers with the river, even with no crew aboard.
The Evansville City Council approved the relocation in August 2018. The city contributed $2.2 million for the visitor center, with Tropicana adding $1 million and $175,000 each coming from the Evansville Convention and Visitors Bureau and LST board.
LST-325 made the 1-1/2-mile trip on June 13. The visitor center, which includes a small museum and gift shop, won't open until June 27, when visitors will be able to walk down a gangway to the ship. Tours are $15 for adults and $5 for children.
A few dozen people watched from the shoreline as the ship made its way through the Evansville bend of the Ohio River, past the dock on its way to turn around and then glide up smoothly beside it, the stern within inches of the riverbank as it fitted snugly into place. Some waved and cheered. LST-325 repeatedly fired its 40-mm gun in celebration.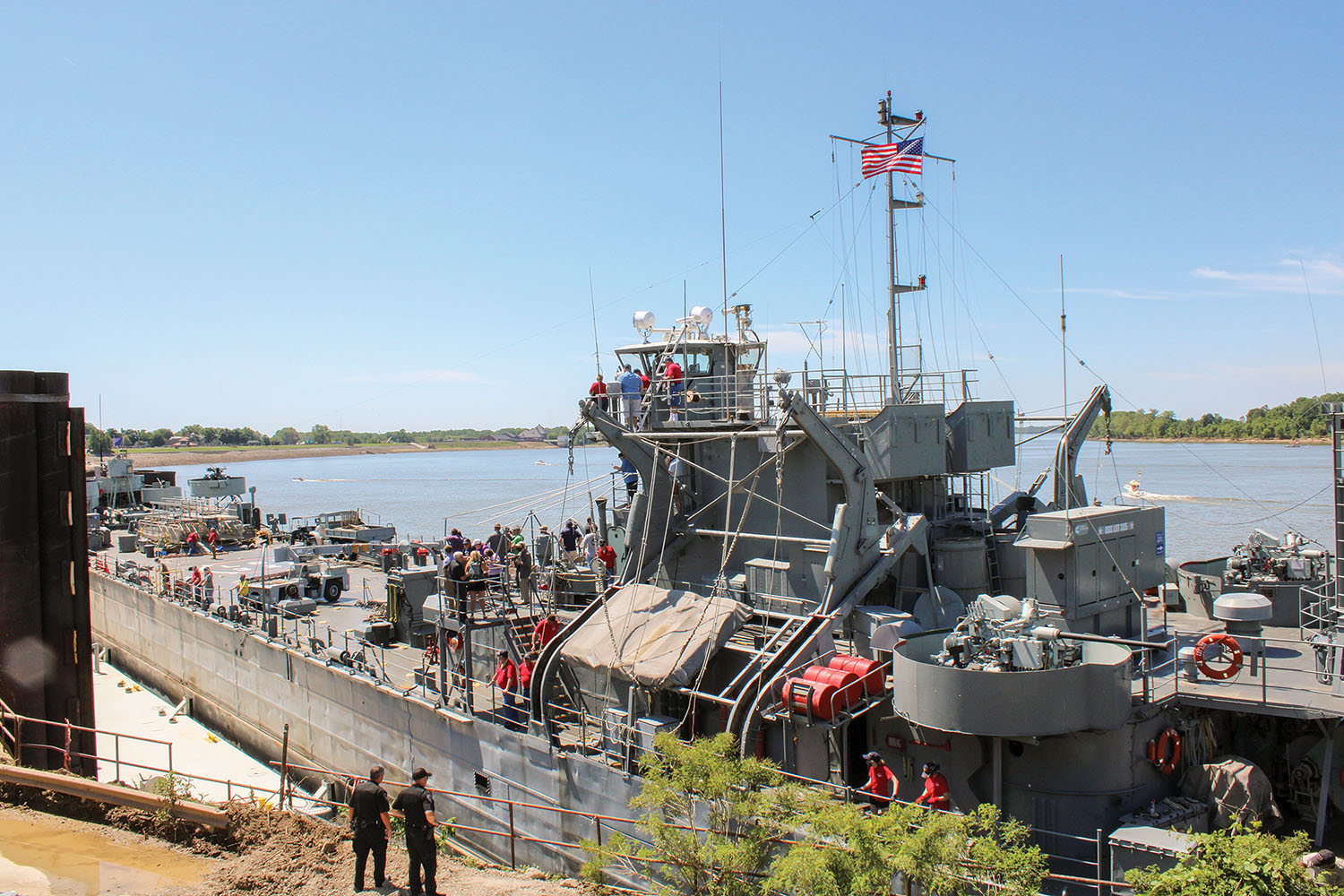 "Our 77-year-old warship had another successful mission," said Chris Donahue, an Evansville-based member of the LST memorial's board of directors. "Everything went pretty much perfectly."
There was a small engine problem, he said, and a few steering issues quickly corrected with the speedy installation of a cotter pin. Still, he said, not bad for a ship whose two engines were built in 1941 and 1943.
LST stands for Landing Ship, Tank, although the U.S. Navy sailors that manned them during the height of their use from 1942 to 1945 joked that it might as well stand for Large, Slow Target. The flat-bottomed amphibious ships were designed to be beached, with large doors in the bow opening and a ramp descending to allow tanks, vehicles, cargo and landing troops directly onto shore with no docks or piers. They played a defining role in the D-Day invasion of June 6, 1944. A total of 1,051 LSTs were laid down in the United States during World War II for use by the Allies. More of them, 167, were built at the Evansville Shipyard than any other location, Donahue said.
Bringing It Back
LST-325 is the only World War II-configuration LST left remaining afloat in U.S. waters. Jornlin helped get it here.
His experience with LSTs began in 1961, when he was assigned to LST-848, the Jerome County. (Those LSTs that survived the war later were named after American counties.) He later was the engineering officer on LST-825, the Hickman County. Around the time of the Cuban Missile Crisis, Jornlin said 10 LSTs were brought to Norfolk, Va., to be better positioned in case they were needed.
Years after Jornlin's stint in the Navy, he got together with a group of World War II veterans who had served on LSTs and wanted to bring one back to the United States as a museum ship. In Taiwan, the men looked at what turned out to be a floating wreck, but in Greece they found six mothballed LSTs still floating.
"The Greeks think a ship has a soul, so they don't want to cut them up," Jornlin said. "They just put them in the backwater and let them die a natural death."
Instead, Jornlin and his crew of volunteers made LST-325, the best of the bunch, ready to sail again, even as Congress and the president took four years to sign off on the plan.
Jornlin was at the ship's helm from Crete to Mobile, Ala.
"Fortunately, I had one of the best crews," he said. "Almost all of them had served aboard an LST."
After getting LST-325 to a temporary mooring location on the Mobile River near Chickasaw, Ala., the real work to restore it began.
"A lot of people shook their head and said, 'You mean you brought that across the ocean?'" Jornlin said, chuckling.
It was worth it, he said, when in 2005, LST-325 came up the Ohio River to Evansville under its own power.
Now, he said, he hopes LST-325's new home will allow even more people to learn about the legacy of the LST ships and those who sailed them.
More help is needed to complete that mission, however. Because of COVID-19, LST-325 is unable to complete its usual fall tour, which had been planned to take it to Brandenburg and Ashland in Kentucky, as well as Charleston, W.Va., this year.
"We'll see about doing that next year," Donahue said. "It's just too much of a risk for our crew and for the folks who come on board."
The average age of the volunteer crew is 72, he added, noting that people over 65 are at increased risk from the novel coronavirus.
He is hoping for online donations at lstmemorial.org/donate, however, because LST-325 generally gets about 65 percent of its operating revenue from its month-long fall cruise. Much of that money goes toward the required 10-year drydock inspection, expected to cost about $1.5 million in 2023.
But Jornlin wasn't worried about all that on June 13 as he watched LST-325 float by and listened to the echo of its gun on the buildings around the riverfront.
Instead, he was transported back in time. For a moment, perhaps, he imagined the battles LST-325 fought as part of the invasion forces in Sicily and Salerno, Italy, and in Normandy, France, on D-Day and beyond. Perhaps he thought of his own time aboard an LST in the 1960s, of when he first saw LST-325 in Greece or what It was like going across the ocean, a trip he later recalled in a book he penned called "Bringing Back A Hero."
"Even though I'm not a captain anymore," Jornlin said, "I still feel like it's my ship."