The global economic slowdown resulting from the worldwide coronavirus pandemic has provided a unique opportunity for acceleration of a major harbor-deepening project. On May 31, Corps of Engineers officials supervising the Savannah Harbor Expansion Project (SHEP) announced that they took advantage of the decline in container traffic to employ an unprecedented four dredges simultaneously on the harbor.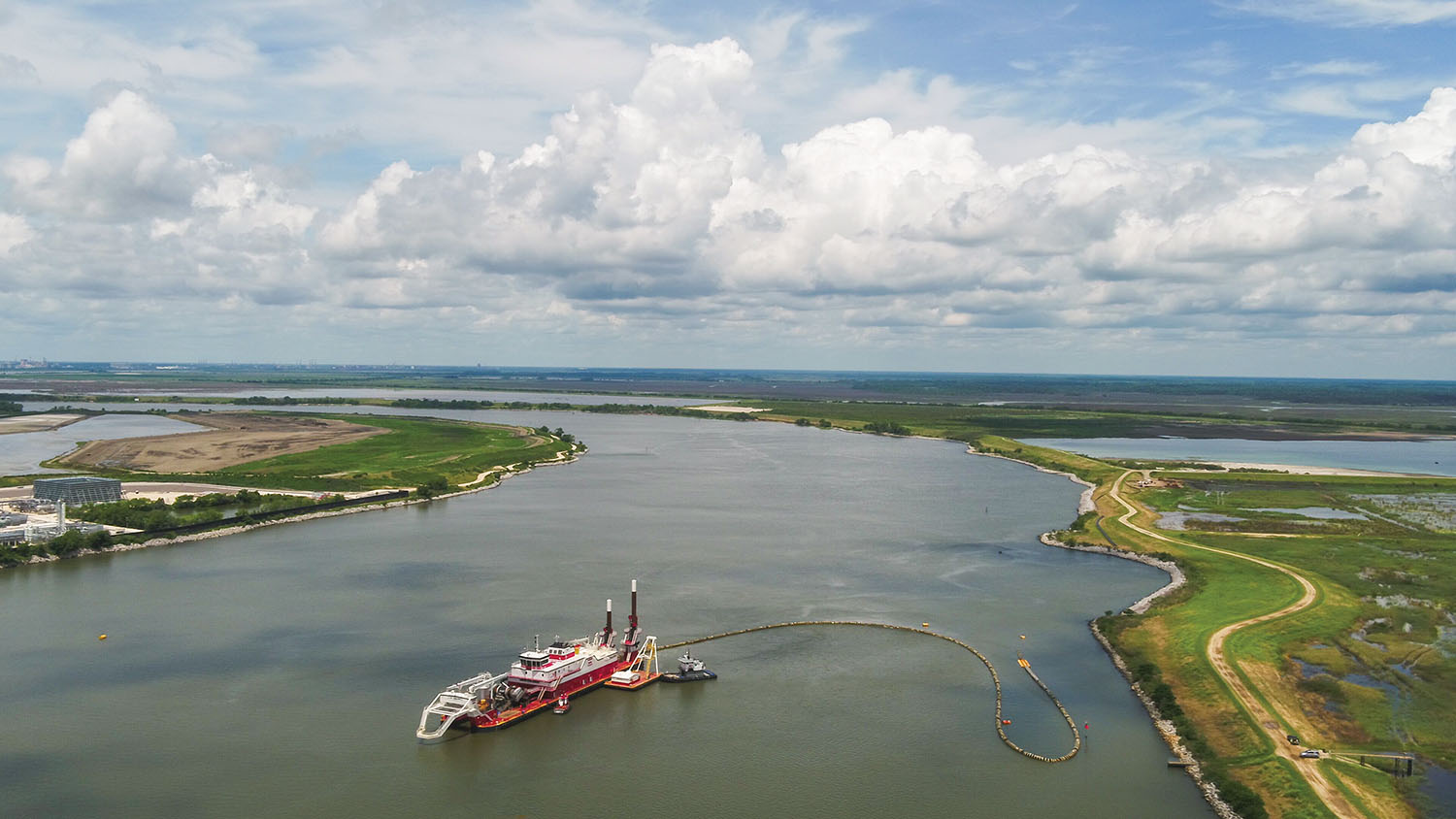 The entire deepening project is about 62 percent complete, the Corps said. The outer harbor channel already extends 20 miles into the Atlantic Ocean at a depth of 49 feet. The $134.5 million outer harbor contract was executed by Great Lakes Dredge & Dock Company of Oak Brook, Ill. The inner harbor constitutes the final portion; the work there began September 19, 2019, and it is being carried out by Norfolk Dredging Company and Weeks Marine.
Two dredges were maintaining the inner harbor channel at its current authorized depth of 42 feet: the Hampton Roads and the Savannah, both owned by Marinex Construction Company. The Savannah has completed its part of the mission and has left the harbor.  They are being followed by two more dredges deepening the channel to what will be its new authorized depth of 47 feet: Norfolk Marine's Charleston, and Weeks Marine's Chatry. The two smaller maintenance dredges remove built-up shoaling and sediment, then move on, followed by the larger deepening dredges.
All dredging vessels must move aside whenever commercial vessels enter their area. In addition, workers must move pipelines leading from the dredges to the dredge material disposal areas. After commercial traffic passes, everything must return to continue the routine. All dredges work 24 hours a day, seven days a week.
Get the latest infrastructure and dredging news in your inbox.
Powered by the Waterways Journal and International Dredging Review, our monthly Infrastructure Report newsletter covers dredging, construction and civil engineering.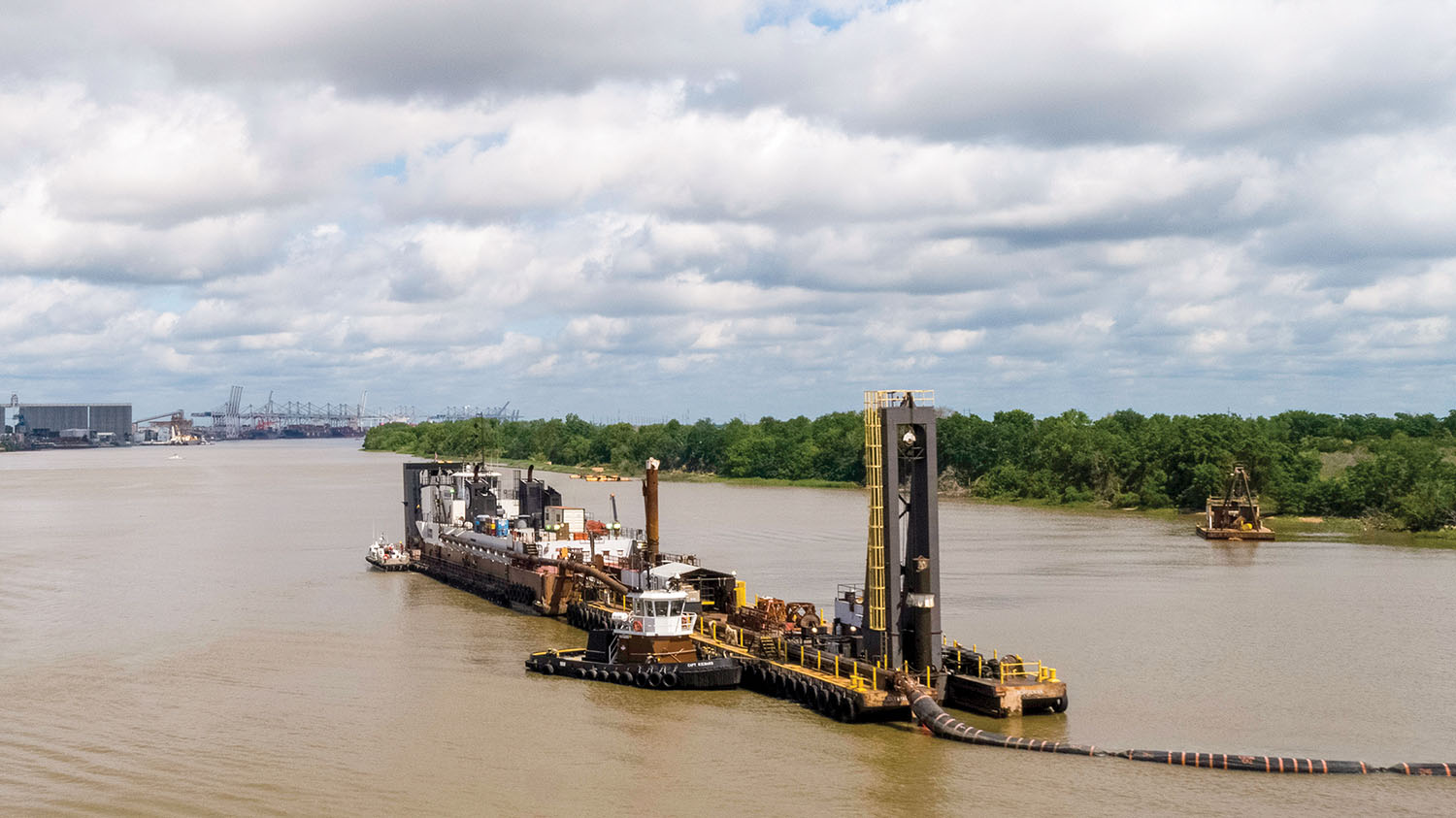 "The Savannah District continues to manage the intensely complicated task of coordinating dredge actions and placement of dredged material to ensure safety, compliance with contract requirements and timeliness to reach our goal of completing this major deepening in January 2022," said Col. Daniel H. Hibner, commander of the Corps' Savannah District. "This effort ensures the harbor will improve the ability of Savannah to meet the demands of today and tomorrow."
Because the project will have such a large effect on the nation's economy, SHEP has received significant federal support. In the federal budget for Fiscal Year 2020, $130.3 million is devoted to SHEP, while another $28.6 million in operations and maintenance funding is going toward Savannah River maintenance dredging. 
Caption for top photo: The Dredge Hampton Roads is shown maintaining a deepened channel in front of large cargo vessels docked at the Garden City Terminal of the Georgia Ports Authority May 28. (Photo courtesy of Georgia Ports Authority)