By Nelson Spencer Jr. and Frank McCormack
On June 4, representatives of the Blessey Marine Services family gathered at Bayou Fleet on the west bank of the Mississippi River near Hahnville, La., to christen the company's newest towboat from Verret Shipyard, the mv. Daniel Wisner.
The 85-foot by 30-foot towing vessel joins dozens of others the Plaquemine, La., shipyard has built for Blessey Marine over the years. In fact, Verret built Blessey's first four boats in the 1980s, said Walter Blessey, chairman and CEO of the company. The privately-owned company now has 85 boats and 175 barges.
The Blessey Marine story is, by all accounts, an American success story. In the 1970s, Blessey worked as an oil trader. He had a gift for the business and quickly found success. But even so, Blessey didn't feel like he was given respect, fair compensation or even the gratitude of his employer, he said. The experience led to two major outcomes. First, Blessey left and started his own business, Blessey Marine Services, with one other employee, Carol Ott, his ex-bosses' former secretary. Second, the experience helped shape Blessey's thinking on how to run a business. It led to what has been since referred to as "The Blessey Way."
Sign up for Waterway Journal's weekly newsletter.
Our weekly newsletter delivers the latest inland marine news straight to your inbox including breaking news, our exclusive columns and much more.
"Treating people fairly with respect and honor," said Blessey. "You have to truly care for people to buy in to your vision."
Blessey Marine has grown quickly and organically. The company is nearly debt-free and has had years of growth. And perhaps what Walter Blessey is most proud of is what he is able to give back to employees. In addition to annual bonuses for all, the company offers a "longevity award," $10,000 for everyone who has been with Blessey for more than 10 years, Blessey said.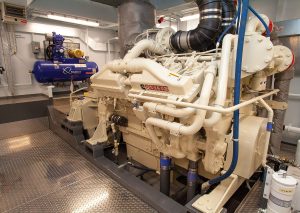 Mv. Daniel Wisner
"This is our 38th vessel from Verret Shipyard," said Clark Todd, president and chief operating officer of Blessey Marine. "This 2,000 hp. vessel from Verret is our standard Blessey Marine vessel. I bet, of those 38, probably 34 have been 2,000s. And what makes it so special is, this is not like building 38 vessels over a 10-year period. This is 42 years in the making."
The towboat is named for Daniel Wisner, Blessey Marine's vice president of crewing and vessel logistics. Wisner, who has been with Blessey for 12 years, oversees crew travel, logistics and procurement: three areas integral to the company's operations during the COVID-19 pandemic. Walter Blessey is the father-in-law of Wisner, who is married to Blessey's stepdaughter, Elizabeth, a local New Orleans medical doctor. The couple has one son. Wisner said it was at a family gathering that Blessey surprised him with news of the boat.
"We were actually at Thanksgiving two years ago, and he just happened to say it, as if it was casual conversation," Wisner said. "I thought, 'Is he joking?' Then he said it again."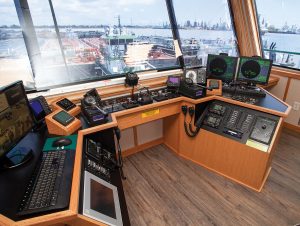 Even after first learning of the honor, then seeing a couple of pictures during the construction process, Wisner said it was hard to believe.
"It really didn't sink in until I hopped out of the car and got to see the boat," Wisner said. "When I sit here and think about the fact that this boat is probably going to be traversing the inland waterways past my lifetime, it's kind of an unbelievable thought. It's just such an honor for Walter, Jane Ann, Clark and this family to name this vessel after me. I'm really without words."
Wisner, originally from Natchez, Miss., is carrying on a family tradition of his own in the maritime industry. His grandfather started Vidalia Dock & Storage, a barge and fleeting company located across from Natchez in Vidalia, La.
"It's actually still run by my grandmother, my mother and my sister," Wisner said.
At the helm of the mv. Daniel Wisner are a pair of Blessey Marine veteran captains, Wilson Gerald and Kyle Marie. Gerald, lead captain aboard the Daniel Wisner, started out with Blessey as a deckhand in May 2001. Marie, relief captain, started as a deckhand in May 2010. At 2,000 hp., the mv. Daniel Wisner will be a versatile member of the fleet, able to traverse the Mississippi River and tributaries and the Gulf Intracoastal Waterway.
"We can go anywhere," Gerald said. "We can go to Chicago; Mobile, Ala.; Corpus Christi, Texas; Venice, La."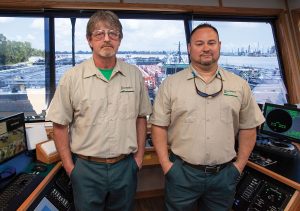 The mv. Daniel Wisner is equipped with two Cummins QSK 38 main engines each rated at 1,000 hp. The main engines are coupled to Reintjes WAF 563 reduction gears from Karl Senner LLC. Each gearbox has an internal hydraulic multi-disc shaft brake and features a two-station Emerson Control System, also from Karl Senner. The engine package turns a pair of four-blade, stainless steel propellers with 74-inch diameter and 58-degree pitch from HS Marine. Ship service power is from two 99 kw. John Deere generators. Engine coolers are by East Park, while the steering system is by Custom Hydraulics. Engine alarms are from Baton Rouge Marine Electric. Seals and bearings are by Thordon.
The mv. Daniel Wisner has tankage for 32,000 gallons of fuel, 18,000 gallons of potable water, 250 gallons of engine oil, 220 gallons of gear oil and 220 gallons of hydraulic oil. The vessel features a Sea Horse wastewater treatment system.
On deck, the mv. Daniel Wisner is outfitted with two 40-ton Patterson deck winches, fendering by Schuyler Companies, and paint by Coating Systems Inc. The vessel features a full fleet deck forward of the deck house for enhanced visibility.
Furuno radars, VHF radios, AIS, the intercom system and stateroom televisions were all supplied by Wood River Electronics. The Hiller Companies supplied the mv. Daniel Wisner's fire suppression system, while Robertson Heating & Air supplied its air conditioning system.
The mv. Daniel Wisner has accommodations for a total of eight crew members, with two full size beds in the captain and co-captain's quarters, two double bunk staterooms for the deck crew, and one double bunk stateroom for tankermen.
Note: For more pictures of the Daniel Wisner and the christening ceremony, see the WJ Photo Page on the inside back cover of the 6/29/2020 issue.