Kindra Marine announced last week that it has acquired a 1,200-ton drydock. The dock, which measures 140 feet long by 50 feet wide with 42 feet between the wing walls, arrived in South Chicago in mid-May, said John Kindra, president of Kindra Marine. It is a full-size drydock capable of lifting hopper barges as well as harbor tugs. In addition, the firm will provide services including drydocking for passenger vessels and construction equipment.
Even as the drydock was being set up and the electrical wiring installed, the first drydocking request came in.
"It was exciting to see the first barge out of the water," said Jacqueline Kindra, owner and corporate secretary. "And it was repaired in one day." Since mid-May, Kindra Marine has drydocked a hopper barge every week.
New Personnel
Kindra Marine also recently announced the addition of two key personnel in December 2019, when Mike Hogan and Bob Farrell joined the company as general manager and operations director, respectively.
Hogan started his career with Canonie Offshore/Andrie Inc. in 1978 as a chief engineer operating on the Great Lakes, St. Lawrence Seaway and the East Coast. In 1989, Hogan moved to Hannah Marine as traffic and sales manager, moving inland river barges from South Chicago to lower Lake Michigan ports. He earned his MBA from DePaul University while at Hannah Marine. In 1999, Hogan became the general manager for Chicago Dry Dock on the Calumet River in South Chicago. When he joined Kindra Marine as general manager, he brought years of experience in barge and boat repairs.
Ferrell started his inland marine career in 1994 doing barge cleaning and repairing with Kern Barge Cleaning & Repair Company. Bob was employed with Kern when the company acquired its first drydock in 1998 and changed its name to Chicago Dry Dock Company. With Ferrell's outgoing personality and "eager to learn" attitude, he worked his way up to a supervisory position. He oversaw their drydocking operations as the company grew from one to three drydocks. Ferrell is known for instilling high quality work within his crews along with a "have fun" attitude; it is common to hear laughter and singing from the crews as they work, John Kindra said.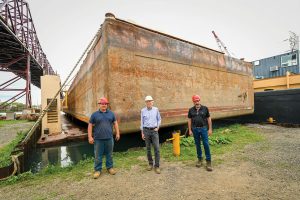 All of Kindra Marine's welders are ABS-certified.
Together, John Kindra, Hogan and Farrell have more than 100 years of experience in the towboat, tugboat and barge industry. In April, Kindra Marine celebrated its 37th year in business.
Although several Illinois River locks will be closed for four months beginning this week, Kindra Marine will continue to work modifying and retrofitting a 15,000-barrel tank barge into a fueling barge with six separate tanks, two different fuels, a hot oil heater, generator, hydraulic crane, electric pumps and a control house.