There's a new executive at the helm of one of the major deepwater seaports that connect with the Gulf Intracoastal Waterway. John Driscoll began as the CEO of the Alabama State Port Authority, which oversees the public facilities within the Port of Mobile, just last month. The port authority's longtime executive, Jimmy Lyons, will remain with the port as director emeritus until the end of the year.
In an interview with The Waterways Journal, Driscoll quickly emphasized the Port of Mobile's connectivity to every mode of transportation, including five of the six Class I railroads, two major interstate systems, the deep waters of the Gulf of Mexico and the nation's inland waterways.
"We're a very valuable asset because we have partners like the barge operators, the rail operators and the truck operators and the businesses in Alabama," Driscoll said. "It's a very synergistic relationship we enjoy and benefit from because of our strategic location."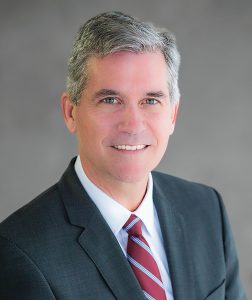 Driscoll has joined an ascending port that's experiencing tremendous growth and facility expansion. One key place of growth that stands out from other regions is the Port of Mobile's coal line of business. Alabama is a top producer of metallurgical coal used in steel production. Unlike steam coal used for power generation, met coal is a commodity in increasingly high demand. Coal, through the port's McDuffie Coal Terminal, accounts for half of the Port of Mobile's revenue. Much of the coal exported through McDuffie is delivered by barge from the Black Warrior-Tombigbee Waterway.
Sign up for Waterway Journal's weekly newsletter.
Our weekly newsletter delivers the latest inland marine news straight to your inbox including breaking news, our exclusive columns and much more.
"It's an integral part of what we do and what we support and is directly tied to Alabama businesses and investment in a tremendous fashion," Driscoll said.
Driscoll said McDuffie historically has been an importer of thermal coal and an exporter of the state's metallurgical coal, much of which is mined from the upper reaches of the Black Warrior River. That import-export mix is changing, Driscoll said, as power generators move away from coal. At the same time, though, metallurgical coal demand is on the rise.
"For us, we see a very bright future for the coal business as far as the metallurgical coal," Driscoll said. "We see a dramatic uptick with some of our partners."
According to the port, fiscal year 2019 was a record export year, with current export capacity in the 10- to 12-million tons range. The port is actually in the midst of developing a multi-year capital improvement plan to add new equipment and rebuild existing equipment, including new cranes and improved conveyance, which will boost McDuffie's coal export capacity to 15 to 20 million tons.
Driscoll also highlighted the port's new blast freeze and cold storage facility currently under construction. The facility is located just outside the port's container terminal, which is operated by APM Terminals. The $60 million, 12 million-cubic-foot, 40,000-pallet-position facility is slated to open in early 2021. Driscoll said the facility will be capable of 30 blast loads daily, an important feature especially for the region's poultry industry, and will also offer drayage, LTL consolidation services, import-export inspection services and on-site processing. The facility will be operated by MTC Logistics.
Driscoll said the key element for the new cold storage facility is the inbound flow of refrigerated containerized cargoes.
"If you can get the boxes into an area like Alabama that has a strong export potential for refrigerated commodities outbound, then it's a win-win," he said.
Other projects on the way for the Port of Mobile include a new roll-on/roll-off terminal, which could start accepting imported vehicles as early as January 2021, and continued investment in the port's container and intermodal infrastructure.
Driscoll heaped accolades on Lyons and the port's staff for everything already underway when he arrived last month.
"There's no doubt that Jimmy Lyons and people like Judy [Adams, vice president of marketing for the port] and many, many others have done a tremendous job attracting investment and setting up this entity for a very exciting future and outlook moving forward," Driscoll said. "Being able to come in while all of that is in process, being able to work through that and, hopefully, deliver that to the finish line and then some, is really exciting."
Driscoll said he is impressed with how the port anticipated challenges from COVID-19 and acted accordingly. He said, while some business has slowed due to the virus, others have picked up. Remarkably, and true to the essential nature of the port's operations, commerce and the transport of cargo is moving forward.
"Overall, we're very bullish on the future of this port and this state moving forward," he said, "because of all these great ideas and investments the port and others are making."
Caption for top photo: A towing vessel pushes a coal-laden barge into an unloader at the Port of Mobile's McDuffie Coal Terminal. (Photo courtesy of Alabama State Port Authority)