Knoy Announces He Will Retire From ACBL
In an email to employees July 15, American Commercial Barge Line President and CEO Mark Knoy announced he would retire from the company and the industry by the end of the year.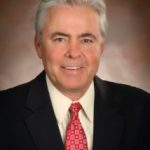 Knoy has led ACBL since 2011, since moving from a similar role at AEP River Operations; he was with AEP and its predecessor, MEMCO Barge Line, for 17 years. Before that, Knoy owned and operated Delmar Marine and Mark Twain Towing Company.
He recently led ACBL through a successful restructuring of the company's debt.
In the email, Knoy said he was sharing the decision to retire "with heartfelt and bittersweet emotions," and that he planned to spend more time with his family.
ACBL's board of directors will announce a new president and CEO in the near future.