Like so many other new vessels these days, because of the COVD-19 pandemic the mv. Amelia Ray went to work without the benefit of a full-fledged christening. It was pressed into service June 4 by its owner, L&L Marine Transportation, a five-boat company based in Harvey, La., immediately after its delivery.
"We had a small family ceremony," said Lee LeBoeuf, president of L&L Marine. "The boat is named for my four-year-old granddaughter, and she did the bottle-breaking, with my help, but there wasn't a big party or anything. We might do that later."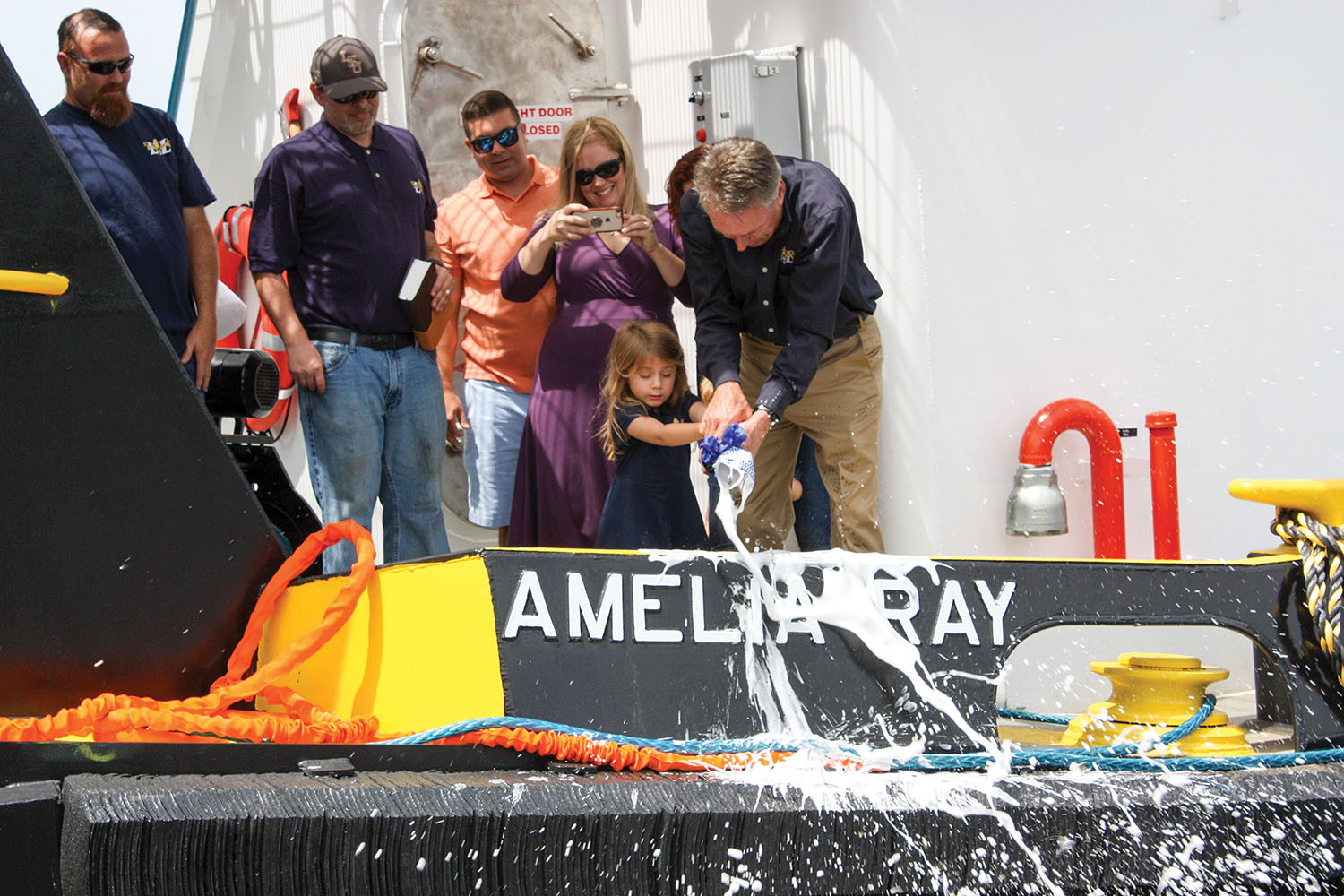 The Amelia Ray, designed by Entech and built by Rodriguez Shipbuilding Inc. of Bayou La Batre, Ala., is a twin-screw towboat that measures 65 by 28 feet, with an 8-foot draft. It has a 31-foot eye level. The new boat is powered by a pair of Mitsubishi S6R2 diesel engines rated 1,600 hp. total at 1,400 rpm., from Laborde Products. They turn 72- by 64-inch Kahlenberg wheels through Twin Disc MGX5321 reduction gears at a 5:1 ratio.
The inline six-cylinder Mitsubishi S6R2 engines, the 28th pair that Laborde has delivered to date, have a displacement of 30 liters, which "puts them in a heavy-duty league of their own," said Laborde. The Mitsubishi distributor received praise from Joseph Rodriguez, the owner of the shipyard, who said there were "no snags from the engine supplier." Nor were there any from the team from L&L Marine, whom, he added, "was first class in every respect and got the job done."
The Amelia is the fifth boat in the fleet of L&L Marine, which has served industry along the Harvey Canal for 42 years. The company was started in 1978 by Lee LeBoeuf's father, Carl, with one boat named the mv. Judy W,  a 600 hp. tug described by Lee LeBoeuf as a jack-of-all-trades because of the wide variety of jobs it was called on to perform.
Before joining the company on a full-time basis, the younger LeBoeuf gained experience working in the offshore oil fields of the Gulf of Mexico, he said. He helped his dad during the summers and weekends while attending the University of New Orleans, where he majored in marketing. He joined his father at L&L Marine permanently when he was 22 and succeeded him as owner when his father died in 1997.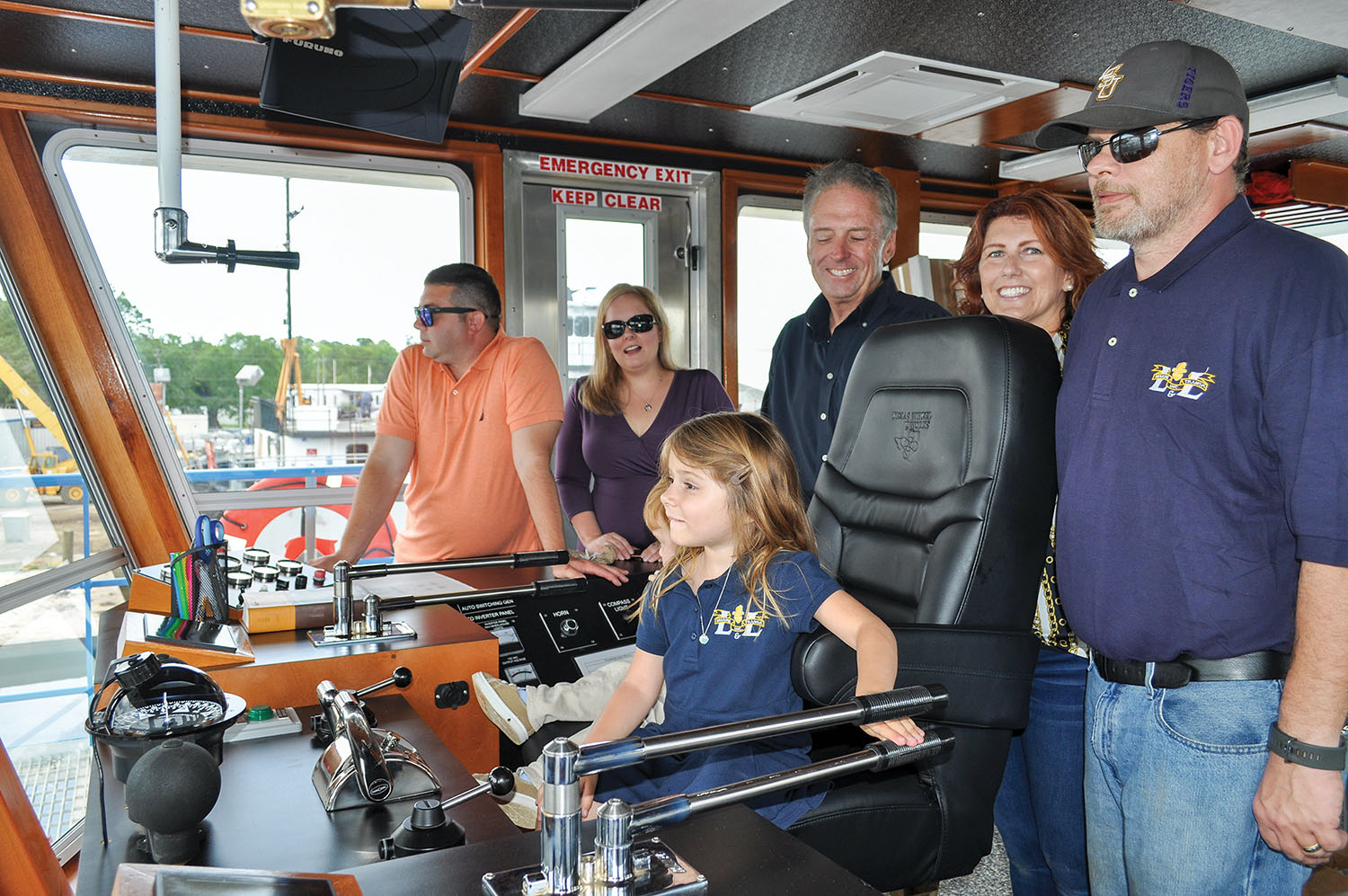 "We were able to 'keep the lights on' during the downturn of the '80s," LeBoeuf said, "and then we started rebuilding our fleet with repo'd vessels as we could afford them. Today, in addition to the Amelia, we have the 2,000 hp. Melissa Lee (the second boat by that name), and three 1,200 hp. vessels: the Angela Rae, Myrna Ann and Madeleine Michelle. Besides working the Canal, L&L Marine now offers towing anywhere below Baton Rouge and from Houston to Mobile," LeBoeuf said.
Inside the hull of the Amelia, which is protected by M&M bumpers, there is tankage for 15,000 gallons of fuel and 4,100 gallons of potable water. Ship's service is from two 60 kw. Cummins generators, cooled, as are the main engines, by East Park keel coolers. There are four bunkrooms, two baths and a galley.
Steering is accomplished by a Hydra Force electric-over-hydraulic system monitored by a 30-point Murphy alarm panel. In the pilothouse is an integrated Furuno electronics package that includes an L&L Marine-designed pilot alert system. On deck are two 40-ton Patterson winches.
The new boat is Subchapter M compliant, able to move barges carrying oil or hazardous materials, and it is permitted to work in no-discharge areas from St. Marks, Fla., to Rio Grande, Texas, on the Intracoastal Waterway and rivers not more than 3 miles from shore.
Caption for top photo: The 1,600 hp. mv. Amelia Ray was constructed by Rodriguez Shipbuilding. (Photo courtesy of L&L Marine Transportation)