In the town of Lorain, Ohio, a pilot program for an innovative way of dewatering and processing dredged material could point the way toward the future of dredged material disposal and reuse, especially for cities and townships no longer able to dispose of dredged material in bodies of water, or that have limited land resources. Called a Geopool, it has been described as a "giant coffee filter" and looks a bit like an oversized above-ground swimming pool. In contrast to traditional methods of dewatering dredged materials, it is scalable and customizable. It requires less land and could save substantial time and money over existing methods. 
For entities that don't have the space or can't acquire or lease enough land, the Geopool could be a cost-effective option. Geopools have been used overseas, in Africa and other places. Corry Platt, a sediment and dredging specialist and board-certified environmental professional with Coldwater Consultants, the main contractor for the Lorain project, has been following the technology ever since reading about it in 2015. He said he knows of 15 overseas uses. In this country, he said, two have been used previously, one for oil and gas exploration and the other in an industrial lagoon. But to Platt's knowledge, the Lorain Geopool is the first North American use of this technology for disposal of dredged material.
Ohio's Black River, which runs through Lorain, drains into Lake Erie. For years, material dredged from its navigation channel and turning basin was towed out into Lake Erie and deposited into a site designated by the Corps of Engineers as a disposal site. But over the past few years, the state of Ohio has ended that practice, after a series of legal skirmishes with the Corps of Engineers over disposal of material from Cleveland's Cuyahoga River.
There are well-established ways of using land-based structures to dewater dredged material using a series of channels and settling ponds. But those require space. According to Platt, a typical such construction could take between 25 and 50 acres.
Get the latest infrastructure and dredging news in your inbox.
Powered by the Waterways Journal and International Dredging Review, our monthly Infrastructure Report newsletter covers dredging, construction and civil engineering.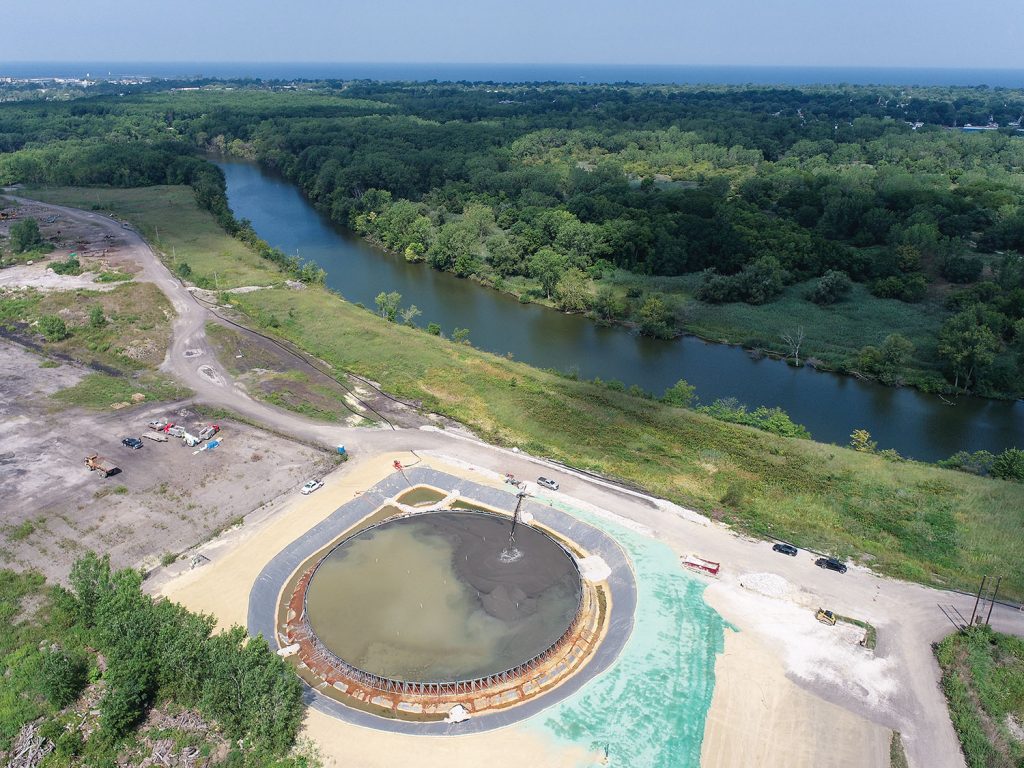 The Lorain Geopool is designed to hold 5,000 cubic yards of material. It is built of 8-foot steel panels connected by toe linkages and reinforced by cables. In this particular case, the structure includes a liner, but that may not always be necessary, said Platt.
It took a hard lesson to learn the proper structure and its dimensions. In November 2019, the first Geopool suffered a catastrophic collapse. An investigation determined the failure wasn't a result of any external breaching. The redesign that took place between November and April reduced the size of panels from 10 feet to 8, increased the gauge of the steel used, strengthened the toe linkages and added reinforcing cables. The structure is adjustable in size and can be delivered pre-assembled to the client's specifications.
The material dredged from the turning basins of the Black River has one of the most difficult compositions for dewatering, said Platt. It is 93 percent fine clay and silt, with the other 7 percent a mix of fine sand, but also with a high level of organic material from a 4- to 6-inch layer of leaf debris.
The use of two low-dose polymers aids in the dewatering, said Kathryn Golden, Lorain city engineer. One polymer is injected into the material in the pipeline to strip the particles of electric charge; the other, a polyacrylamide, is added also in the slurry delivery pipeline near to its entry into the Geopool. It adds the right kind of charge to facilitate separation as the material swirls in a circular motion. Louvred dump flues allow the clarified water to rise to the surface. Platt said the water quality so far has been well below permit levels. Incoming material is measuring 40 grams of suspended solids per liter; outgoing is about 40 milligrams per liter. "This is three orders of magnitude in a matter of hours, which far exceeds existing methods," said Platt.
The structure includes a mesh material that aids in dewatering (hence the "coffee filter" description). After the material is dewatered, it is expected to dry into a "cake-like consistency," said Platt, so that excavators can enter the pool and remove it. "We're dewatering more quickly than we anticipated," said Platt.
There is a possibility, said Platt, that the material will be able to avoid a further stage of drying, which—if true—would remove an $8-per-yard-per-"touch" cost.
None of the Black River material is toxic or contaminated; a layer of contaminated material was removed from the Black River in the early 1990s, according to Golden.
The pilot program is about 50 percent completed, said Platt. It has enjoyed the close cooperation and support of the Ohio Environmental Protection Agency and other state agencies. Pumping is done, and dewatering is being completed. Ease and cost of disassembly is part of what is being measured, and that should be completed by the end of the year. If everything continues to go well, the project should serve as a model of interest to many other entities involved in dredging and disposal of dredged material.
Caption for top photo: The Lorain Geopool is designed to hold 5,000 cubic yards of material. (Photo by Corry Platt, Coldwater Consulting LLC)