Jefferson County, Mo., hugs the Mississippi River shoreline south of St. Louis.  An important but developing part of the St. Louis region's "Ag Coast" port ecosystem, it includes the river ports of Herculaneum, Crystal City and Kimmswick.
The port authority has been in existence since 1976, founded by a visionary group of businesspeople dedicated to developing the eastern Mississippi River border of the county. Neal Breitweiser, executive director of the Jefferson County Port Authority, has been leading development efforts since March 2017. Breitweiser sees a big future for the county's ports. "I've read reports saying that demand for agricultural products could grow 20-fold in the next several decades," he said. "The infrastructure simply isn't in place to meet that demand. The more availability of logistics options our region has to offer, the more business it will attract.
Lead History
Herculaneum, oldest of the county's ports, was built by lead. The port's origins go back to 1798, when Connecticut businessman Moses Austin received a Spanish land grant at the site on the west bank of the Mississippi River. Austin owned lead mines in nearby Potosi, Mo., and he wanted a river port that was closer to his mines than the existing town of Ste. Genevieve. Lead from Austin's mines was reportedly used to make cannonballs for the War of 1812, and shot towers for that purpose were built in 1813.
Lead continued to shape the port's history in what became known as the "southeast Missouri lead belt."  The St. Joseph Lead Company, founded in New York in 1864, operated in the Herculaneum area, dominating the town's economic life for decades. After several mergers and acquisitions, it was renamed the Doe Run Company Partnership in 1986. Doe Run still operates several lead mines in other parts of Missouri but ended its lead smelting operation in Herculaneum in 2013 after extensive efforts to clean up past emissions, including the buyout of 170 homes.
Sign up for Waterway Journal's weekly newsletter.
Our weekly newsletter delivers the latest inland marine news straight to your inbox including breaking news, our exclusive columns and much more.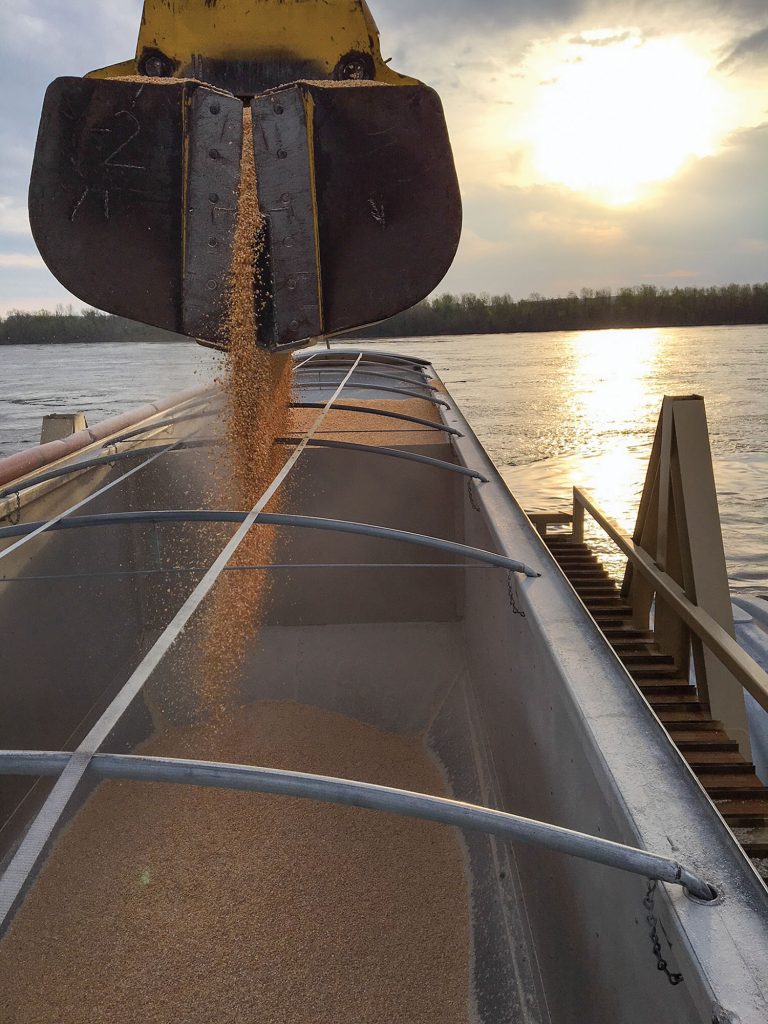 New Era
Finding enough available land for development had proved a challenge to the developers of the Jefferson County riverfront at first. A new era began when Doe Run's river facilities were sold to Riverview Commerce Park LLC (RCP) for development as a river port.  Today, the Riverview Commerce Park Terminal is a private facility with barge loading and unloading capabilities. Located in  Herculaneum, the 18-acre facility opened in 2013 and currently ships bulk commodities, mostly locally sourced frac sand,  to oil and natural gas producers across the U.S. for two local customers: Mississippi Sand of Festus, Mo., and Unimin Sand of Pevely, Mo. In March 2015, RCP expanded, as operations of a new barge fleet staging area were inaugurated.
A Phase II Master Plan has been completed for the port authority, to ensure that Jefferson County Ports operate together as a system to respond to the current market as well as future changes in cargo movements.  The plan calls for the development of three separate facilities: a liquid loading and off-loading facility in the Pevely area; a multi-modal facility specializing in environmentally conscious firms and facilities in the Herculaneum area; and, a multi-modal facility targeting extensive rail assets and including a slackwater harbor in the Crystal City area.
The Jefferson County Port Authority just signed a contract to further study and develop the Crystal City port's potential, Breitweiser said. Funding for that study came from an Added ValueGrant from the Missouri Department of Agriculture and the Small Business Administration. TranSystems of Kansas City is the port authority's research partner. Building on a study from 10 years ago, also by TranSystems, this new effort will include marketing studies and identifying the best customers for the port while the authority waits for money from the state to allow it to buy property. Breitweiser said the new study should be completed by the end of the year.
Breitweiser has also been in discussions with American Patriot Holdings regarding their using the port of Herculaneum as a possible terminal site for their innovative purpose-built container vessels that are under construction. Talks are still in an exploratory stage, Breitweiser said, adding "Crystal City might be a secondary choice." It's also where the port authority itself moved into a new office in August of last year.
Kimmswick Dock
It was in June that the port authority's board voted unanimously to award an $893,248 contract to XL Contracting of St. Peters, Mo., to build the Kimmswick port, which will be the home base for the Delta Queen riverboat and will be able to handle other cruise boats traveling the Mississippi River. "[Missouri] Gov. Parson has been very supportive of all our efforts, especially in Kimmswick," Breitweiser said.
Hanson Professional Services of Maryland Heights, Mo., had estimated the work at $1.2 million. It could be complete by the end of the year.
The Delta Queen's owners have committed to moving the iconic riverboat at least 11 times a year. The operators of the American Queen have expressed interest in using the dock, along with Bi-State Development, which operates the Tom Sawyer and Becky Thatcher riverboats, long-time attractions on the St. Louis riverfront.
All of those plans, of course, depend on what happens with the coronavirus, which has slowed the Delta Queen's renovation work and introduced uncertainty into the cruise business. American Queen Steamboat Company announced September 24 that it is suspending cruises through the end of 2020, and earlier said it would lay off 250 crewmembers due to the impact of the virus.
But developing a port district has always been a long-term project, requiring doggedness, patience and endless reserves of energy and optimism.  Breitweiser and his partners have been working too long and hard to see the coronavirus as anything but another speed bump.
With an ice-free, mid-continent location below the Upper Mississippi River's locks and connections to a robust network of river, road and rail routes, Jefferson County looks well-positioned to take advantage of future opportunities. As Derrick Good, a local attorney and member of the port authority's board, puts it, "We're excited to be part of a project that will change shipping in the region and around the world."
Caption for top photo: A former lead port at Herculaneum, Mo., has found new success shipping frac sand and bulk commodities. (Photo courtesy of Riverview Commerce Park Terminal)