Industry People On The Move: October 12, 2020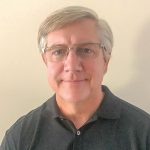 James "Jimmie" Garrett, long involved in the river industry, most recently as a river transportation management consultant, has joined Merrill Marine Services Inc., Fenton, Mo. He will be working out of the Paducah, Ky., office in a consulting capacity.
He has spent the last two years as a consultant in Paducah, assisting the leadership of a small, privately owned river towing firm, which also owns a shipyard and a limestone aggregate terminal.
Prior to that, Garrett spent close to 15 years working for American Electric Power (AEP), Columbus, Ohio, in various roles of increasing responsibility, ending with his being named the managing director of fuel operations and vice president of mining in 2012. He held that position until 2018, when he moved to Paducah to begin his consulting business.
When he started with AEP in 2004, he did so as plant manager of the Cook Coal Terminal in Metropolis, Ill., where he directed the operation of the 17 million-ton terminal. In 2007, he moved to Chesterfield, Mo., as senior manager of engineering and construction for AEP's 80-towboat fleet. He was promoted to senior manager of transportation and logistics in 2009 and a year later moved to Columbus, where he was named managing director of transportation.
Pete Merrill, president and owner of Merrill Marine Services, a marine brokerage, appraising and surveying firm founded in 1940, said Garrett's extensive background in river transportation management aligns well with Merrill Marine Services' portfolio of services.
Fullen Dock & Warehouse has announced the appointment of Greg Hutchison as president of the company. In this role, he will be responsible for leading all commercial activities and the operations of the Memphis-based company.
"Greg is an accomplished senior executive with tremendous operational and business development experience and a proven track record of delivering positive results," said Matt Satnick and Philippe De Montigny, co-CEOs of Enstructure, the parent company of Fullen Dock & Warehouse. "We are proud to welcome Greg to the team and know his background and significant industry expertise will ensure Fullen Dock & Warehouse's continued growth and exceptional customer service."
Hutchison joins Fullen Dock & Warehouse with more than 30 years of leadership and management experience in the terminal, maritime and shipping logistics industries. Most recently, he oversaw North American terminal operations for Yara International, one of the world's largest fertilizer companies. Before Yara, Hutchison held a variety of senior leadership and management positions at multiple North American terminal businesses including Metro Ports, Kinder Morgan Terminals and Royster-Clark.
Hutchison graduated from Bethany College with a Bachelor of Arts in economics and business and received a Master of Science in administration from West Virginia University.