Success through hard work and the ability to build on opportunities as they arise have been the underpinnings of many in the river industry, but they seem particularly appropriate when applied to a 76-year-old shipyard owner from St. Louis, George Foster.
A four-sport athlete in high school, Foster lettered in football, wrestling, baseball and track and field, where he was a shot putter. In 1962, he was given a full scholarship by the Missouri Tigers football team to be a pulling guard. But because of a back injury he suffered while working summers at a meatpacking plant where his father was employed, he had to give up his scholarship. He then transferred to Central Missouri State University in Warrensburg, Mo.
After his sophomore year, Foster worked a summer as a deckhand for Bussen Quarries in south St. Louis. "I fell in love with the river," Foster said. The immensity of it all, the size of the equipment and the huge cargoes really impressed him. "The river just grabbed hold of me," he said. It was no surprise, then, that instead of finishing school, he went to work full time on the river for Bussen. That was in 1964 and the beginning of more than 56 years in the river business.
Tom Rollins
He earned his pilot's license doing linehaul work for Inland Oil & Transport, and then he re-upped with Bussen as vice president of operations for one of its subsidiaries, Riverside Sand & Dredging. On the side, he and a high school buddy, Tom Rollins, bought for $5,000 a boat that had sunk and was pulled up on the bank. They rehabbed it and sold it for $25,000. Flushed with early success, the young entrepreneurs repeated the process again and again until, in 1976, they had enough money to lease 3,000 feet of riverfront property and charter a boat. They named the facility Jefferson Barracks Marine Service.
Sign up for Waterway Journal's weekly newsletter.
Our weekly newsletter delivers the latest inland marine news straight to your inbox including breaking news, our exclusive columns and much more.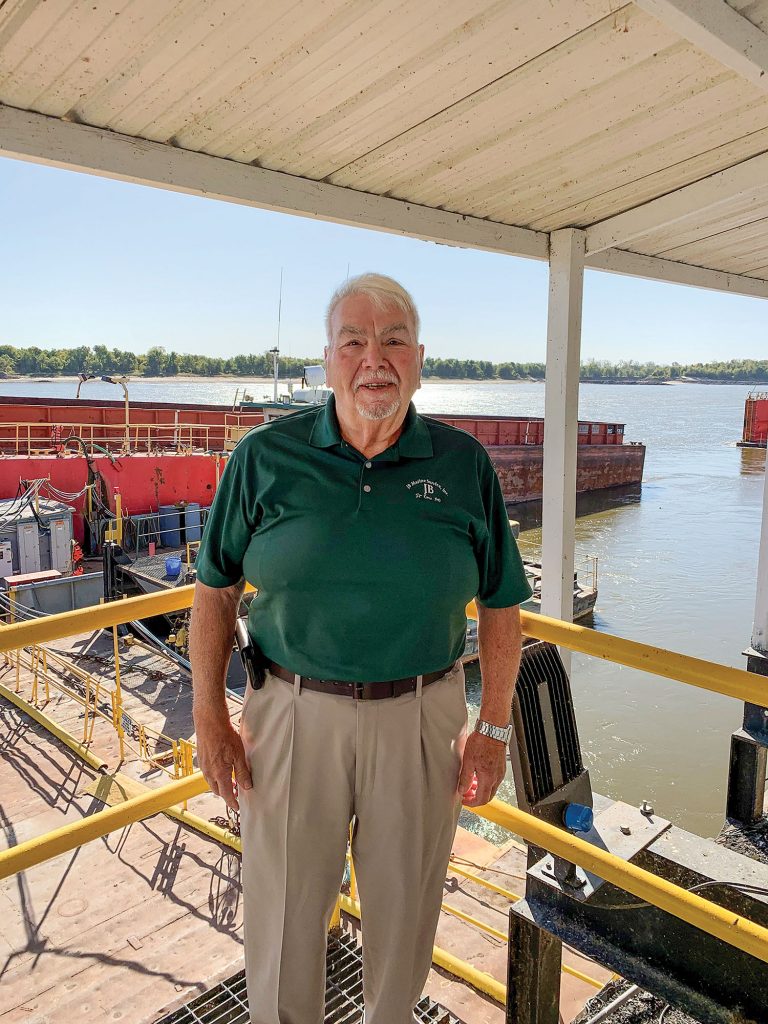 The pair attracted more and more customers over the years and steadily grew the fleeting and harbor business to accommodate them. When they bought Barbour Shipyard and added its equipment to theirs it expanded their capabilities even more.
In 2000, Foster bought Rollins' share of the operations side of the business and changed the name to JB Marine Service Inc. Foster and Rollins remain friends and are still partners in the river fleeting component of Jefferson Barracks Marine Service.
Rollins eventually went on to build a successful career in marine insurance, establishing The Great River Agency, which he later sold to insurance giant Aon. He also became a well-known photographer.
JB Marine Service now employs more than 100 people and operates nine harbor boats, four dry docks, four topside repair facilities, a full-service fabrication shop and a full-service machine shop. In 2019, the shipyard was named the winner of the American Equity Underwriters (AEU) safety award chosen from 1,300 nationwide members. At the award presentation, Terry Guidry, senior loss control manager for AEU, said that they look for a team commitment and a culture of safety that is practiced every day in and out from top to bottom. "We judged JB Marine to be the 'best of the best,'" he said.
Characteristic of many who start from scratch, Foster has been generous in "giving back." He has volunteered in leadership roles for organizations such as The American Waterways Operators, including chairman, vice chairman and treasurer. For many years, he was president of the St. Louis Harbor Association, still serves as a board member of the River Industry Executive Task Force and is a member of the Western Rivers Area Maritime Security. In 2015, Foster was presented the prestigious River Bell Award by the Seamen's Church Institute. Asked why he put so much of his time into the different organizations, he said, "It's a way for me to give back to an industry that has been good to me and my family."
Youth Soccer
In the same vein, he started a soccer club in the late 1970s to coach his three daughters when they were young. What started out as merely buying jerseys for the teams grew into full-fledged sponsorship and the formation of the JB Marine Soccer Club, a not-for-profit organization, which now has more than 850 kids and multiple teams. A stunning success, the club has to its credit 78 Missouri state championships, 22 regional championships, 17 Final Four appearances and six national titles. Such renowned players as Becky Sauerbunn and Lori Chalupney of the 2019 U.S. World Cup team came up through the JB Marine Soccer Club, along with countless other players earning college scholarships while playing for the club.
He still backs the club financially, and the reason why, Foster said, is because he believes soccer, as with many team sports, is a great way to teach life's lessons to children. "It meant a lot to my girls, and I'm happy to keep on doing what I can to help."
Two of his daughters hold executive positions at JB Marine Service. Karen Shoot is vice president, and Tina Dinsmoor is chief operating officer. His sons-in-law have also pursued careers there. Josh Shoot is training to become a pilot, and Todd Dinsmoor is the operations manager. Foster is still president, but he is finding time to pursue his favorite hobby, fly fishing, thanks to the efforts of his daughters and the rest of the JB Marine team, he said.
His hobby took root during a 1981 family vacation in Bozeman, Mont., when he, his wife and the girls went on a shopping trip to town. Instead of hitting the stores with them, Foster ducked into a fly-fishing shop. "I was fascinated," he said, and immediately struck up a conversation with the proprietor, Dave Corcoran, who is today one of his best friends.
Another good friend, Foster's longtime fishing partner, Goat Patterson, owner of Osage Marine Service, said Foster is a master with a fly rod and is adept at tying flies, which, "if you look at his fingers," he joked, "is amazing!"
"Kidding aside," he added, "I have never known anyone more dedicated to his family and his business than George. His willingness to give his time and his assets to our industry is unbelievable."
"Watching the business grow from a dream to what it is today is very rewarding," Foster said, "and having my family involved—particularly Linda, my wife of over 50 years—is a blessing. Without her, none of this would have been possible."