Nashville, Tenn.-based Hines Furlong Line (HFL) has taken delivery of the first of three 6,600 hp., triple-screw towboats from C&C Marine & Repair in Belle Chasse, La. The mv. Scarlett Rose Furlong, named for the daughter of HFL founder Kent Furlong, measures 170 feet by 50 feet, with a pilothouse eye level of just over 39 feet. The vessel was designed by CT Marine LLC in Portland, Maine.
Furlong said the motivation for adding new high-horsepower vessels to Hines Furlong Line's fleet was threefold. First, Furlong assessed the overall age of the fleet.
"If you look at the age of the high-horsepower fleet, really above 4,000 hp. but you can home in on above 6,000, it's an older fleet," Furlong said.
Furlong said HFL owns a number of those older 6,000 hp. towboats, built by Jeffboat in the mid-1970s.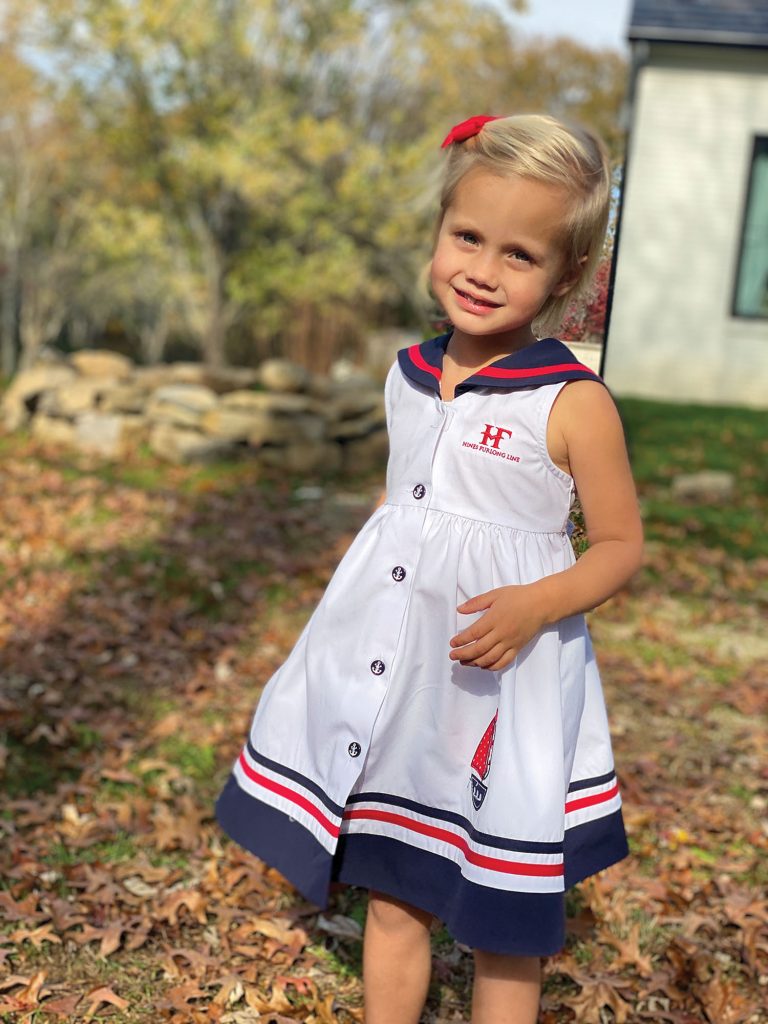 "We're very happy with them, and the return on investment for an older boat like that, refurbished, is much better than building new," Furlong said. "For years, many of the chemical and oil companies have focused on the age of tank barges and lower-horsepower towboats for vetting purposes. Now, many of these same companies have begun scrutinizing the age of larger linehaul vessels handling their liquid cargoes as well."
The second factor at work, Furlong said, is the effect Subchapter M is expected to have on the fleet, particularly older vessels. With Subchapter M going into effect in July 2018, companies have had a four-year window for their vessels to receive their first certificate of inspection (COI) from the U.S. Coast Guard. The next major hurdle will be the five-year haul-out, which will involve the Coast Guard gauging hull thickness and checking for wastage. If the Coast Guard enforces the Subchapter M hull wastage rules, Furlong believes there will be quite a few older vessels in need of major hull work, in addition to the customary cosmetic and mechanical refurbishments. Some of these vessels will justify the significant investment while others will be retired, he said.
"With that, we're thinking there will be some boats come out of service, and it will help make the investment in these newer, extremely expensive boats make sense," Furlong said.
Finally, Furlong pointed to the vessels' Tier 3 engine package, made possible by C&C "laying the keels" and purchasing engine packages prior to the end of 2017, when Tier 4 went into effect.
"If we went out today to build these boats without those engine packages and keels, we would be forced to go to Tier 4, which adds quite a bit of cost and complexities, depending on which engine package you go with," Furlong explained.
Furlong said the Scarlett Rose Furlong will be able to operate on both the Upper and Lower Mississippi rivers, but its innovative design and propulsion package will make it excel on the lower river. The Scarlett Rose Furlong is equipped with three Cummins QSK60-M main engines from Cummins Mid-South that combine for 6,600 hp. Those main engines are paired with Reintjes WAF 1173 H/V gearboxes from Karl Senner LLC. EMI Marine supplied the vessel's steering system HPU. The Scarlett Rose Furlong's propulsion package turns 100-inch stainless steel fixed pitch propellers from Sound Propeller Systems, all within CT Marine-designed CT28SL kort nozzles, built by Michigan-based Harrington Marine.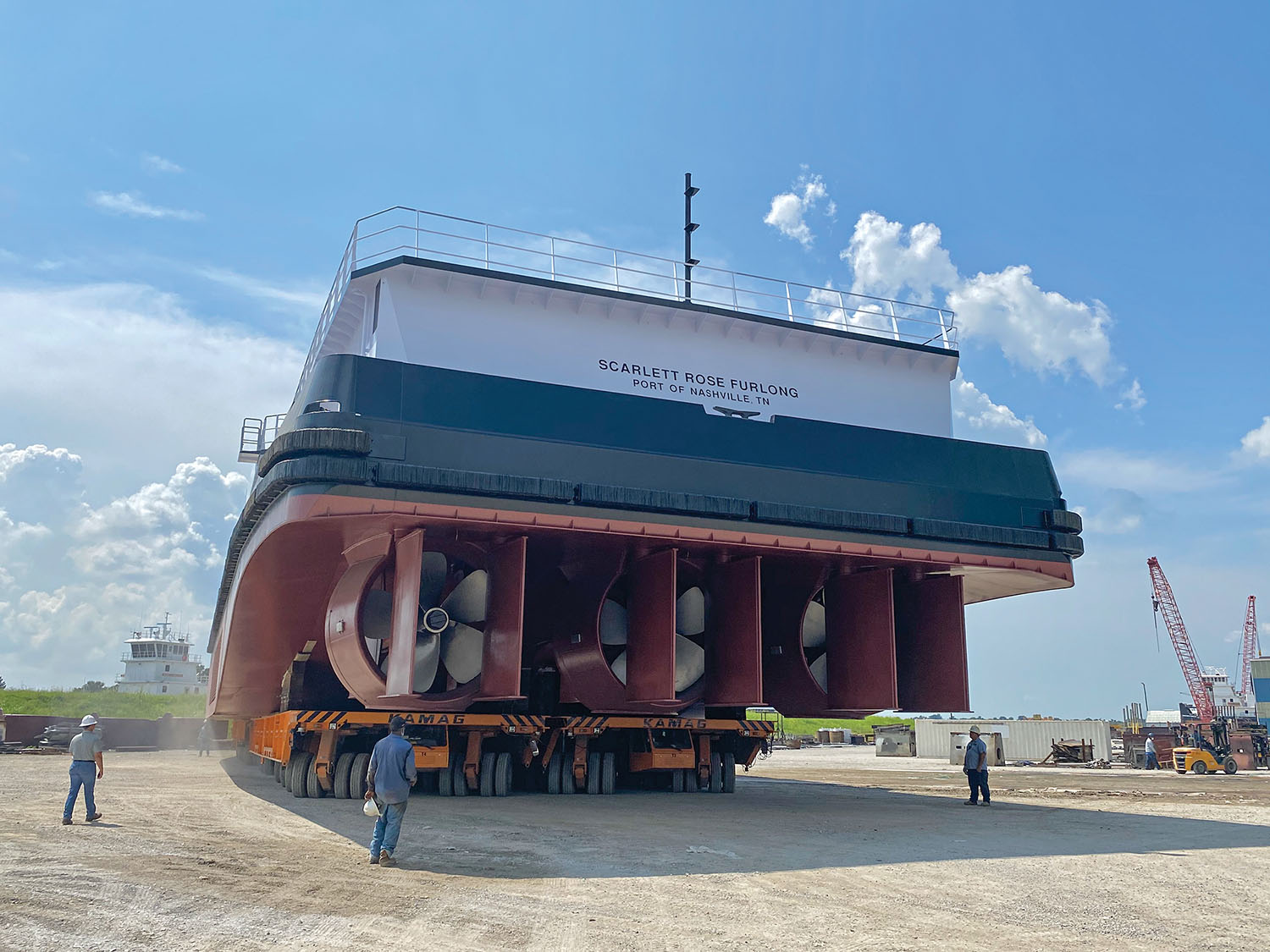 Behind those wheels, rather than conventional barn door rudders, the Scarlett Rose Furlong is equipped with patented double steering rudders from CT Marine. Each wheel has two rudders, meaning the Scarlett Rose Furlong offers six total steering rudders. Each pair of rudders uses differential linkage for what CT Marine's Christian Townsend called twin differential steering. Each pair of rudders can move to different angles to optimize thrust. Townsend said the system is able to force water close to 90 degrees outboard, much like a Z-drive.
"Most of our testing has been in the 2,000 to 3,000 hp. range," Townsend said. "We've been working on this 'twin diff' system for about eight years. It started out mainly in a model basin in Canada. We tested several boats with Ingram, and we now have rudders on Kirby boats, Ingram boats, Tidewater Marine on the West Coast, some in South America, and Hines is the next customer."
Townsend said the Scarlett Rose Furlong, with its horsepower and rudder system, will offer performance downriver similar to a Z-drive-equipped boat, while excelling as it goes north.
"We know northbound it will walk away from Z-drives," Townsend said. "Southbound, I expect this will be the most maneuverable conventional boat on the river. With our rudder package, there's not a need to flank every southbound corner anymore. They can steer through southbound corners, similar to a Z-drive."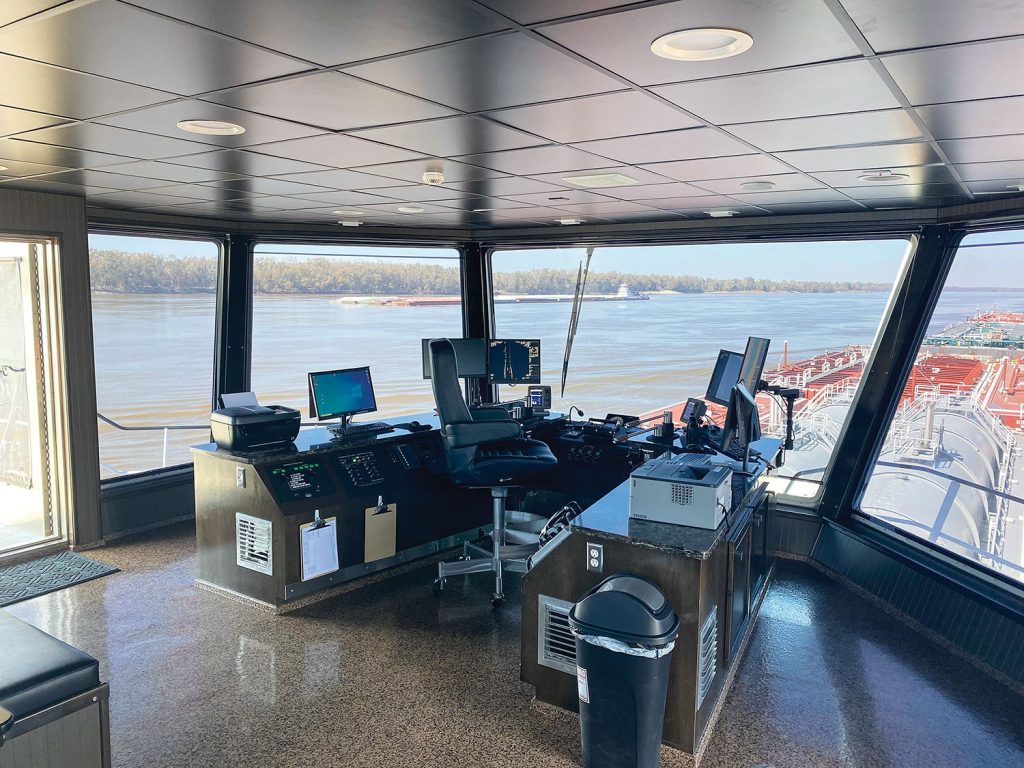 The system also allows vessels to move sideways within a fleet or harbor setting, Townsend said. And because the rudders are on either side of the wheel, the driveshaft and propeller can be pulled for maintenance without dropping the rudder. Townsend said one customer, who has retrofitted towing vessels with the rudder system, has reported fuel savings between 10 and 15 percent.
"There's nothing that can be done on a vessel to save that much fuel," Townsend said. "My dad thinks this is the best thing we've ever done in 50 or 60 years."
The system will also reduce vibrations, Townsend said, further enhancing the comfort and quietness of the Scarlett Rose Furlong's spring-mounted superstructure.
The Scarlett Rose Furlong also features a square spiral staircase through the center of the main house. Townsend said that feature acts as a strong spine for the superstructure, while also shortening each flight of stairs for safety.
Ship's service power aboard the Scarlett Rose Furlong is supplied by three Cummins QSM11-DM 275 kW generators. Furlong said having three generators, rather than the typical two, brings added redundancy in case one generator goes down. Oftentimes, due to safety concerns, company policies or the Coast Guard may require a vessel to pull over if it goes down to just one working generator.
"Sometimes you're in the middle of nowhere, and you're trying to get a swing rental unit on or you are not allowed to proceed," Furlong said. "It's such an expensive asset, you hate to be down because of such an inexpensive component, so it gives us peace of mind with that."
R.W. Fernstrum & Company supplied the grid coolers aboard the Scarlett Rose Furlong. Wheelhouse Electronics supplied the vessel's electronics and communications package. On deck, the vessel is outfitted with a Schoellhorn-Albrecht capstan, Wintech deck winches and fendering by Schuyler. The fire detection system aboard the vessel is from Herbert Hiller.
The Scarlett Rose Furlong offers accommodations for up to 11 crew members and one guest.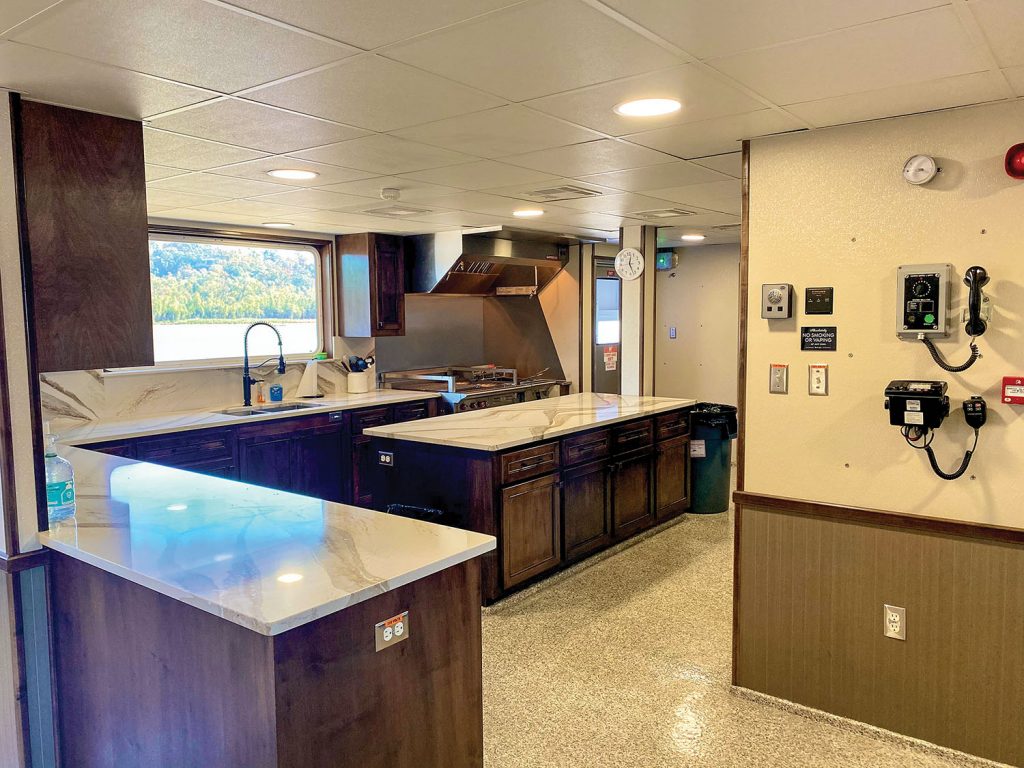 C&C Marine & Repair delivered the Scarlett Rose Furlong the second week of November, and the vessel immediately went into service. Furlong said the vessel has been impressive during its first trip upriver.
Danny Whitford, HFL's vice president of operations, was aboard the Scarlett Rose Furlong for the first few days of its maiden trip northbound on the Lower Mississippi River.
Whitford, Furlong said, described the boat as the smoothest he'd ever ridden on, adding that the propellers were dialed in perfectly and that the boat was shoving and steering well. Furlong said he hopes to see close to the maneuverability of a Z-drive vessel, but without the performance downfalls and problems sometimes experienced with azimuth thrusters.
"Although we haven't had a southbound trip on the Lower Mississippi yet, we are confident that this vessel will accomplish these objectives," Furlong said. "With the fact that they are triple-screw, the double steering rudders and deep 'St. Louis Ship' style nozzles, coupled with the sheer dimensions and weight of the boats, we think we'll see performance more like a 7,200 with them."
C&C Marine & Repair is on pace to deliver the next vessel the second quarter of 2021, with the third in the fourth quarter of 2021. HFL is also building a 4,000 hp. towboat at Steiner Construction, with that vessel due out in December.
Caption for top photo: The mv. Scarlett Rose Furlong is the first of three 6,600 hp., triple-screw towboats that Hines Furlong Line ordered from C&C Marine & Repair. (Photo by Greg Milliken)