Industry People On The Move: November 23, 2020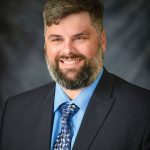 Callan Marine has announced the hiring of Matt Sitka as chief financial officer. A 15-year veteran of the industrial services, dredging, and marine construction industry, Sitka brings experience in the petrochemical, refining, power generation, marine, public, and government industries, in addition to four years in public accounting.
"We are thrilled to have Matt on our team," said Maxie McGuire, president of Callan Marine. "He excels at communicating and establishing positive relationships between all sectors of the company, from the board of directors, management and operations team. He is a great asset to our group of professionals at Callan."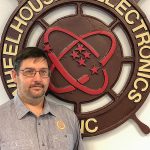 Steve Deffner, 42, Raceland, La., celebrated his 20th year with Wheelhouse Electronics Inc. in October. Currently the New Orleans-based company's new build and installation manager, he started in 2000 as a technician after a four-year stint in the Navy, where he specialized in electronics repair and calibration. During his 20 years, Deffner said he installed the electronics on all the Higman Towing vessels built at Hope Services, "three or four boats a year for 10 years." Commenting, Steve Burke, president of Wheelhouse Electronics, said, "Steve is a very valuable team member and an outstanding manager."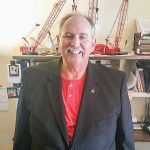 Gary Lavender is celebrating 50 years as an Ohio operating engineer with Local 18 in Cincinnati, Ohio. He is also a member of CORBA, the Central Ohio River Business Association. He is accredited by the U.S. Department of Labor 1919.71 Maritime. He is the CEO and owner of National Crane Inspection LLC in Cincinnati, a worldwide  company specializing in all cranes under OSHA, ANSI, maritime and general construction, hoist, material lifting devices and safety training.
Andrea Hermer has been named chief operating officer of the Ports of Indiana, after serving as general counsel since August 2013. As chief operating officer, she will be responsible for overseeing planning and operations, supporting growth of existing port business and delivering development and construction projects at each of the ports.
"I am committed to the success of the ports and excited about this new opportunity to work with the port teams to advance operations and project delivery to a new level of success," she said.
Hermer has more than 30 years of experience, the majority in the private sector before transitioning to the public sector.  She achieved success as a partner at two law firms.  Before joining the Indiana Department of Transportation and the ports, she worked in commercial real estate development. She holds a bachelor's degree and doctor of jurisprudence from Indiana University-Bloomington.
Also at the Ports of Indiana, James Hall has been named general counsel to fill Hermer's former position. As general counsel, he will utilize his U.S. and international trade compliance experience to lead the growth of the foreign trade zones as well as maintain regulatory requirements, support the organization's mission and proactively mitigate liability.
With more than 20 years as a licensed U.S. Customs broker, Hall understands liability, application of the laws, regulations and requirements inherent to domestic and international trade, including the operating of foreign trade zones, supply chain security, customs bonding warehousing, in-transit cargo and multi-modal shipping.
Hall spent five years in the U.S. Navy and served on the USS Samuel Gompers AD-37 during the Gulf War. He received a bachelor's degree from Georgia State University and his doctorate of jurisprudence from Drake University Law School.
"I am excited to join the Ports of Indiana team and look forward to helping further develop corporate governance under Vanta's leadership," he said.
"We are very pleased to congratulate Andrea on her well-deserved promotion and welcome James to the Ports team," Ports of Indiana CEO Vanta Coda II said. "As we continue to think strategically to fuel growth, I believe the shared experiences and caliber of talent between Andrea and James will be an important part of our success in the future."
Scott Theriot has been named president and CEO of Southwest Shipyard L.P. He brings more than 30 years of marine industry and executive leadership, including senior operational, sales and executive leadership roles in several companies, including Conrad Industries, Bollinger Shipyards, Leevac Industries and ST Engineering/Halter Offshore.
"The board is pleased with the smooth transition," said Hank Hilliard, Southwest Shipyard's chairman. "Scott has extensive industry knowledge and experience as well as a proven track record of building strong sales and operational teams that can meet and exceed our clients' expectations for high quality, on schedule products and services. Scott's ability to lead and execute at a high level fits perfectly with the Southwest culture. Additionally, the board would like to thank Read Boles, who has served as interim president and CEO since February 2020, and welcome him back to his advisory role to the board of directors."
"I remain honored and energized by the opportunity to assume the leadership role for Southwest Shipyard L.P," Theriot said. " I am excited to continue building upon Southwest Shipyard's marine industry historical legacy and ensuring that the company's tradition of supporting our customers with a focus on superior quality and performance continues."
Aaron Degodny has been named vice president and chief commercial officer of Tidewater Transportation & Terminals, the largest barge transportation and terminal network on the Columbia-Snake River system.
"Aaron is an extremely accomplished executive who brings to Tidewater a unique skillset and an ability to develop high-value strategies and high-performing teams," said Todd Busch, president and CEO of Tidewater Transportation & Terminals. "His innovative insights will help us grow our core tug and terminaling business, as well as unlock new opportunities. Thank you to the team at Upper Bay Infrastructure Partners for their remarkable professional support in bringing Aaron to Tidewater." 
Degodny will focus on establishing strategic partnerships in new markets, expanding and strengthening client relationships and extending the regional and global footprint of Tidewater.
"I quickly learned that people are at the heart of this great and dynamic business," Degodny said. "I am truly fortunate to lead a talented team of highly capable and passionate individuals who are committed to realizing our ambitious growth strategy while always upholding our customer-centric and safety culture."
Prior to joining Tidewater, Degodny was president and CEO of Rand Logistics Inc., a leading provider of bulk freight shipping solutions throughout the Great Lakes region. Prior to joining Rand, Degodny spent 20 years at the Canadian National Railway (CN), one of the largest railroads in North America, where he advanced from national account manager to leadership roles in multiple commodities sectors.
Lt. Gen. (Ret.) Thomas Bostick, former commanding general of the U.S. Army Corps of Engineers, has been appointed to the board of directors of CSX Corporation.
"We are honored to have Tom join the CSX board of directors," said John Zillmer, chairman of the board. "Tom's exemplary background of service and leadership will provide the board with an enriching perspective as we guide CSX toward a future of sustainable growth."
Bostick served in the U.S. Army for 38 years. He served as the Chief of Engineers and commanding general of the Corps from 2012 to 2016. After retiring from the military, Bostick was chief operating officer of Intrexon and president of Intrexon Bioengineering.
Bostick is also a member of the boards of Perma-Fix Environmental Services Inc., HireVue and Streamside Systems.