Doug The Tug: Towboat Captain Pens Children's Picture Book
Capt. Doug Edmonds is a Semmes, Ala., native and a 15-year veteran mariner. Edmonds started as a deckhand with Kirby back in 2005, and he now serves as a captain for Kirby, working on the Gulf Intracoastal Waterway and the Lower Mississippi River.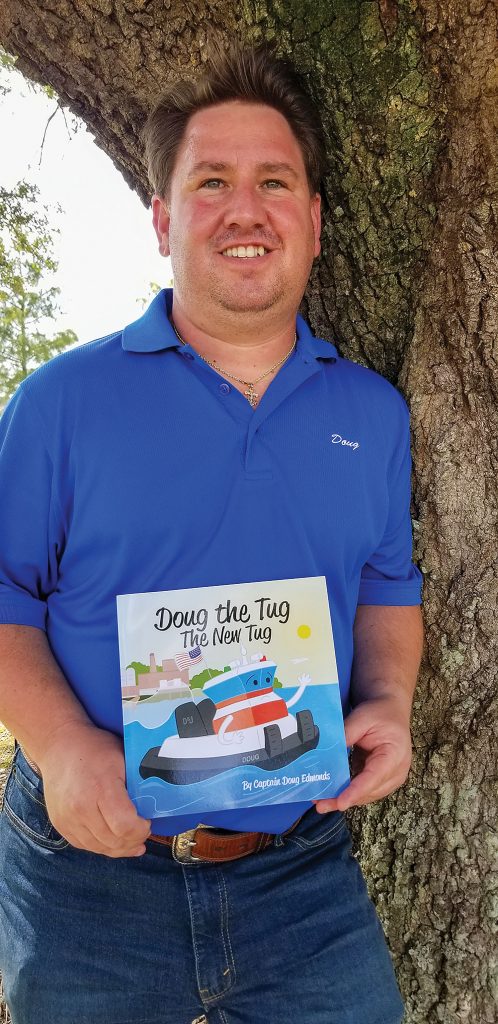 Off the water, Edmonds is a family man, with a wife and daughter, and a strong connection to his extended family and close friends.
In addition to that, Edmonds is a writer who traces the discipline and joy of writing to the gift of a journal and constant encouragement from his mother.
"Really, I wrote in my journal off and on through the years, the journal my mama gave me," Edmonds said.
Sign up for Waterway Journal's weekly newsletter.
Our weekly newsletter delivers the latest inland marine news straight to your inbox including breaking news, our exclusive columns and much more.
Then, about four or five years ago, Edmonds began crafting a children's picture book, a story with characters based both on his experience as a mariner and on life in general. Edmonds said one day the key piece of the story, the title character, just "clicked in my head." His main character is named Doug the Tug.
Doug the Tug is a towboat that works in an area based on the Mobile, Ala., harbor. In his first story, Doug the Tug goes to work in a new place and encounters all the emotions and anxieties—including a bully—associated with starting a new chapter in life. By the end of his first day on the job, Doug the Tug also learns about true friendship and has found a sense of "place" in his new home.
Edmonds said he spent a long time writing and rewriting the first Doug the Tug story in his head, getting the text and flow of the story just right.
"Eventually, I wrote it down," Edmonds said. "And as soon as I wrote the first one, another one came, and another, and another."
With the first story ironed out, Edmonds began searching for an illustrator to bring the story to life. He first reached out to a couple Mobile-area artists, but those collaborations never worked out. Then, through an online search, Edmonds found Toby Mikle, an illustrator based in Minnesota. Edmonds said Mikle's style and take on Doug the Tug fit perfectly. Besides, Mikle's military background really appealed to Edmonds, he said. In true 2020 fashion, Edmonds and Mikle, though collaborating on a series of children's books, have never met, whether in person or by video service.
"It's all through email," Edmonds said.
Edmonds published "Doug The Tug: The New Tug" in August. The book is available from Amazon.com.
Besides teaching life lessons set within the context of a working harbor, Edmonds' stories also introduce readers to nautical language. Edmonds has even placed a glossary of nautical terms at the beginning of the books.
"Just a few terms that not everybody knows," he said.
Edmonds said he's up to 10 Doug the Tug stories so far, with upcoming topics including workplace equality (Doug and a new woman captain) and differently-abled people (Doug encounters a single-wheeled tug).
"That one's based on my grandpa, who only had one arm," Edmonds said. "He could do more than most of us could."
Interested readers can look forward to the second installment of Doug the Tug being published next summer.
Edmonds joked that publishing the Doug the Tug books is nowhere near lucrative, but it's not about the money.
"It's about the adventure," he said. "It's for people like me, for my family. And really, it's for the future."