Obituary Notice: Capt. Michael Coyle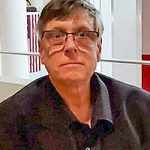 Capt. Michael Coyle of St. Louis, a longtime captain for Luhr Bros. Inc., died November 12.
Coyle had wanted to work on the river from a young age, and after high school got a job as a deckhand on a couple of line boats, but he missed being able to go home at night. He met the musician and riverman John Hartford at a concert one night, and Hartford introduced him to Fred Leyhe, owner of Eagle Marine Services in St. Louis. He started decking for Eagle, and he worked his way up to captain by the time he turned 21.
He later joined Luhr Bros., where he worked for 29 years, 22  as the captain of the mv. Twyla Luhr. He held his Master Inland License and Master Near-Coastal License as well. He was known as an encyclopedia of river history.
In lieu of flowers, his family suggested a donation to the St. Louis Mercantile Library.