November 30 brought the official end to a record-setting Atlantic hurricane season.
In all, the 2020 hurricane season ended with a record 30 named storms, topping the previous record of 28 set in 2005. Of the 30 named storms this year, 13 reached hurricane strength of at least 74 mph. sustained winds. That's good for second all-time behind 2005. This year saw six storms become major hurricanes with sustained winds of at least 111 mph. That's tied for second behind the seven major hurricanes in 2005.
The 2020 hurricane season got an early start, with the first named storm of the year, Arthur, forming in May, well before the official beginning of hurricane season June 1. According to the National Oceanic and Atmospheric Administration (NOAA), the nine named storms between May and July is also a new record.
With Tropical Storm Wilfred, which formed September 18, the 2020 season, for just the second time ever, exhausted the English alphabet. Hurricane names come from 21 letters, omitting Q, U, X, Y and Z. After Wilfred, hurricane names swapped to the Greek alphabet. The last named storm of the year was Iota, the ninth letter of the Greek alphabet. In fact, 10 named storms formed in the month of September alone, which is the most in any month on record, according to NOAA.
Sign up for Waterway Journal's weekly newsletter.
Our weekly newsletter delivers the latest inland marine news straight to your inbox including breaking news, our exclusive columns and much more.
The 12 storms that made landfall along the U.S. coastline is also a new record, topping the previous record of nine, set in 1916. Of those, an astonishing five made landfall in Louisiana. Nine impacted the Gulf coast.
With all the tropical activity in the upper Gulf coast in 2020, the maritime industry along the Gulf Intracoastal Waterway (GIWW), along with members of the U.S. Coast Guard, U.S. Army Corps of Engineers and National Weather Service, remained extremely busy throughout the season, said Jim Stark, president of the Gulf Intracoastal Canal Association (GICA).
"Starting with Tropical Storm Cristobal and working all the way through Tropical Storm Eta, GIWW mariners and GICA members had to be ready to shift operational schedules, identify safe havens for tows and remain flexible as nine tropical events affected our waterway," Stark said.
Integral to that effort, Stark said, was implementing the Joint Hurricane Team (JHT) Protocol, a collaborative plan of action involving inland waterway operators and industry leaders and federal, state and local agencies that outlines storm prep, response and recovery for areas impacted by a storm.
"GICA implemented parts of the JHT Protocol for all these events and was able to keep our members and partners informed," Stark said. "It can be especially difficult to ensure safe transits when storms pop up quickly in the Gulf and when storm tracks become erratic. Port captains, operations managers, customers and towboat captains all had to stay ready to modify sail plans and cargo delivery expectations throughout the season."
Stark praised the professionalism of mariners throughout hurricane season for keeping vessel and tow casualties to a minimum.
"Our mariners safely avoided major waterway incidents, with their equipment, this year due to their vigilance and great decision making, keeping their tows and cargoes out of harm's way," Stark said. "However, other operators weren't as fortunate. Sunken construction barges in Lake Charles, the breakaways and bridge allisions in Pensacola, Fla., and a sunken drydock in Port Arthur, Texas, all affected the GIWW to some extent."
Storm impacts did lead to waterway closures and restrictions, Stark said. Hurricane Hannah caused shoaling in Laguna Madre south of Corpus Christi, Texas. Likewise, Hurricane Sally disrupted navigation along the GIWW from Mobile, Ala., to Pensacola.
"We had a number of dredges under contract then, so we were able to mobilize equipment very quickly and get it over and to work in Mobile, Pascagoula and Gulfport," Mobile Engineer District Operations Division Chief Wynne Fuller said of Hurricane Sally, which made landfall near Mobile on September 15. "We follow the [JHT] Protocol with GICA and the maritime industry and the Coast Guard. That's worked out very well for us. It's been refined over the years as we've learned more about this, but it's gotten to be as routine as that sort of thing can become. Everyone understands their roles and responsibilities."
Fuller specifically thanked Corps personnel, particularly the surveyors, who worked following the 2020 storms.
"Not only did they get out as soon as conditions permitted, … even before that they were riding out the storm aboard the survey vessels at night, tied up at the docks at the Port of Mobile, keeping lines tight all night long, just to make sure the survey boats were ready to go in the morning," Fuller said.
Following Sally, there was little to no debris along the GIWW, and Mobile Harbor reopened with a 42-foot draft just a couple days after the storm. The ship channel was open at 45 feet without restrictions within a week.
The strongest storm to make landfall along the Gulf Coast—and the strongest to ever make landfall in Louisiana—was Hurricane Laura, which came ashore August 27 near Cameron, La., with sustained winds of 150 mph.
Towing companies moved hundreds of barges to safe harbor near Lake Charles, La., ahead of the storm. Crews from Devall Towing secured 165 barges at the company's two fleets, on the east and west side of the Calcasieu Ship Channel. David Devall, vice president of fleet operations for Devall Towing, said his team knew the stakes ahead of the storm.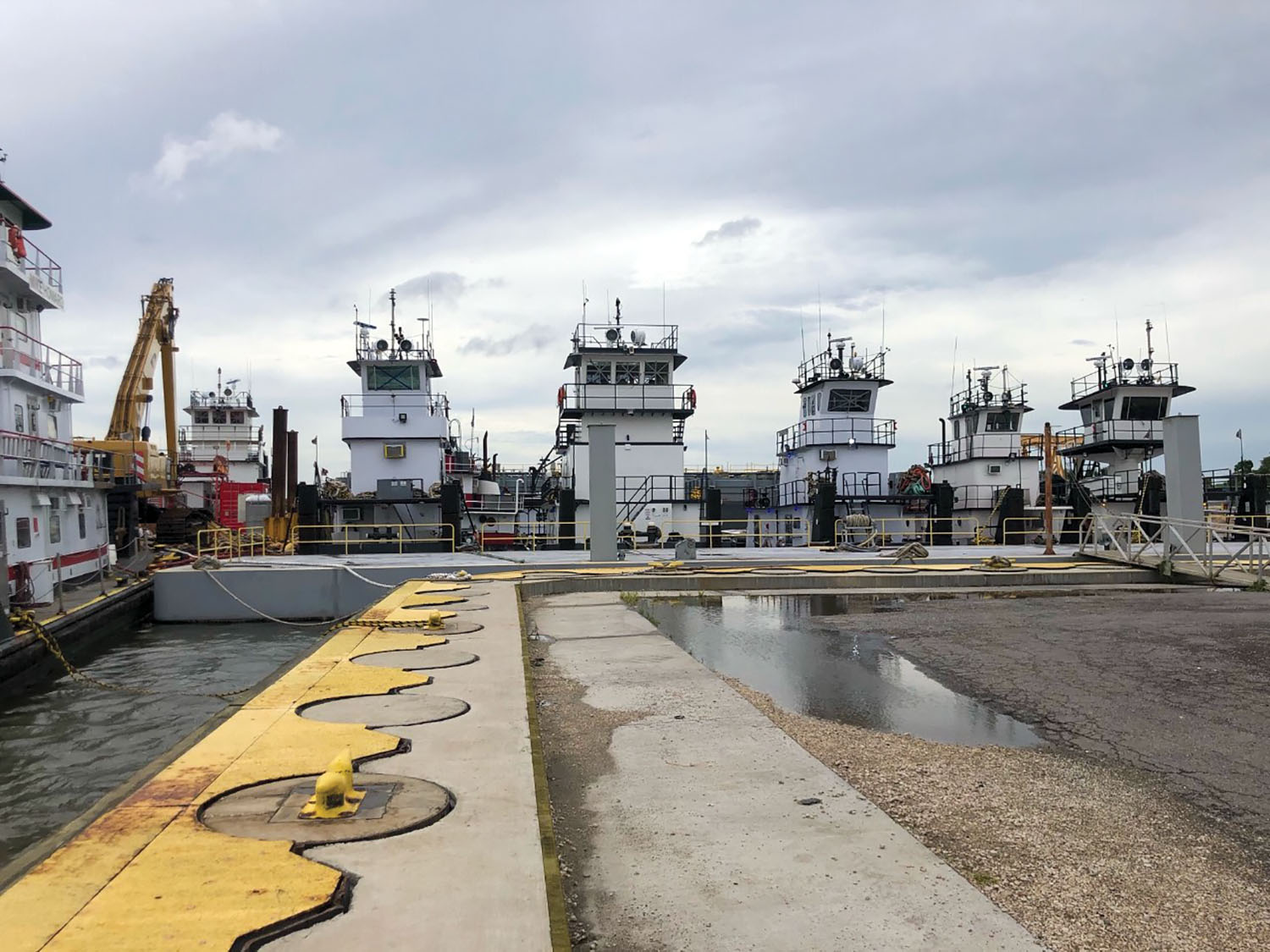 "On the eve of Laura's landfall, myself, along with Mike, Joe and Bubba Devall and the nine boat crews, met on the dock to go over any last-minute thoughts and gather in prayer," Devall said. "We discussed plans on how to react to what was expected and tried to plan for the unexpected. Together, we reviewed our barge—165 barges—and boat positioning and secured any last-minute items."
Soon after, Devall and his father, Mike, were driving across the Ellender Bridge, near the company's west fleet, when they noticed a tugboat and spud barge moored at the foot of the bridge.
"Given my experience with Hurricane Harvey, I told Dad, 'These guys are in a bad place and need to join us. No way they survive there,'" Devall recalled.
The company agreed and moved their vessel and spud barge to Devall's west fleet.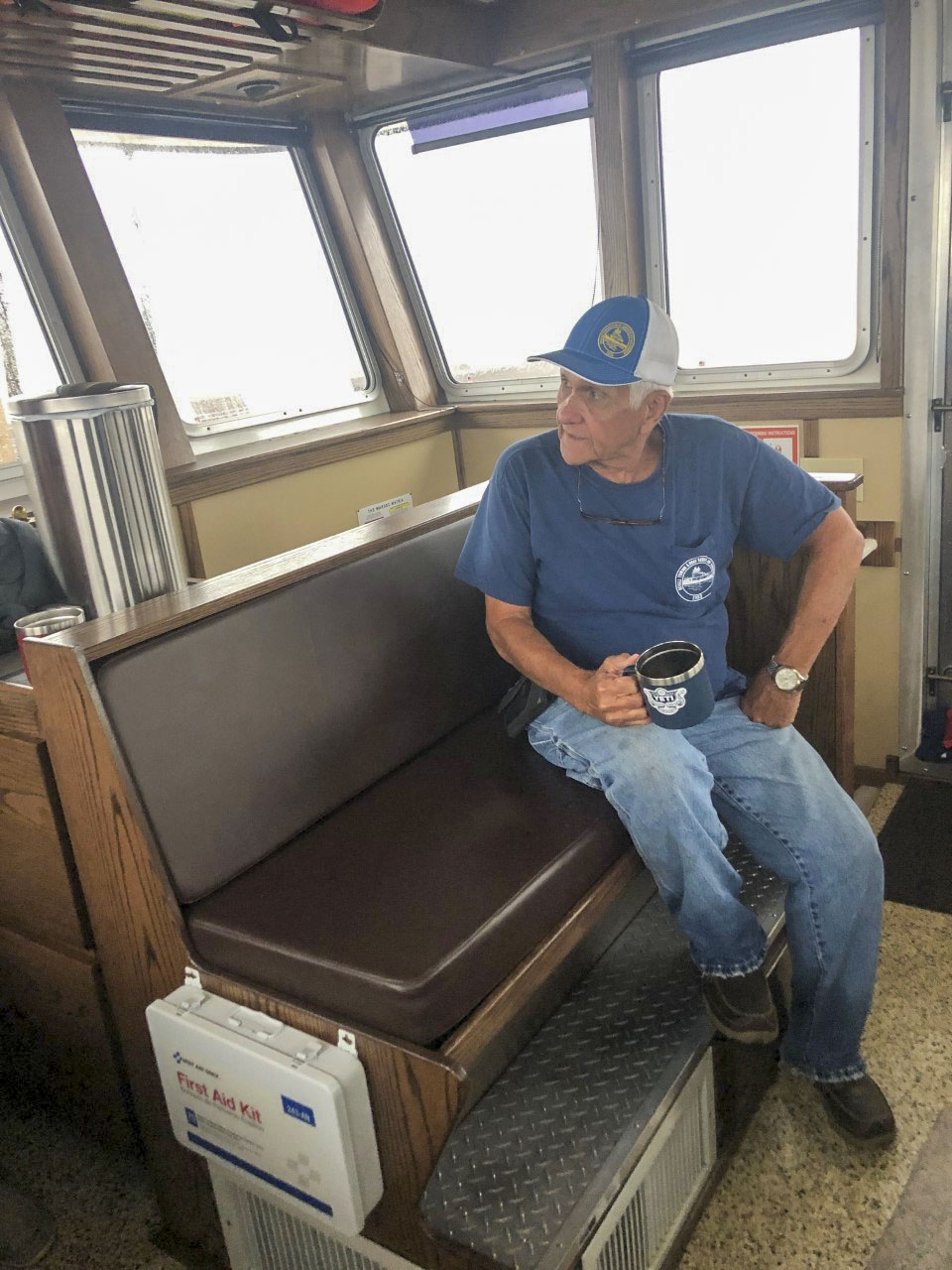 "Bringing along their spud barge, we were able to add more security to our designated safe zone that ended up harboring 12 boats," Devall said.
Devall said the outer bands of Laura began to impact his team around 10 p.m. August 27. By 1 a.m. the next morning, Devall said, "The wind speeds and noises were indescribable."
"One of our vessels clocked wind speeds of 150 mph.," he said. "As the boats were tossed back and forth, it seemed like the storm would never pass over. And then everything calmed. The eye of Laura was passing over us, and for about 45 minutes, we had an opportunity to catch our breath, count our blessings and prepare for round two."
Making it through round one of the storm, Devall said, gave them hope they'd be able to weather the second half.
Crews watched as a warehouse was ripped apart by the storm, but the vessels and barges stood strong. What's more, the majority of Laura's storm surge went east, sparing boats and barges in the area.
"As we began to pick up around our boats and conduct fleet checks, we realized that all the preparations that were made had paid off," Devall said. "We did not have any equipment casualties or injuries. We did lose our office, but we were truly thankful that was the only thing we lost."
Around mid-morning on August 28, Devall said his crew members truly moved him with their concern for the surrounding community.
"Our boat crews looked at us and said, 'What can we do to help?'" Devall recalled. "They loaded up in vehicles, and for the next several days, we had guys covering roofs, cleaning debris and offering their hearts to our community.
"I had one crew member say, 'Sir, I lost everything. My fiancé is safe, and all I have is the boat. What can I do to help?" Devall said. "This was the thoughtful intentions of all our staff. Over the next several days, we had crews working with local industry to provide assistance at the Calcasieu Locks, remove a power line off the Intracoastal Waterway, assist with retrieving sunken vessels, and at one point help local friends in the industry feed an estimated 6,000 people in our community."
Remarkably, just 45 days later, Hurricane Delta, a Category 2 storm, made landfall near the same exact place. This time, Devall crews secured 135 barges, again hunkering down to ride out the storm. However, Devall said, this time there was no break for the eye to pass over.
"We stayed in the western eye wall for several hours," he said, noting that wind gusts of 139 mph. were recorded in Orange, Texas, with a Devall fleet vessel recording 125 mph. winds.
Devall said the actions and dedication of the Devall Towing team during hurricanes Laura and Delta exemplified the company's motto, "Faith, Family and Service."
"Our shoreside staff went beyond the call of duty, working tirelessly, knowing that their homes were destroyed or damaged, always eager to help in any way without complaint," Devall said. "Thanks to our afloat personnel for the courage to weather the storms, answering the question of 'Why would you ride out major hurricanes on a boat?' Simply answered, 'That is who we are and what we do!'"
With the downed power lines and bridges over the GIWW closed to marine traffic following Laura, a significant queue developed on the waterway. However, drawing on experience from the Calcasieu Lock guide wall replacement project, Corps officials and industry leaders were able to reduce the queue efficiently in the days following the storm.
The last significant storm of the season occurred October 28 with Hurricane Zeta, which made landfall near Cocodrie, La., as a strong Category 2 storm. The fast-moving storm brought damage and power outages well inland, though waterway impacts were minimal.
Remarkably, many of the storms impacting the Gulf Coast took place with the Inner Harbor Navigation Canal (IHNC) Lock closed for repairs. IHNC is the sole connection point on the east bank of the Mississippi River between the eastern and western stretches of the GIWW. The U.S. Coast Guard and the Corps of Engineers, as in 2016, implemented an alternate route across the Chandeleur Sound between Baptiste Collette Bayou on the Mississippi River near Venice, La., and Gulfport, Miss. Though the Coast Guard and Corps had to repeatedly survey and reset aids to navigation (ATONs) along the alternate route following passing storms, the cooperation of industry and federal agencies allowed navigation to continue.
"GICA members pitched in by running test tows to confirm water depth and reporting discrepancies," Stark said. "Baptiste Collette experienced some shoaling and was quickly dredged, and Coast Guard critical ATONs restored. The alternate route was ready for operations by the time connecting parts of the waterway were cleared for traffic and weather conditions permitted safe transits."
Caption for top photo: Devall Towing office, damaged by Hurricane Laura. (Photo courtesy of Devall Towing)