Obituary: Hugh Earl Cooper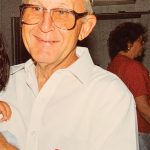 Hugh Earl Cooper, 91, of McKinney, Texas, a longtime operations executive at Canal Barge Company, died on December 30, 2020.
Raised in Hugo, Okla., Cooper enrolled early in the Army to support his country and was stationed in California. Returning to Oklahoma after duty, he received his high school degree and subsequently attended college at Murray State College in Tishomingo, Okla.
Given distances and in lieu of flowers, the family asks donations to be made to assist those impacted by the current pandemic hardships.