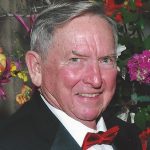 Lea Brent, of Brent Towing Company fame, died January 10 in his hometown of Greenville, Miss. He was 88. He, along with his father, Jesse (deceased), and brother, Howard (retired), founded Brent Towing Company in 1956 with just one towboat and two barges. The family barge line became one of the most recognized companies in the river industry, growing to more than 22 towboats and 55 barges by the time it was acquired by Kirby Corporation in 1989.
Lea, born in Vicksburg, moved to Greenville after the family's house was destroyed by a fire
in the mid-1940s. Upon graduating from Mississippi State University in 1952, he returned to Greenville to work at Mainstream Shipyard and other towing interests prior to starting Brent Towing Company. In addition to his responsibilities at the towing company, he oversaw the company's shipyard, Superior Boat Works, which built numerous towboats, almost 60 of which are still operating today, according to the Inland River Record.
Lea, together with Howard and James Rushin (deceased), additionally founded Brent Marine Supply to provide goods and materials used by shipyards and towing companies. It was eventually bought by Paducah Rigging Company. After Kirby's acquisition of Brent Towing, Lea retired to Colorado, where he raised and bred Arabian horses, numbering 150 at one time. He later moved to Florida before returning to Greenville.
His son, Collins, assumed management of the shipyard, which closed in 2009. He is now a professional engineer and surveyor. His other son, Jesse, is a Kirby pilot.