Shamrock Marine is continuing to reshape the Baton Rouge, La., riverfront. In late 2019, the company added its new office—a repurposed towboat wheelhouse—to the levee on the left descending bank near the I-10 bridge over the Mississippi River. Now, Shamrock has assembled a new, sprawling floating dock that offers direct river access, even in flood stage.
"This was a dream of ours," said Duncan Armentor, Shamrock Marine's founder and co-owner. "It's named the 'Daximus' and is named after one of my longtime guys that's been with me since I started."
The dock is T-shaped, with deck barges and a vehicle ramp extending from the batture. Perpendicular to the riverbank are a pair of decked-over hopper barges outfitted with a variety of dock features. Overall, the dock is 630 feet long, with the ability to add another 200-foot barge for more docking and warehousing space.
Depending on river stage, Shamrock can add to the vehicle ramp barges for ease of access.
"It's high and dry," Armentor said, "so you can access this in any stage of the river. Only the center road barge moves. Everything else is stationary."
The downriver side of the dock features a slip for Shamrock's crew boats. The slip will be covered to shelter crew members from weather. Built into the building will be a gantry crane and straps for hauling out crew boats for maintenance and cleaning. The roof will capture rainwater, which will be collected into tanks built into the barge. Those tanks have a 12,000-gallon capacity.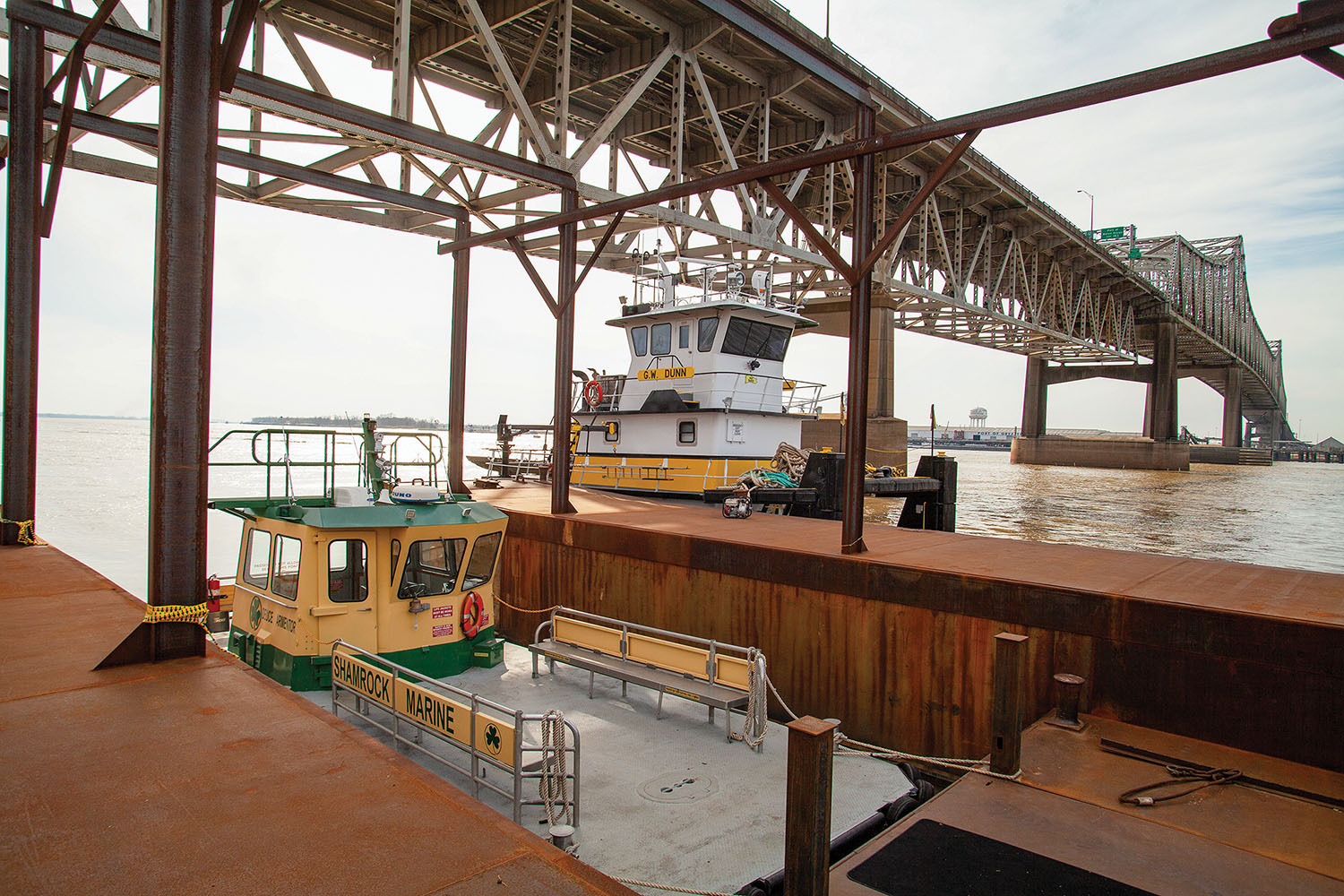 "She'll capture water, store it, and it will feed our entire operation," Armentor said. "We'll also have the ability to pump off to customers who need potable water."
Mooring space around the dock is available to Baton Rouge-area harbor tugs and to towboats making crew changes, taking on supplies or offering tripping services through the nearby Port Allen Lock.
The upriver side of the dock features a huge warehouse that offers a wide range of logistics services for towing companies. To serve its crew-change customer base, Shamrock is outfitting the warehouse with a lounge for towing companies using the dock for crew changes.
There will also be an office for the dock warehouse manager, who will oversee the facility's innovative receiving services. The rest of the barge-mounted warehouse features 7,200 square feet of storage space, much of it divided into "bins" that Shamrock Marine is leasing to towing companies.
"You can ship your supplies here," Armentor said. "We'll receive it for you. We'll verify. We enter it into our online system that everyone can access. The company and their captains can see it. Then we take care of the last mile. We track your boat, we call the boat, and we arrange delivery wherever they want it, either dockside or midstream via one of our crew boats."
Shamrock is offering 88 bins. About half will store the equivalent of one pallet, 4 feet by 4 feet and 5 feet tall. The rest will have the storage equivalent of two pallets.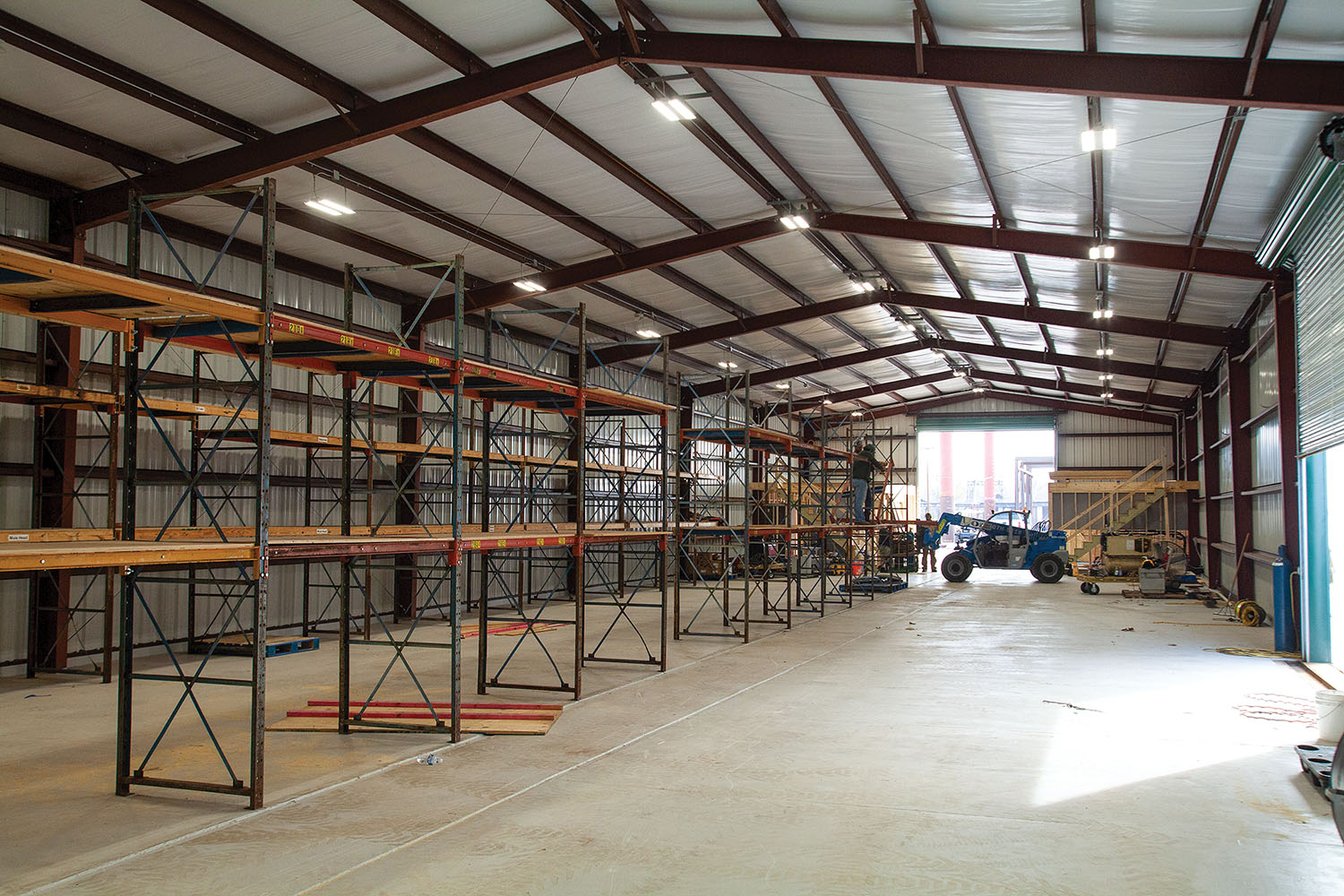 Shamrock is also installing a "hydraulic table" for lowering supplies from the warehouse level down to the deck level of towboats.
"That will increase the speed and efficiency of getting supplies on board and also eliminate their crew from having to carry supplies down a staircase, across their bulwark and onto their boat, possibly getting injured," Armentor said. "That way deckhands don't even have to get off the boat."
Shamrock Marine, a Baldwin distributor, is also stocking the dock-mounted warehouse with Baldwin filters and decals, so that crews can take on needed Baldwin parts at the same time as their groceries, supplies or crew changes.
Armentor said the goal is for Shamrock Marine, through the new dock, to take an entire step out of a company's logistics and supply delivery process.
"Instead of trying to coordinate where a boat's going to be at the end of the day, you know the boat is going to pass Baton Rouge," he said. "This is a hub, so they can ship it to us, and we'll take care of the rest.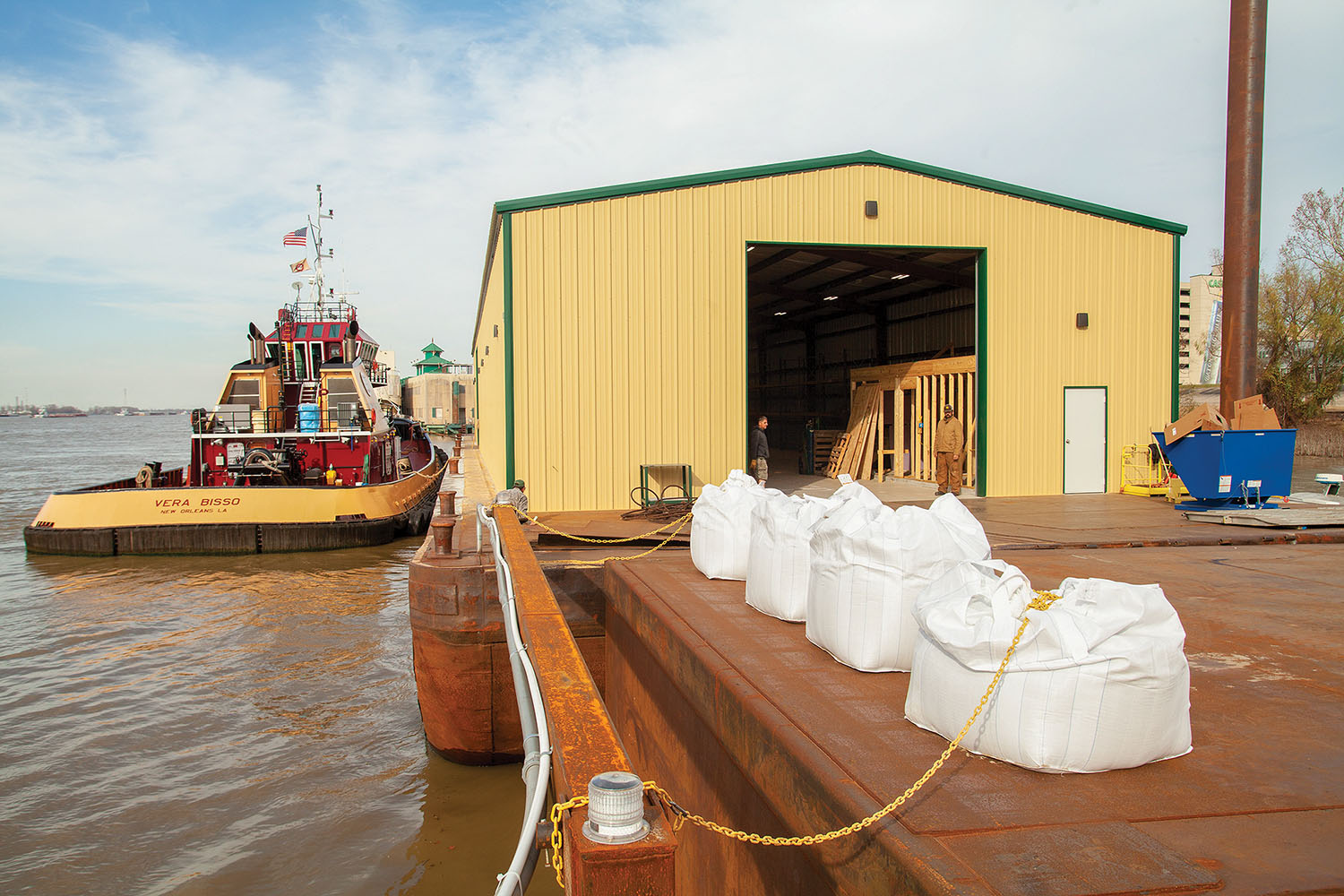 "Before, if you had a warehouse in Baton Rouge, you had to man the warehouse, vendors had to make deliveries there, and you'd still have to figure out how to get supplies from the warehouse to the river," Armentor explained. "I've eliminated that whole touch. Now, the vendors, whomever you want to pick, can literally drive here, and we receive it one time and it stays here, guarded."
And in the days of COVID-19, with heightened attention to keeping groups separated to lessen the likelihood of spreading germs, the new dock facility brings a timely service to market, Armentor said.
"It seems like it's pretty attractive," Armentor said, "especially now with people trying to eliminate having to be in contact with other people due to the COVID situation."
Caption for top photo: Shamrock Marine's new dock in Baton Rouge, La., provides shore-to-dock access in any river stage and offers crew change, mooring, supply storage and receiving services for marine companies. (Photo by Frank McCormack)