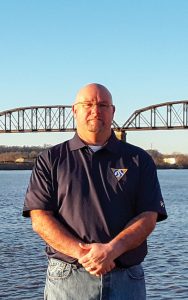 When asked what he likes about being a towboat captain, Capt. Chad Fielder's answer is "everything."
"I've met a lot of people," he said. "It's very family-oriented. Even with the people you don't know, it's kind of like a brotherhood. No matter who you meet, they're always friendly."
Fielder, 50, of Point Pleasant, W.Va., kept coming back to the word family as he talked.
That's not only when he talks about his wife, Tammy, whom he has been with for 34 years; son, Zachary, now 31; or even grandson Maddux, 2-1/2, who likes to spend time riding the tractor with Paw Paw whenever he is home from the boat.
Both of Fielder's grandfathers worked on the river. One was an engineer for Ohio Barge Line. The other worked for City Ice & Fuel Company, where he managed the fuel dock.
His uncle worked on the Gallipolis Ferry, connecting Point Pleasant to Gallipolis, Ohio. Fielder recalled that as a young boy when he accompanied his mother on the ferry so she could go shopping in Gallipolis, his uncle would get him out of the car to explore the ferry boat with him. He also watched the boats go up and down the river as he fished from the riverbank or went swimming.
As a result, he said of working on the river, "I knew at a young age, 7 years old, that was something I wanted to do."
He didn't waste any time.
"I started in October of 1988. I turned 18 in August of that year, so I've been working the river since I was 18 years old," he said.
Fielder began as a deckhand for the former G&C Towing, which was bought out by Kanawha River Towing. Campbell Transportation Company Inc. bought Kanawha out in 1991, and Fielder has stayed on with Campbell throughout the rest of his career.
After 10-1/2 years as a deckhand, Fielder got his pilot's license in April 1999 and became a captain a few months later.
Although he "cut his teeth" on the Kanawha River, and spent time over the years on the Tennessee and Cumberland, Fielder now runs the entire Ohio River, Monongahela River and even the Lower Mississippi down to Garyville, La.
Although most recently aboard the mv. Duke, Fielder will soon be riding the mv. Darrell L, expected out later this month after being repowered.
"There are so many people who have helped me along the way," Fielder said. "There are so many good people who have worked for Campbell Transportation and in the industry that I can't thank enough."
One he wanted to be sure to mention by name was William "Bulldog" John. John was captain of the mv. Wilmington, the first boat Fielder was ever on.
When Fielder was put in a position where he had to be lead deckhand on his second hitch, "This gentleman showed me the ropes," he said.
Beyond that, he said, he held him to a high standard. Some saw him as a hard man because of his demands, but Fielder said it was John's tutelage that taught him important lessons about being responsible, respecting the job and respecting others. They continued to stay in contact throughout Fielder's career until John passed away about eight years ago.
Now, Fielder tries to pass some of those lessons on to crewmates just starting out.
I like to help other people when they start, the younger generation," he said. "I really enjoy helping people when they come aboard or come to work at your company. You help them along the way, and you see them advance. I'm really interested in teaching."
Among the lessons he tries to impart are "Take it seriously," Fielder said. Also, he said, "Be safety-minded."
Joseph Graham, manager of vessel operations for Campbell Transportation Company Inc., praised Fielder, also noting how Fielder creates that family atmosphere with his crew.
"Capt. Chad is an outstanding captain," Graham said. "He always has a positive attitude and positive outlook on everything he does. Capt. Chad promotes safety with his crew and makes them not just a part of a team but a family on his boat. It is a pleasure working with such a dependable and safety-driven captain such as Chad."